W Irkucku, nieoficjalnej stolicy Syberii, i jednocześnie najlepszej chyba bazie wypadowej nad Bajkał znaleźliśmy się wieczorem 6 sierpnia. Już następnego dnia rano siedzieliśmy jednak w "elektriczce" (podmiejskim pociągu), wiozącej nas do Sludianki. Jak zauważył nasz irkucki gospodarz Alex (Couch Surfing również na dalekiej Syberii działa bez zarzutów), sposób na zwiedzanie Przybajkala wybraliśmy dosyć awangardowy. W przeciwieństwie do większości turystów, zamiast leżeć plackiem (i pić) gdzieś na plaży w Złotych Piaskach, Sludiance, czy na wyspie Olchon, postanowiliśmy podziwiać nieskazitelną przyrodę regionu z perspektywy górskich szczytów pasma Chamar Daban. Masyw ten rozciąga się na południe od jeziora i nierozerwalnie związany jest z historią polskich zesłańców. To właśnie tu swoje krajoznawcze wyprawy odbywali słynni polscy naukowcy – Aleksander Czekanowski i Jan Czerski. I właśnie szczyty noszące ich imiona były celem naszej ekspedycji.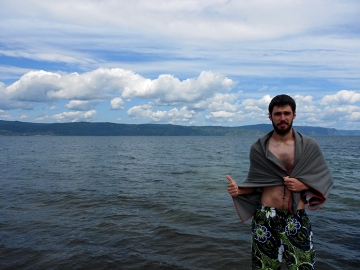 Zanim jednak zameldowaliśmy się na wysokościach, nie mogliśmy odmówić sobie przyjemności kąpieli w największym na świece jeziorze. "Perła Syberii" – tak zwykło nazywać się Bajkał i przyznać muszę, że niewiele jest przesady w tym określeniu. Widok roztaczający się w pogodne dni z brzegów jeziora trudno bowiem porównać z czymkolwiek.

Woda, niemal identycznej barwy jak niebo, odbija niczym lustro górujące nad brzegami pasma górskie. Trudno to opisać – po prostu trzeba zobaczyć. Nasza wizyta nad Bajkałem ograniczyła się niestety tylko do kilku godzin, do tego spędzonych w zapuszczonym turystycznym kurorcie – Sludiance. Mimo to jezioro zrobiło na nas piorunujące wrażenie. Na tyle, że nie mogliśmy się wręcz doczekać zanurzenia w jego krystalicznie czystej toni. Nie straszna nam była temperatura wody oscylująca w granicach 12 st. Celsjusza (znacznie zimniejsza niż w Bałtyku) i chłodny wiatr. Cała nasz trójka dała nura do lodowatej wody i w jeszcze szybszym tempie uciekła w objęcia ciepłego koca. No ale nikt nam nie powie, że nie kąpaliśmy się w Bajkale.
Punktem kulminacyjnym pobytu na Syberii była jednak wyprawa w góry. Początkowo dwudniowy trekking planowaliśmy tak, by zdobyć zarówno Pik Czerskiego (2090 m n.p.m.), jak i oddalony od niego o kilkanaście kilometrów Pik Czekanowskiego (2068 m n.p.m.), jednak pewne nieszczęśliwe zdarzenia na trasie sprawiły, że musieliśmy zadowolić się jedynie widokami z tego pierwszego. O tym jednak później.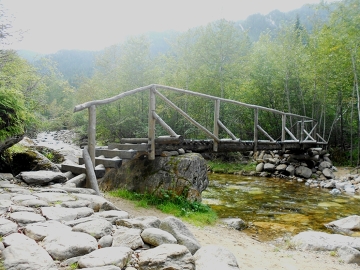 Podczas drugiej przeprawy nie miałem jednak tyle szczęścia, co za pierwszym razem i już przy pierwszym kroku mój but ześlizgnął się z kamienia. Tak oto przemoczyłem nogę lewą. Nie mając już zatem wielkiego wyboru zdjąłem mokre obuwie i skarpety, podwinąłem nogawki i ruszyłem na drugi brzeg boso. Niestety miejsce, które wybrałem na przeprawę było delikatnie mówiąc fatalne. Ostre kamienie kaleczące stopy, silny nurt i lodowato zimna woda sprawiły, że już po kilku krokach cały wylądowałem w strumieniu. Prąd porwał moje buty (szczęśliwie w porę odłowione przez kompana) i zamoczył całą zawartość kieszeni z portfelem, paszportem i aparatem fotograficznym włącznie. Ten ostatni z tego szoku niestety już się nie podniósł (spoczywaj w spokoju czerwona torpedo [*]).

Ostatecznie z wody wygramoliłem się przy pomocy kija, ale sytuacja nie wyglądała zbyt ciekawie. Buty były totalnie przemoczone, nie mniej niż ja sam. Znajdowaliśmy się mniej więcej w połowie drogi pomiędzy turbazą a wsią, z której ruszaliśmy, słońce chyliło się już ku zachodowi i bardzo słabo grzało. Na szczęście mój plecak był szczelniejszy od kieszeni i znalazłem w nim komplet suchych ubrań (ubrania to chyba jednak za dużo powiedziane, gdyż do dyspozycji miałem jedynie kąpielówki i koszulkę). W tym momencie miałem do wyboru dwie opcje – ruszyć dalej w górę lub zawracać. Jako osoba niezwykła poddawać się przeciwnościom losu ruszyłem dalej, jednak 8-kilometrową drogę do turbazy, w przemoczonym do granic nieprzyzwoitości obuwiu zapamiętam na długo.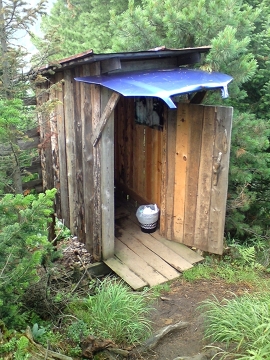 Na miejsce noclegu dotarliśmy ostatecznie ok. godziny 23:00. Było już zupełnie ciemno i dosyć chłodno. Na ostatnich kilometrach wędrówki towarzyszyli nam młody Rosjanin i jego dziadek (sic!), którzy właśnie byli w trakcie 280-kilometrowego trekkingu po paśmie Chamar-Daban, o czym niezbicie świadczył rozmiar ich plecaków (nie śmialiśmy spytać, ale na oko minimum 30-40 kg) i posiadany ekwipunek, z siekierą i zapasem suszonej kory na rozpałkę na czele.

W turbazie nieopodal stacji meteorologicznej, jakieś 4 godz. drogi od szczytu, pod swój dach przygarnęła nas gospodyni ośrodka (niestety nie za darmo – nocleg kosztował 350 rubli od osoby) i uraczyła gorącą herbatą. Ja jednak nie miałem już siły czekać na zagotowanie wody. Wtuliłem się tylko w cieplutki śpiwór i zasnąłem jak kamień (ze strumyka).
Następnego dnia z rana ruszyliśmy do ataku na szczyt. Było nam dużo lżej, gdyż plecaki zostawić mogliśmy w turbazie, a buty zdążyły przez noc prawie całkiem wyschnąć. O ile dotychczasowa trasa nie obfitowała w widowiskowe panoramy, o tyle ostatnich kilka kilometrów wynagrodziło nam to z nawiązką. Pejzaże przywołujące skojarzenia z tolkienowskim Shire, jezioro w kształcie serca i szlak wijący się wśród porośniętych jedynie krzewami zboczy – oto największe skarby Chamar-Daban.

Po dotarciu na szczyt nie mogliśmy oczywiście darować sobie rytualnego piwka (niebieska Балтика). Po drodze mijaliśmy kilkanaście osób wracających ze szczytu. Co ciekawe jeden z turystów powiedział nam, że tamtego dania na trasie panował dość spory tłok. Na dźwięk tych słów uśmiechnęliśmy się tylko wewnętrznie, wspominając wybetonowane chińskie góry, gdzie trzeba było przeciskać się między wycieczkami.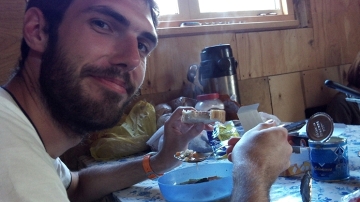 Po powrocie do turbazy gospodyni powitała nas gorącą zupą. Był to nasz pierwszy ciepły posiłek od tygodnia (nie licząc herbaty i zupek chińskich) i nie muszę chyba dodawać w jakim tempie ogromny jej garnek został niemal opróżniony. W tym miejscu warto wspomnieć o menu, jakie uszykowaliśmy sobie na czas podróży. Jego główny składnik stanowił chleb, smarowany na przemian pasztetem i konfiturą oraz zagryzany rosyjskimi parówkami, których skład bezskutecznie próbuje ustalić już od blisko 20 lat specjalna komisja działająca przy Uniwersytecie Łomonosowa. Ciepła zupa dogodziła nam zatem bardzo, zwłaszcza, że przed nami była dość długa droga na dół.

Planowany czas przybycia do Sludianki to godz. 23:00. Nie bylibyśmy jednak sobą, gdybyśmy po drodze nie spróbowali złapać stopa. I oczywiście udało się, choć powinienem raczej napisać, że to stop złapał nas. Mieszkający mniej więcej w połowie drogi jegomość zaproponował nam podwózkę, gdyż akurat wybierał się do miasta po nową butlę gazową. Niestety za przyjemność przejechania się Kamazem po górskiej dróżce zmuszeni byliśmy zapłacić 100 rubli od osoby. Nie rozpatruję jednak tej kwoty inaczej niż najlepiej wydane podczas tego wyjazdu pieniądze. Kochany pan kierowca, nie zważając bowiem na fakt, że na pace wiezie trójkę ludzi i nie do końca pustą butlę gazową, a kamienie na drodze mają z pół metra średnicy, pruł w dół średnio 40 km/h. Żaden rollercoaster nie odda tego, co przeżyliśmy i choć przez następne dwa dni siadanie przychodziło mi z trudem, nie zmienię zdania – warto było.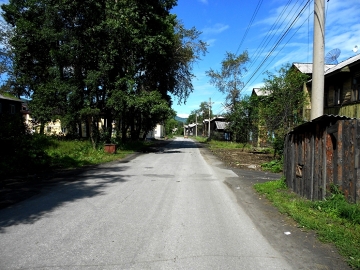 Na dole byliśmy zatem ok. 21:30. Witając się już z gąską zapukaliśmy do pierwszej napotkanej turbazy, gdzie planowaliśmy przenocować, a tu "me jo" – brak miejsc (ach, zupełnie jak w Chinach!). Ruszyliśmy zatem w kierunku centrum, zbierając od napotkanych mieszkańców sprzeczne informacje, co do miejscowych hoteli. Sludianka nocą wyglądała jeszcze bardziej przygnębiająco niż w dzień, szczególnie, że znaleźliśmy się na jej obrzeżach. Idąc wzdłuż jedynej oświetlonej ulicy "podziwialiśmy" domki i bloki, które z pewnością pamiętały jeszcze czasy towarzysza Józefa i jego czerwonych kompanów.

I bylibyśmy się tak błąkali jeszcze długie godziny, gdyby nie spotkanie z panią Iriną, która uruchomiła wszystkich swoich znajomych w celu odnalezienia dla nas noclegu. Co więcej, okazało się, że ma ona krewnych w Hajnówce i polskie korzenie, co znacznie ułatwiło nam odnalezienie wspólnego języka. Dlatego gdy ostatecznie udało się nam ustalić, że w hotelu przy dworcu są wolne miejsca w cenie 70 rubli/godz., pani Irina widząc nasze zasmucone tę kwotą twarze bez wahania zaproponowała nam nocleg w swoim mieszkaniu. Na miejscu okazało się, że jest fotografem i pokazała nam wspaniałe zdjęcia trasy kolei krugbajkalskiej. Był to chyba najbardziej niespodziewany i spontaniczny CouchSurfing w moim życiu. Niech żyje rosyjska gościnność!
Następnego dnia wręczyliśmy pani Irinie pamiątkową pocztówkę z Polski, za co otrzymaliśmy zbiór wierszy i opowiadań o Sludiance i Bajkale (oczywiście po rosyjsku). Obiecałem sobie, że je przeczytam (jak na razie dotarłem do 7. strony licząc okładkę i stronę tytułową). Po tej rytualnej wymianie podarków nie pozostało nam nic innego jak tylko ruszyć na stację kolejową. Jeszcze tylko ostatni rzut oka na jezioro, nabranie do słoika odrobinki wody i piachu (pamiątka dla przyjaciela), i możemy wracać. Żegnaj Syberio. Oto kolejni Polacy zachwycili się twoim pięknem.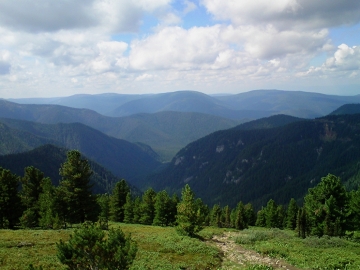 fot. Stan
Epilog: O dziwo kąpieli w strumieniu i wspinaczki w mokrych butach i kąpielówkach nie przypłaciłem żadną poważniejszą chorobą. Nie wiem, czy to magiczna moc górskiej zupy, czy może końska dawka witaminy C, która sobie zaaplikowałem. W każdym razie już nigdy więcej nie zabiorę się za przeprawę przez rzekę inaczej niż z butami na ramieniu i kijem w dłoni.