– Czemu podróżujesz?
– Ponieważ zmiana środowiska, otoczenia w którym przebywasz na co dzień jest świetnym sposobem na "zresetowanie się". Odpoczywasz, poznajesz coś nowego, możesz spróbować lokalnej kuchni, poznać nowych ludzi, zobaczyć nowe miejsca…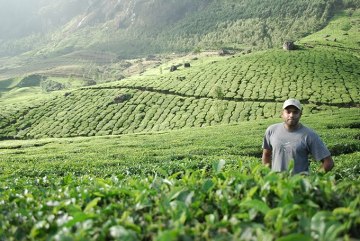 Na plantacji herbaty w Indiach
fot. Vinay Kutty
– Pamiętasz swoją pierwszą, prawdziwą podróż?
– Tak, nie było to aż tak dawno. Wybrałem się do Argentyny. Rozpocząłem pracę i wreszcie mogłem pozwolić sobie na wyjazd poza granice Stanów, których nie mogłem opuścić przez ostatnie dziesięć lat. Spędziliśmy trochę czasu w Buenos Aires, a potem wybraliśmy się nad wodospady Iguazu, które znajdują się na granicy z Brazylią.
– Wiem, że pasjonujesz się fotografią i bardzo lubisz gotować. Czy łączysz w jakiś sposób te hobby z podróżami?
– O tak, zdecydowanie tak. Moją ulubioną kuchnią pozostaje póki co kuchnia malezyjska, ale lubię eksperymentować z nowymi potrawami, uczę się czegoś nowego w każdym kraju. Na przykład próbowałem odtworzyć potraw, które jadłem w Wietnamie, gdy już wróciłem do domu, do Stanów. Teraz, w Polsce przyrządzałem indyjskie dania moim przyjaciołom, którzy gościli mnie tu przez dwa tygodnie. Próbowałem też wielu tutejszych dań. Bardzo smakowały mi grzyby – kurki w śmietanie. Także zupy. Ciasta są przepyszne – w Stanach tylko ładnie wyglądają, a tutaj wygląd i smak są świetne. Macie również pyszne mięsa, kiełbasy… Miałem okazję spróbować mięs z grilla – pycha! Świetnie przyprawione, upieczone. Do tego polskie piwo.
– A co z fotografią?
– Jedzenie było bardziej fascynujące! (śmiech) Oczywiście, biorę wszędzie ze sobą cały sprzęt (obiektywy, laptop, futerał i inne). Dzięki temu mogę zrobić najlepsze zdjęcia na ile to możliwe, szybko je zredagować i podzielić się nimi z przyjaciółmi i rodziną w czasie mojego pobytu w innym kraju – pod warunkiem, że mam możliwość połączenia się z Internetem). To chyba najlepsza pamiątka.

– Przywozisz z podróży jakieś szczególne rzeczy – może przyprawy, albo jakieś pamiątkowe przedmioty?
– Właściwie nie. Zbieram magnesy na lodówkę z miejsc, które odwiedzam. Nie jest to może zbyt oryginalne, nie można też określić tego jako hobby. Magnesy są niedrogie i łatwe do przewiezienia w bagażu podróżnym. W domu są wyeksponowane na lodówce i moi przyjaciele mogą je oglądać, mogą zobaczyć, które miejsca na świecie odwiedziłem. Mam taki plan, by moja lodówka pewnego dnia została zakryta magnesami w stu procentach.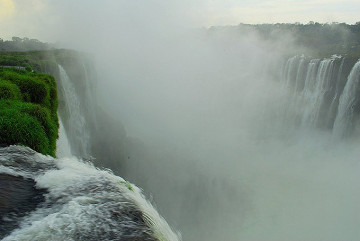 Wodospady Iguazu na granicy Argentyny i Brazylii
fot. Vinay Kutty

– W ilu miejscach już byłeś?
– Byłem już na pięciu kontynentach. Zwiedziłem Malezję, Argentynę, Indie, Wietnam, Polskę, Niemcy, Danię i Szwecję. I można zaliczyć do tego także Stany Zjednoczone – tam mieszkam, i choć sporo widziałem, to pozostało mi jeszcze całkiem sporo miejsc do zobaczenia.
– Następna podróż?
– Do Brazylii.
– Czemu?
– Podczas życia w Lexington zaprzyjaźniłem się wieloma Brazylijczykami, którzy z różnych przyczyn wrócili do domu. Dlatego byłoby świetnie spotkać się z nimi w ich kraju, podróżując do różnych miast. Oczywiście dzika przyroda, dżungle, plaże, muzyka i jedzenie to również atrakcje nie do pominięcia.
– A jakie kraje, bądź miejsca, chciałbyś odwiedzić tak szybko, jak to tylko byłoby możliwe?
– Myślę, że Australia, ponieważ jest to ostatni kontynent, który chciałbym zwiedzić. Następna będzie Zambia, ponieważ tam nie byłem już bardzo długo, a jest to kraj gdzie się urodziłem i wychowałem.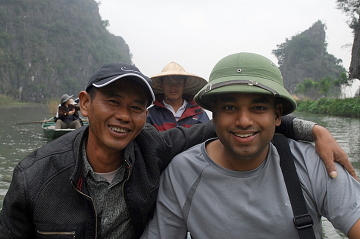 fot. Vinay Kutty

– A teraz kilka pytań z serii "podróż najbardziej…" Która podróż była najbardziej niebezpieczna?
– Może Argentyna… Lecieliśmy takim strasznie starym samolotem ponad lasem tropikalnym, naprawdę się bałem, że nie dotrzemy do celu. Niebezpieczna, tak myślę, mogłaby też być Zambia – łatwo tam paść ofiarą złodziei.
- Najbardziej ekscytująca?
– Myślę, że Indie. Nie byłem tam około dwudziestu lat i spotkałem się z kuzynami i sporo podróżowaliśmy poprzez tamtejszy stan.
– Najmilsza?
– Wietnam. Spotkałem się tam ze swoją dziewczyną po długim okresie niewidzenia się i podróżowaliśmy razem.
– Najciekawsza?
– Malezja. Spotkałem się tam ze swoimi przyjaciółmi z college'u i mogłem zostać u nich i razem podróżować. Oprócz świetnego towarzystwa, mogłem zobaczyć miejsca, których przewodnik nie pokaże na wycieczce.
– Najbardziej nielubiana sytuacja w podróży?
– Napiwki, albo inaczej bakszysz. Nie mam nic przeciwko i jeśli ktoś dobrze wykonuje swoją pracę, to zasługuje na taki dodatek, ale w krajach muzułmańskich, czy azjatyckich chcą pieniądze za nic. Za pozowanie do zdjęcia, choć wcale tego nie chcę, za przeniesienie walizki, choć mam wystarczająco siły, by sam to zrobić… A jeszcze gorsze jest, kiedy wciskają ci w ręce jakiś przedmiot i chcą zapłaty za niego, chcą żebyś to kupił. To jest bardzo irytujące.
– Jak najczęściej podróżujesz – sam, z grupą przyjaciół, czy z jednym przyjacielem?
– Z grupą przyjaciół. To znakomity sposób na poznawanie nowych ludzi, ale też redukuje stres podczas podróży. Mam na myśli takie sprawy, jak przypilnowanie bagażu, np. na lotnisku, gdy musisz skorzystać z toalety, albo kupić kawę. W obcym miejscu taka pomoc jest jeszcze cenniejsza. Gdy podróżujesz sam, rosną tez koszty takiej podróży. Pojedynczy pokój jest zawsze droższy. Ale też transport, jedzenie – gdy dzielisz koszty pomiędzy dwie lub więcej osób, są one niższe.
– Backpackersi zazwyczaj podróżują sami…
– Podziwiam takich ludzi. O ile, jak myślę, jest to dość bezpieczne w Europie, nie wiem jak w Azji… ale tamtejsi ludzie są przyjaźnie nastawieni, więc pewnie też jest to bezpieczne, tak Afryki nie polecam. Spędziłem tam kilkanaście lat swojego życia i wiem, jaka jest tam mentalność i kultura. Uważam, że to szaleństwo, próbować samotnie podróżować przez Afrykę, zresztą w parze, czy niewielkiej grupie tak samo. Choć niektórzy potrzebują takiej adrenaliny…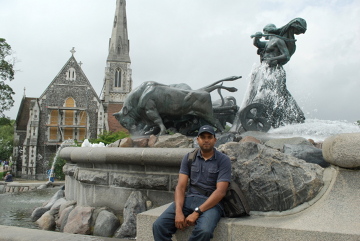 fot. Vinay Kutty
– Przygoda bądź sytuacja z podróży, którą zapamiętasz na zawsze?
– Lecieliśmy do wodospadów Iguazu, na granicy Argentyny i Brazylii. Widoki są dość nudne, bo pod nami był tylko zielony las tropikalny. I całkiem niespodziewanie zobaczyliśmy ogromny, biały wodospad! To było niesamowite, zobaczyć coś takiego z okien samolotu.
– I na koniec – miejsce, które zawsze będziesz polecać podróżnikom?
– Być na safari w Afryce. To najlepszy, prawdziwy sposób, by odkrywać naturę (lwy, żyrafy, słonie, etc.) – nie w zoo!
- Dziękuję za rozmowę i do zobaczenia, mam nadzieję, wkrótce!
– Również dziękuję. Niezapomnianych wrażeń w kolejnych podróżach!