W Australii można poczuć prawdziwą swobodę przemierzając samemu pustynię albo doświadczyć bliskości natury obserwując na wolności wieloryby, wielbłądy, koale, kangury, a nawet dziobaki. To wszystko powoduje, że Australia robi niesamowite wrażenie już od pierwszego dnia. Co ciekawe, im dłużej się tam przebywa, tym bardziej chce się ją poznać z bliska i okiełznać jej dzikość. Zapraszamy na spotkanie z różnorodnością tego niezwykłego kontynentu.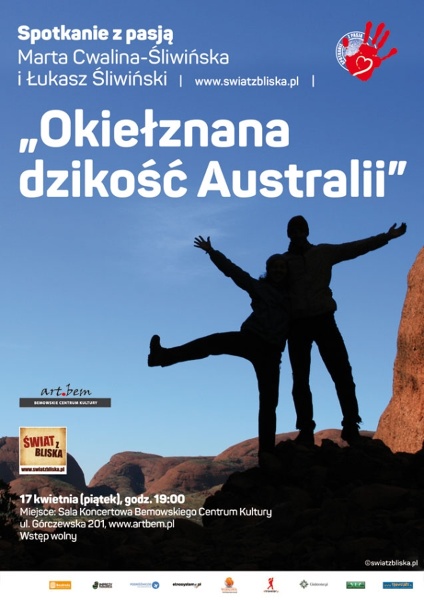 Marta i Łukasz w życiu i w podróżach ciągle szukają okazji do poznania i przeżycia czegoś nowego. Przez 10 lat wspólnych podróży odwiedzili ponad 40 krajów, a ich największa jak dotąd przygoda to 11-miesięczna podróż dookoła świata zorganizowana na własną rękę, którą opisują na blogu www.swiatzbliska.pl. Jednym z etapów tej wyprawy była Australia, którą przez trzy miesiące przemierzali kilkunastoletnim Fordem Falconem.
Kiedy: 17 kwietnis (piątek), godz. 19:30

Gdzie: Bemowskie Centrum Kultury, Górczewska 201,Warszawa

Wstęp wolny!