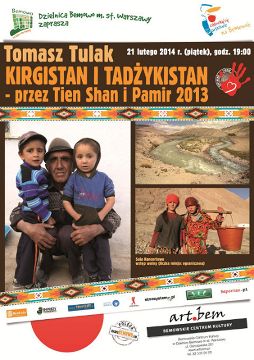 Relacja z podróży do Kirgistanu i Tadżykistanu 21 lutego w Bemowskim Centrum Kultury
fot. Źródło: Artbem.pl
Większość terenu tych małych krajów to góry, gdzie życie wśród skalnych dolin nie zmieniło się przez wieki. Nadal przyjeżdża tu bardzo niewielu turystów. Tien Shan i Pamir – trzecie najwyższe góry świata, przypominają Tybet. To jedne z najpiękniejszych gór świata: pełne ośnieżonych szczytów, kolorowych jezior i rozległych zielonych dolin. Podczas wyprawy przez góry podróżnicy spędzili wiele czasu w małych górskich wioskach, zazwyczaj w tradycyjnych domach i jurtach, często w otoczeniu zielonych rozległych łąk i kolorowych jezior. Na koniec odwiedzili legendarną Samarkandę w Uzbekistanie. W ramach Spotkań z pasją podzielą się z widzami małym fragmentem swojej przygody.
Więcej informacji na stronie: http://artbem.pl/
Gdzie: Bemowskie Centrum Kultury, Warszawa, ul. Górczewska 201

Kiedy: 21 lutego (piątek), godz. 19:00

Wstęp wolny!