Irmina Jabłońska: Skąd pomysł by zamieszkać na Ukrainie, po wschodniej stronie barykady? Co fascynuje i przyciąga tak bardzo, że chce się tam być.
Artur Grossman: Barykada kojarzy się z Żelazną Kurtyną. Właściwie też tak myślałem o Ukrainie, kiedy pierwszy raz przekraczałem granicę: najpierw ta szalona granica, potem obijanie głowy na lwowskim bruku w "marszrutce" i końcu pociąg na Krym, oczywiście z pominięciem kasy biletowej. Przeprowadzka wynikła jakoś naturalnie – końcówka studiów ukrainoznawczych, dziecko we Lwowie. Tak naprawdę jest to dosyć rzadka sytuacja - znane mi osoby, które przejechały na Ukrainę, żeby tu zamieszkać, mogę policzyć na palcach jednej ręki – kierunek jest zupełnie odwrotny. Tutaj przyjeżdża się zwykle dla kogoś, nie dla Ukrainy jako takiej.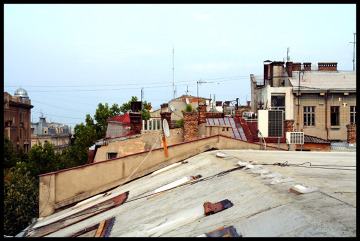 fot. Andrij Dorofiejew

Norman Davies napisał o Polsce "Boże Igrzysko". O Ukrainie można by powiedzieć "Super Boże Igrzysko". Krzyżowały się tutaj kultury różnych narodów, północy, południa, wschodu i zachodu i może to być bardzo fascynujące, szczególnie dla osób zainteresowanych historią, kulturami, etnografią itd.
Bardzo ciekawy jest proces tworzenia się i rozwoju świadomości Ukraińców w kraju podzielonym wzdłuż Dniepru na dwie części: tę skierowaną ku Zachodowi i tę ciążącą ku Wschodowi. Jest to kraj dwujęzyczny i normalnym zjawiskiem jest to, że we Lwowie ludzie rozumieją rosyjski, a w Charkowie – ukraiński. Tam zresztą większość nie będzie odpowiadać po ukraińsku, bo albo się go nie uczyli, albo nigdy nie traktowali poważnie. W Kijowie po ukraińsku mówią babcie na bazarach, we Lwowie zaś duża ilość mieszkańców centrum to etniczni Rosjanie i tam często można usłyszeć rosyjski. Również większość turystów we Lwowie jest rosyjskojęzyczna. Kontrasty w przyrodzie, od gór do morza, w kulturze i historii... to jest najciekawsze na Ukrainie.
Gdyby miał Pan wybrać najmniej turystyczne, a najbardziej magiczne i urokliwe miejsce Ukrainy, gdzie by to było?
Ja pochodzę ze Śląska, który nie słynie z tego, że jest przyjazny turystom. A moje miasto rodzinne, Zabrze, od paru lat jest liderem, na europejskim poziomie, w turystyce przemysłowej. I ludzie przyjeżdżają z całego świata. Na Ukrainie jest podobnie. Ludzie jeżdżą do Czarnobyla, a to przecież kulturalna pustynia. Nie ma morza, plaż, gór, stadionów, wielkich, nowoczesnych centrów turystycznych. Na wielkim obszarze mieszka około 500 osób, które tam nielegalnie wróciły. A turyści chodzą z licznikami Geigera, za sam wstęp płacą 100 dolarów, a cała jednodniowa wycieczka kosztuje ich ok. 300 dolarów. W takim Doniecku z jednej strony pięciogwiazdkowe hotele, piękne domy współczesnej magnaterii, miasto tysiąca róż, ale wystarczy unieść głowę do góry i widzi się powęglową hałdę. Takich kontrastów nie brakuje i na drogach: jeepy, land rovery, a między nimi śmigają zaporożce.
Jeśli chodzi o najbardziej magiczne miejsce... Są takie miejsca w górach, które są aż niespodziewanie puste i urokliwe. Idąc na polską Połoninę Wetlińską czy Caryńską latem, trzeba najpierw kupić bilet na szlak, a potem poruszać się gęsiego Po Na ukraińskiej stronie (by się tam dostać, trzeba objechać przez przejście graniczne, a jest to całodniowa podróż po byle jakich drogach), w Siankach, wchodzi się na szlak po ukraińskich Bieszczadach. W 2005 roku, w środku sezonu, szedłem 21 kilometrów po połoninie przez dwa i pół dnia, i nie spotkałem żadnego turysty - tylko kilku miejscowych, zdziwionych widokiem przybysza.
Nie ma tu tylu szlaków i dobrze rozwiniętej infrastruktury turystycznej, a i samo chodzenie po górach nie jest tak popularne jak w Polsce, w dodatku często pada. Z kolei drugie góry ukraińskie, Góry Krymskie, to góry bardzo suche. Zachwycają tam przepiękne formacje skalne, które schodzą prawie pionowo do morza. Nad Jałtą można stanąć na 1200 metrach pod szczytem Aj-Petri i popatrzeć w dół na prawie stutysięczne miasto.
Miejsca są piękne, ale ludzie ważniejsi. Na ile Ukraińcy potrafią być gościnni, a na ile jest to mit narodowy?
W górach żyją bardzo gościnni ludzie. Często, zgodnie ze starosłowiańskim zwyczajem zapraszają na wesela albo do swych domów. Ludzie na wsi są wszędzie tacy sami, w Polsce jest podobnie - z początku podejrzliwi, szybko okazują się bardzo przyjaźni - jeżeli nie pracują w branży turystycznej, bo wtedy są już zmanierowani. Często można spać w różnych miejscach za darmo, czy nawet coś zjeść. W miastach oczywiście jest inaczej, ludzie są w ciągłym biegu, ale nierzadko widzę, jak we Lwowie wokół turysty, który o coś spytał przechodnia, zbiera się od razu grupka chętnych do pomocy.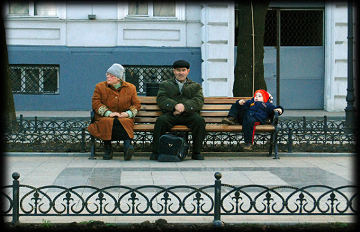 fot. Andrij Dorofiejew

A jak Pan zwykle podróżuje po górach?
Tylko z namiotem. Tutaj nie da się inaczej. To znaczy - da się, ale wtedy się mało zobaczy. W ZSRR i Góry Krymskie, i ukraińskie Karpaty były zamknięte dla indywidualnych turystów. Organizowano jedynie, w wyznaczonych miejscach, wycieczki grupowe z przewodnikiem, który był jednocześnie pracownikiem na liście płac KGB. Tak zamarła przedwojenna sieć schronisk i szlaków polskich oraz czechosłowackich i od 1991 roku to wszystko trzeba było odbudowywać od początku - a by przebić szlak przez dwumetrową kosówkę, trzeba użyć maczety albo siekiery.
Pisał Pan pracę o obrzędach weselnych Hucułów, co zapewne wymagało dłuższego przebywania pośród nich. Jakie huculskie przygody miał Pan szansę przeżyć?
Piłem z nimi tę ich domową wódkę. Na Zakarpaciu nazywają ją palinka. Huculi to bardzo mili ludzie, bezpośredni. Podobni do polskich górali. W przeszłości słynący z rozwiązłości, przetrzebił ich trochę syfilis swego czasu. Zresztą "hucuł" z rumuńskiego oznacza "złodziej koni"... specyficzny naród. Na Ukrainie funkcjonuje mnóstwo żartów i legend o Hucułach. Tzw. huculski kilometr nie mierzy odległości, tylko wskazuje kierunek. "Tam za górą" – to znaczy, że w tym kierunku, a iść można jeszcze dwa dni.
Historii z Karpat mam bardzo dużo. Na przykład jak zbiegamy z koleżankami z ukrainistyki z Howerli, najwyższego szczytu Ukrainy i na przełęczy mijamy dwa piękne konie. Wielkie grzywy, zachód słońca, przepiękny widok. Przełęcz pomiędzy Howerlą i Pietrosem. Pobiegły w stronę Rumunii, na Zakarpacie. Po dwóch godzinach schodzenia w dół spotkaliśmy staruszkę, Hucułkę. Mogła mieć z 50 lat, chociaż wyglądała na 80. I skakała sobie do góry niczym kozica. Przywitała się: "Slawa Isusu Chrystu", czyli "Szczęść Boże"... i pyta się nas:
Czy nie widzieliście tu kobyłek moich?
Widziałem – powiedziałem – ale w tym tempie, co one biegły, to one są już gdzieś w okolicach rumuńskiego Segetu. Granica im nie straszna.
A gdzie pobiegły, a kiedy?!
A tu na przełęczy były, dwie godziny temu. Pobiegły na Zakarpacie, prosto na południe.
Gdzie?! Tam w dół?
Tak, tak, w dół.
No to świetnie, dziękuję.
I pobiegła do góry... dla niej to nie był problem.
Czy jechał Pan kiedyś pociągiem o standardzie zahalnym? Jakie wrażenia?! 
Tak, zapłaciłem jakieś 5 złotych za 700 km ze Lwowa do Kijowa. Mało kto jeździ zahalnym na tak długich dystansach, by 19 wyjechać, a dopiero o 15 następnego dnia dojechać na miejsce. Ale my jako studenci oszczędzaliśmy na każdej kopiejce. Spałem wtedy na miejscu bocznym, a kiedy się obudziłem obraz był taki, że w boksie na wprost mnie, na dolnych pryczach siedziały po 4 osoby, na górnych półkach kucały po 2, a na półce na bagaże na górze była jeszcze jedna. Czyli w jednym boksie, zamiast 4 osób, było 14. Na stoliku stały 2 słoiki, bo nie wolno pić wódki – jeden więc krążył jak fajka pokoju i niektórzy się po nim bardzo krzywili. W drugim słoiku były ogórki. Klasa robotnicza jechała do pracy do Kijowa. Niektórzy tak jeżdżą do pracy po 5 godzin każdego dnia. Ciekawy widok.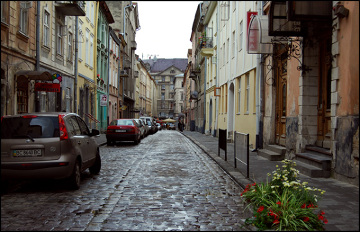 fot. Andrij Dorofiejew

Zahalnyj to jest wagon dla tych, którzy jechać muszą, a nie mają albo pieniędzy, albo biletu. W zeszłym roku wracałem w nocy z Użhorodu do Lwowa, oczywiście biletów brak. Do zahalnego wpuszczano wszystkich chętnych, multum ludzi – ja jechałem na koszu na śmieci, za plecami wybite okno. Przyszedł do mnie kierownik wagonu, oczywiście nietrzeźwy. Spojrzał na mój polar Alpinusa, laptop i walizkę, i powiedział: "30 hrywien by dał i by se usiadł normalnie". Więc mu dałem te 12 zł w przeliczeniu na nasze i 3 osoby musiały się przesiąść, bym miał gdzie spać – trochę głupio wyszło.
A autostopem zdarzyło się kiedyś jechać po Ukrainie? Czy w świadomości Ukraińców to naturalne podwieźć podróżnika, czy raczej oczekują zapłaty?  
Autostop najczęściej jest płatny, ale nie zawsze – w tym kraju nie ma twardych reguł. Kiedyś podwózkę można było złapać nawet w centrum miasta. Wystarczyło podnieść rękę i najdalej piąte auto się zatrzymywało. Teraz takie zjawisko jest już rzadsze. Najlepiej się ugadać od razu czy przejazd płatny, czy nie. Czasem ktoś może zechcieć podzielić się kosztami paliwa. Poza tym zasady są takie same, jak gdziekolwiek indziej w Europie.
Zamieszkał Pan we Lwowie, a więc gdzie tam można zasmakować Ukrainy?

Mam całą autorską trasę po lwowskich knajpach. Niedawno np. pojawiła się nowa kawiarnia, która nazywa się "Kopalnia kawy". Na taśmociągu przesuwają się ziarenka kawy, nasypywane w podziemiach łopatkami. Na dole przy kasie dostaje się lampkę elektryczną i kask. Jeżdżą wagoniki jak na węgiel i rzekomo wożą kawę, którą dopiero co wydobyto. Można tu spróbować kawy po banderowsku, po lwowsku, po wiedeńsku... bardzo oryginalna aranżacja.
Z innej beczki jest tzw. "Najdroższa Knajpa w Galicji", popularnie zwana "U masonów". Herbata kosztuje 150 hrywien, czyli 60 zł, chyba, że posiada się kartę członkowską - wtedy zapłacimy 15 hrywien, czyli 6 zł. Najciekawsze jest wejście. Wchodzi się na piętro i puka do drzwi. Otwiera pan w szlafroku, takim starym, spranym szlafroku, zaprasza: "Proszę, proszę". Stolik przykryty ceratą, mała kuchenka, herbata parzy się na grzałce. Niedogolony staruszek się pyta: "W czym mogę pomóc?". "Bo my tu do restauracji...". "A wy swoiii?"- zapytuje, by po usłyszeniu potwierdzenia wpuścić do środka. Przechodzi się przez zasłonkę, a tam pięknie, elegancko, zdobienia ciosane w drewnie - knajpa na 5 gwiazdek.
W "Pracowni Czekolady" można za 2000 hrywien, czyli 800 złotych, kupić makietę ratusza lwowskiego z białej czekolady, zaś w "Kryjówce", knajpie stylizowanej na krajówkę UPA można postrzelać z laserowej śrutówki, a żeby wejść, trzeba znać hasło i przejść test ukraińskiej "medowuchy", czyli wódki z miodem. W "Domie Legend" stoi trabant na warszawskich blachach. W zasadzie to nie stoi, ale wisi na linach. I to nie jest już trabant tylko amfibia z płetwami i śrubą okrętową na dachu... Kominiarz przy wejściu, odgłosy Lwowa (np. chrapiącego prezydenta miasta) – to też specjalność "Domu Legend".
Lwów jest mistrzem w kreatywności w tworzeniu knajp.
To się niedawno zaczęło. Jeszcze w 2004 roku wybór był raczej skromny. Najciekawszą knajpą była wtedy "Ormianka". Dziś nadal można tam zasmakować tradycyjnej kawy ormiańskiej parzonej na piasku. Miejscowi, którzy bywali np. w Krakowie, są bardzo dumni z lwowskiej kawiarnianej oferty, dla nich to taki mały powrót do starych, austriackich czasów, kiedy Kraków uważano we Lwowie za prowincjonalne miasto, a Lwów chełpił się statusem stolicy galicyjskiej autonomii.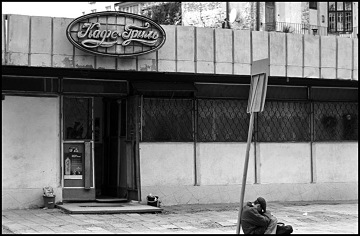 fot. Andrij Dorofiejew