Niedaleko pada jabłko
Tak, tak. To ten sam człowiek, którego kilkumetrowy pomnik jaśnieje (choć w dwóch nieco odmiennych pozach) w słońcu zarówno po zambijskiej jak i po zimbabwańskiej stronie Wodospadów Wiktorii. Tak, tak, to ten Pan, który jako pierwszy Europejczyk stanął u progu majestatycznych kaskad i na cześć angielskiej królowej nadał im jej imię. Ten sam, który odkrył dla zachodniego świata środkowy bieg Zambezi, jezioro Ngami, jezioro Malawi i jezioro Bangweulu.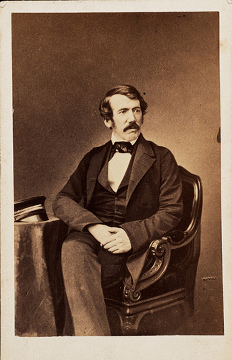 David Livingstone we własnej postaci
fot. Smithsonian Institution, Flickr
Szczerze mówiąc niewiele zapowiadało tak spektakularny sukces szkockiego odkrywcy. Jako drugi w kolejności z siedmiorga rodzeństwa musiał wcześnie dorosnąć i zacząć zarabiać. W domu Livingstonów nie przelewało się, zatem David już jako dziesięciolatek podjął pracę w pobliskiej fabryce bawełny. Jego ojciec był gorliwym protestantem, co jak to w życiu bywa udzieliło się i młodemu Davidowi oraz zdeterminowało jego życiowe zainteresowania. Najpierw książki teologiczne, potem zamiłowanie do zwierząt, aż wreszcie zagadnienia łączące naturę i naukę doprowadziły nastoletniego chłopaka na studia. Teologiczne i medyczne.

Marzenie o Chinach
Bywa czasem i tak, że jedna przeczytana książka może odmienić i ukierunkować czyjeś życie. Zupełnie jak u Livingstona, który po lekturze "Appeal to the Churches of Britain and America on behalf of China" Karla Gutzlaffa zamarzył o pracy misyjnej w Chinach. Ba, nawet zaczął zbierać pieniądze na wyjazd, ale tzw. wojny opiumowe ( Wielka Brytania próbowała wymusić na Chinach ustępstwa w handlu opium), skutecznie mu to uniemożliwiły. Livingstone został jednak członkiem Londyńskiego Towarzystwa Misyjnego, gdzie podobno uznawano go za dziwaka, i z którego nieskutecznie z racji owego dziwactwa próbowano go usunąć. Szczęśliwie za Davidem wstawił się jeden z tamtejszych belfrów, co umożliwiło mu ukończenie edukacji. Po Chinach na chwilę jego wzrok zatrzymał się na Indiach, ale ostatecznie padło na Afrykę. I dobrze. Bo gdyby nie to Wodospady Wiktorii nie nosiłyby dziś nazwy zacnej królowej, a kto wie, może i wcale nie zostałyby odkryte (choć z racji na ich rozmiary byłoby to dość mało prawdopodobne). Po ślubie z Mary Moffat wyruszył w podróż do Afryki. Żeby nie było- razem z żoną, której jednak biografie odkrywcy nie poświęcają zbyt wiele miejsca. Być może dlatego, iż bardzo krótko towarzyszyła mężowi w afrykańskiej przygodzie. Po tym jak wbrew rodzinnym sprzeciwom Livingstone przeciągnął ją (już wtedy ciężarną) przez niebezpieczne tereny południowej Afryki wróciła do Anglii wraz z potomstwem.
Narodziny gwiazdy

Nie przeszkodziło to jednak Livingstonowi w kontynuacji swojej podróży po kontynencie. Ale zacznijmy od początku. Pierwszym miejscem jego pracy misyjnej stała się Beczuana ( dziś Botswana, jedno z najszybciej rozwijających się państw na kontynencie afrykańskim). Przez pewien czas słał rozentuzjazmowane listy do Towarzystwa londyńskiego, z których wyzierała chęć odkrywania nikomu jeszcze nieznanych krain i lądów. Tej chęci omal nie przypłacił życiem, kiedy zaatakowany przez lwa prawie stracił rękę. Cóż. Sława ma swoją cenę. Wiedziony ciekawością i pasją odkrywcy długo nie zagrzał miejsca w wyznaczonej mu placówce misyjnej. Wraz z Williamem Oswellem (przyjacielem i sponsorem wyprawy) rozpoczął podróż z południa na północ Afryki, co swoją drogą w tamtych czasach zdołało wykonać niewielu, jeśli w ogóle ktokolwiek :). To właśnie w czasie tej wyprawy gwiazda Livingstona zabłysła po raz pierwszy, kiedy wraz z Oswellem dotarli nad jezioro Ngami. Ci, którym ta nazwa mówi niewiele mogą dokształcić się tutaj: http://en.wikipedia.org/wiki/Lake_Ngami. Notabene źródła historyczne podają, iż Ci dwaj Panowie byli pierwszymi Europejczykami, którzy ujrzeli taflę jeziora. Livingstone rozochocił się na tyle, że w drugą podróż na te tereny wybrał się z (o zgrozo) ciężarną małżonką i gromadką dzieci. Oswella zostawił w tyle, bo dzielić się sukcesem nie zamierzał nawet z przyjacielem. Po tym incydencie wymęczona trudami podróży Mary wróciła do spokojnej Anglii.
Być może z braku małżonki lub odpowiedniej ilości pieniędzy trzecią niezwykle owocną eksplorację odbył znów ze starym znajomym. To właśnie wtedy do Livingstona uśmiechnęło się szczęście i po odkryciu rzeki Zambezi trafił nad wodospady Mosi-Oa-Tunya (dym, który grzmi) i natychmiast jako pierwszy Europejczyk oglądający ich majestat i jak na Europejczyka przystało nadał im nową
nazwę.
Dobra obsesja nie jest zła
Kolejną ekspedycję sfinansował rząd angielski, co nieco odciążyło nadszarpnięty już budżet Oswella. Livingstone zamarzył, aby sprawdzić, czy Zambezi nadaje się do żeglugi. Odkrycie to miało być rewolucyjne dla rozwoju handlu i osadnictwa wewnątrz kontynentu.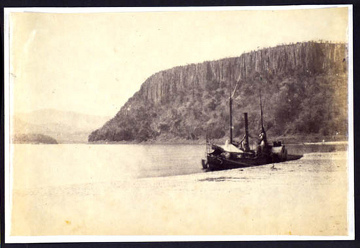 Statek, którym Livingstone chciał przepłynąć Zambezi
fot. National Library of Scotland, Flickr
Niestety mimo upływu czasu dziwactwo Livingstona (które odkryto już przecież w Towarzystwie Misyjnym) wpływało negatywnie na relacje z kopanami podróży, a statek, którym płynęli okazał się zupełnie nieprzygotowany na takie wojaże. Jakby tego był mało na odkrywców czekała niemiła niespodzianka. Jeden z odcinków rzeki z racji dużej katarakty okazał się niemożliwy do przepłynięcia. Po kilku latach eksploracji wyprawę zakończono z niezbyt zadowalającym rezultatem. Ale, ale…
Pasją Livingstona było nie tylko odkrywanie tego co nowe, ale też dokumentowanie i opisywanie miejsc, w których przebywał i rzeczy, które widział. Chciał, by to co zobaczył posłużyło kolejnym pokoleniom, a także w znaczący sposób wpływało na rozwój Afryki. A ponieważ wielkim człowiekiem był, jak to wielcy miewają popadł w swego rodzaju obsesję. Nie wiedzieć czemu koniecznie chciał odnaleźć legendarne źródła Nilu. Jednak zamiast tego sam zaginął, a w Londynie zgodnie z dochodzącymi z Afryki plotkami szybko uznano go za zmarłego.
Pan Livingstone jak domniemuję?
Zaginięcie największego odkrywcy XIX wieku nie mogło obejść się bez spektakularnej akcji ratunkowej, a właściwie poszukiwawczej. W ślad za zaginionym doktorem wyruszyła ekspedycja z walijskim dziennikarzem i podróżnikiem Henrym Stanleyem na czele. Słynnym (niestety) z braku szacunku do tubylców i nad wyraz częstym okazywaniem tego strzałami z broni palnej.
I jak to w historiach kończących się happy endem bywa Stanley odnalazł Livingstona, a potem okrzyknięty wybawicielem wrócił w glorii chwały z wdzięcznym za uratowanie Davidem do Anglii. No… nie do końca. Choć rzeczywiście Stanley Livingstona odnalazł. Schorowany, doświadczony malarią i tropikalnym klimatem zamieszkał w wiosce tubylczej nad jeziorem Tanganika. Choć nie przypominał już dziarskiego młodzieńca sprzed 15 lat, który z iskrą w oczach wyruszał na podbój Afryki, był jedynym Europejczykiem w promieniu wielu kilometrów. Stanley wiedział o tym doskonale, jednak jako prawdziwy gentelman o nienagannych manierach gdy tylko ujrzał Livingstona nieomieszkał zadać mu pytania: Dr Livingstone, I presume?
Livingstone odmówił powrotu do kraju, a dwa lata później zmarł w małej wiosce nad jeziorem Bangweulu (http://etraveler.pl/strefa-podroznika/afryka/zambia/zambia-przewodnik-subiektywny,artykul.html?material_id=4ff8ae92b564dadd14000000).
Jak przystało na tradycję szanującego się państwa, jego szczątki przewieziono do Wielkiej Brytanii, gdzie z należytymi honorami pochowano je w Opactwie Westminsterskim. Sam Livingstone być może wolałby spocząć gdzieś nad brzegiem któregoś z odkrytych przez siebie jezior lub tuż nad majestatycznymi wodospadami Wiktorii, których możliwość podziwiania podarował cywilizowanemu światu. Ale tego nie dowiemy się pewnie nigdy.
Na cześć Davida Livingstona jego imię otrzymało miasto (niegdyś stolica Zambii) leżące u stóp odkrytych przez niego wodospadów.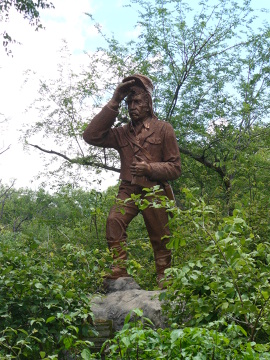 Pomnik Davida Livingstone'a tuż nad Wodospadami Wiktorii w Zambii.
fot. Paulina Skiba