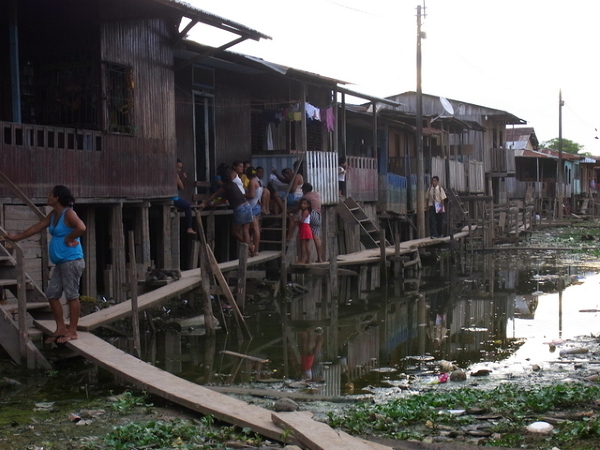 Szamanizmem i wiarą w moc roślin amazońskiej dżungli zainteresowałam się podczas mojego pobytu w Peru. Mimo pory deszczowej i kwietniowej powodzi w Iquitos postanowiłam dotrzeć tam z Limy drogą lądową, by odnaleźć szamana oraz ludzi, którzy pomogą mi zrozumieć te tajemnicze wierzenia i nauki.
Przeżyliśmy lawiny błotne, głód i niemiłosierne upały. Pokonaliśmy setki kilometrów łodzią, na piechotę i w mototaxi. Odwiedziliśmy kilka wiosek, trochę przesympatycznych rodzin, przepytaliśmy ludzi co niemiara i udało się! Znaleźliśmy szamana.
Poza tym relaksowaliśmy się w hamaku, polowaliśmy na kajmany, poznawaliśmy tutejsze zioła, a podczas podróży lądowych i wodnych obserwowaliśmy zwierzaki. Już na początku z powodu trzech lawin błotnych 14 godzin jazdy busem zamieniło się w ponad 30. W pewnym momencie nie było jedzenia i ludzie sprzedawali to, co właśnie przewozili za grube pieniądze.
Pucallpa okazała się zupełnie innym miejscem w porównaniu do turystycznego Peru. Zagłębiając się w portowe baraki, nadrzeczne dzielnice z domkami na palach czy przemierzając zakurzone, drobne, gruntowe drogi odkrywaliśmy świat, który nas naprawdę interesuje i cieszy. Tutejsi ludzie okazali się niesamowicie otwarci, ciekawscy, przemili i zawsze chętni pomoc. Oczywiście o angielskim można zapomnieć, ale to żaden problem.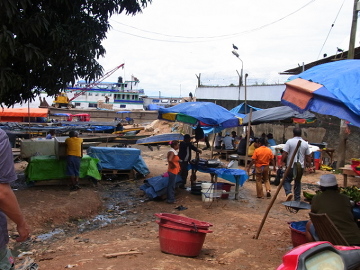 fot. Emilia Grzesik
Czekając na statek do Iquitos, wybraliśmy się do Puerto Callao położonego nad jeziorem Yarinacocha. Po paru pogaduchach z miejscowymi o mocy roślin dowiedzieliśmy się, gdzie można spotkać szacownego szamana, z którego usług ten czy tamten korzystał.
Zainteresowano nas szamanami z plemienia Shipibo. Lokalni mówili, ze ich ayahuasca jest czystsza niż w Iquitos, bez domieszek innych roślin, poza tym jest taniej i o wiele przyjemniej.
Postanowiliśmy sprawdzić te wioski i zapakowaliśmy się w łódkę do San Francisco. Po godzinie zawitaliśmy do małej przystani. W wiosce nie ma nic poza prostymi drewnianymi budyneczkami krytymi strzechą. Popytaliśmy trochę i chwilę później pani z jednego z domów wraz z gromadka dzieciaków poprowadziła nas do kolejnej wioski oddalonej o jakieś 20 minut spacerem. Tam rozmawialiśmy z Dawidem, który prowadzi ceremonie wraz ze swoim dziadkiem Juanem. Podobno to jeden z najbardziej doświadczonych i najstarszych szamanów w okolicy. Nie władał on hiszpańskim, a tylko Shipibo. Jego syn Dawid był naszym tłumaczem. Zaczął opowiadać nam o roślinach otwierających wrota do kosmosu i zaawansowaniu swego ojca w szamańskiej sztuce.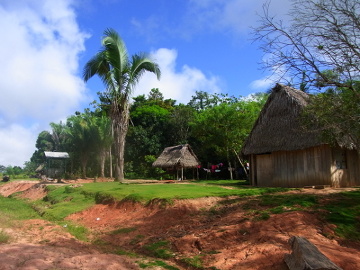 fot. Emilia Grzesik
Postanowiliśmy się więc oddać mocy roślin i poznawaniu tutejszej kultury "od kuchni". Wolne chwile spędzaliśmy na przystani obserwując toczące się wokół nas życie. Dzieciaki skakały wokoło bawiąc się beztrosko, ale gdy przyjeżdżał pakunek, nawet najmniejsze szkrab chwytał za cokolwiek byle zarobić trochę grosza. Zagadaliśmy się także na temat tutejszego życia z Rocher'em oraz jego siostrą. Opowiedzieli nam jak ważna jest dla szamana dieta i rośliny z dżungli, z których szaman czerpie swoją moc. Pytaliśmy także o szkoły i możliwości pracy. Cóż nie jest tutaj najlepiej. Średni dzienny zarobek mototaksówkarza to 30-40 soli, kapitan łódki zarabia tyle samo. Zarobek redukuje w dużej mierze bardzo drogie paliwo. Aż 12 soli za galon.
Opowiedzieli nam także o parze antropologów, Polaków, którzy w głębi dżungli badają bardziej odizolowane plemiona. Głównymi tematami podobno są okultyzm i szamani. Także mnie i Maxa wzięto za badaczy. Po rozmowie zaproponowali, ze ugotują nam obiad, bo w wiosce inaczej ciężko dostać jedzenie. Czasem ktoś coś ugotuje a czasem trzeba chodzić i pytać. Zakupiliśmy produkty i rodzeństwo ugościło nas w domu swoich rodziców. Przyjemnie było się pohuśtać w hamaku w przewiewnym domku. Upal był nie do zniesienia. I tak spędzaliśmy czas na rozmowach z ludźmi przy przystani, nocowaliśmy u szamana w chacie za głównym domem bez prądu i wody, a na posiłki zapraszali nas lokalni za drobną opłatą.
Po ceremonii ayahuaski postanowiliśmy zbadać inne środowisko szamanów w Iquitos. Zaczęliśmy intensywnie szukać barki, która nas tam zabierze. W końcu, w celu ogarnięcia wszystkiego wzięliśmy mototaxi. Każda barka w innym porcie. Ktoś proponuje tę, ktoś mówi o innej. Przechodziliśmy przez błotniste nabrzeża, chwiejące się kładki nad głęboką wodą i pod wielkimi pakunkami dźwiganymi przez ciężkie maszyny. Wleźliśmy w sam środek portowego zgiełku. Każdą łódź można obejrzeć, a ludzie są bardzo mili i wszystko, oczywiście tylko po hiszpańsku, wytłumaczą.
Z powodu opóźniania się odpływu naszej łodzi zamieszkaliśmy na barce w porcie wnikając dogłębnie w portowe życie. W końcu gdy ruszyliśmy mieliśmy przed sobą tylko setki kilometrów rzeki Ucayali, trzy magiczne zachody słońca, nieliczne zapomniane przez świat wioski i dżungla, dżungla, dżungla na lewo i na prawo przez cztery dni.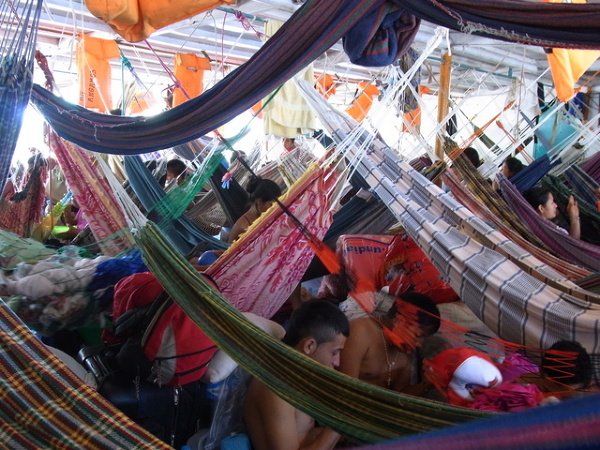 Statek był przeładowany ładunkiem, hamakami i ludźmi. Jedzenie – monotonne (kurczak, ryż i makaron), słońce paliło niemiłosiernie, a woda w kranie pochodziła prosto z rzeki. Uważam jednak tę przeprawę za jedną z najciekawszych w moim życiu.
W okolicach Iquitos kontynuowaliśmy zdobywanie wiedzy o amazońskich szamanach. Powędrowaliśmy na targ magiczny w Belem, gdzie można nabyć nalewkę dobrą na wszystko, a także ayahuaskę i San Pedro wykorzystywane pierwotnie w ceremoniach plemiennych oraz wiele innych leków i tajemniczych substancji. Spędziliśmy tutaj prawie cały dzień, pytając o każdy specyfik.
fot. Emilia Grzesik
Zanim się zrobiło ciemno i niebezpiecznie, postanowiliśmy zobaczyć pływające domy w Belem. Tutaj rzadko kto się zapuszcza bez obstawy agencji turystycznej. Z pomocą pań z targu wynajęliśmy łódź i zapuściliśmy się pomiędzy stłoczone pływające biedne mieszkania. Przed powrotem do Limy wyruszyliśmy z przewodnikiem w podtopioną dżunglę. W małej łódeczce z paroma wiosłami polowaliśmy na kajmany, poszukiwaliśmy węży i leczniczych roślin. Przepłynęliśmy tym drewnianym kajaczkiem Amazonkę wszerz, wylewając co chwila wodę za burtę. Dotarliśmy także do wioski, gdzie dowiedzieliśmy się o kolejnych badaniach nad tajemnicami amazońskich szamanów. Napotkaliśmy także tragarzy narkotyków i wysłuchaliśmy ich historii.
"Hardkorowość" mojej podróży to nie tylko trudy nieturystycznego szlaku, ale wspaniałe codziennie obcowanie z lokalną ludnością i podążaniu drogą nakreśloną przez ich wskazówki, a nie przewodniki czy turystyczne fora. Spędziliśmy czas na rozmowach z mieszkańcami tych okolic, zapraszani w ich domostwa na obiad czy by powisieć w hamaku sącząc ciepłe piwko lub lokalny bimberek. Poznaliśmy kulturę oraz wierzenia, które otworzyły mi oczy na nasz niesamowity świat.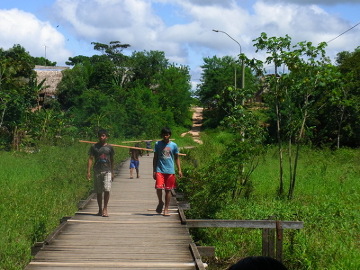 fot. Emilia Grzesik