Dr Jerzy Achmatowicz - latynoameryaknista, pracownik Zakładu Filologii Romańskiej na Uniwersytecie Wrocławskim, tłumacz, prawnik i filozof. Wykładał ponad 15 lat na Uniwersytetach w Chile i Meksyku. Aktualnie zajmuje się kwestiami objawień Guadelupańkich i postacią św. Juana Diego.
Katarzyna Lebiedzińska: Mówi się, że Meksyk to kraj, który słynie z piękna przyrody. Konkwistadorzy zdobywający te ziemie nazywali je Rajem (jak pisze Jan Gać w swojej książce o Meksyku). Czy można tak powiedzieć?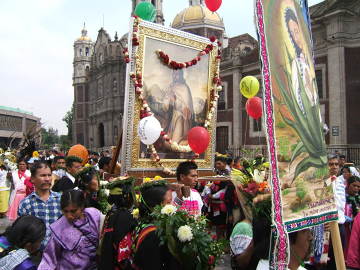 Meksyk. Religijna procesja uliczna
fot. Jerzy Achmatowicz
Jerzy Achmatowicz: Jeżeli chodzi o nazwanie Meksyku przez konkwistadorów Edenem, trzeba to stwierdzenie doprecyzować, ponieważ nie znajdujemy takiego określenia w żadnych dokumentach sporządzonych przez konkwistadorów. Nie pisze o tym Hernán Cortés ani Bernal Díaz del Castillo, co nie zmienia jednak faktu, że wszystko, co tam zobaczyli nie miałoby być dla nich czymś wyjątkowym. Stwierdzenie Raj na ziemi było raczej używane przez uczestników wyprawy Kolumba, którzy odkryli Wyspy Karaibskie. Trzeba zaznaczyć, że zastali oni tamtejszą ludność w stanie naturalnego bytowania. I rzeczywiście mogło to szokować, a nawet zadziwiać odkrywców, którzy znali tylko ląd europejski.

K.L.: Wiadomo, że w Meksyku znajdziemy wiele przykładów architektury, która łączy wpływy indiańskie i europejskie. Jakie miejsca powinien odwiedzić podróżnik, aby doświadczyć tego zjawiska na własnej skórze?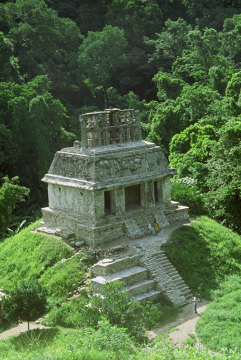 fot. Jerzy Achmatowicz
J.A.: Mówiąc o połączeniu wpływów indiańskich i europejskich w architekturze meksykańskiej należałoby posłużyć się pojęciem churrigueresco. Pod tym hasłem kryje się to, co po polsku nazywamy churrigueryzmem, czyli odmianę baroku, która została wprowadzona przez tamtejszych artystów w okresie kolonii. Należy pamiętać, że często różnego rodzaju malowidła, rzeźby, plastyczne wizerunki były wykonywane przez Indian, którzy tworząc nowy rodzaj sztuki nadal czerpali ze swojej rodzimej kultury. Przykładem takiej architektury może być ściana frontowa katedry w Texcoco, na której można zobaczyć scenę tańca, której biorą udział Indianie. Mógł to być jeden z ich rytualnych tańców.

K.L.: Meksykanie słyną ze swojej gościnności. Czy ma Pan w pamięci jakąś sytuację, która obrazowałaby uprzejmość ze strony Meksykan?

J.A.: Jeśli chodzi o gościnność to może nie nazywałbym jej jakimś fenomenem, raczej powiedziałbym, że Meksykanie są bardzo grzeczni, uprzejmi. Również w stosunku do nieznajomych. Rzeczą normalną jest np. to, że w windzie osoby, które się nie znają powiedzą sobie dzień dobry. Takie zachowania są na porządku dziennym.

Czy el mariachi, których znamy z filmów to mit, atrakcja turystyczna czy żywa kultura?

J.A.: Nie wiadomo do końca, jaki jest rodowód tego zjawiska. Nazwa el mariachi jest często kojarzona z francuskim słowem marriage, które oznacza akt zawarcia małżeństwa. Przypuszcza się, że w czasach kolonialnych zwyczaj muzykowania towarzyszył właśnie tej ceremonii. Natomiast dzisiaj mariachis są zespołami, które zaprasza się z rozmaitych przyczyn. Mogą to być urodziny, ślub lub chęć publicznego wyrażenia uczuć do wybranki serca. Okazji jest wiele, różne są też repertuary muzyków, dlatego zadaniem zapraszającego jest wybór odpowiednich do okazji utworów. Słynnym miejscem w mieście Meksyku, w którym można znaleźć mariachis i poprosić ich o koncert jest Plaza Garbaldi.
K.L.: Jeżeli jedziemy do Meksyku i nie mówimy po hiszpańsku, co może nas ominąć? W których miejscach porozmawiamy po angielsku?

J.A.: Meksyk podobnie jak cała Ameryka Łacińska należy do krajów hiszpańskojęzycznych. Oczywiście wyjątek stanowi tu Brazylia. W Meksyku znakomita większość mieszkańców nie posługuje się innym językiem niż hiszpański, a jeśli zdarzy się inaczej będzie to najprawdopodobniej osoba znająca elementarne zwroty z angielskiego. Na dworcach, w większych hipermarketach można się spodziewać, że obsługa będzie umiała się z nami porozumieć, jednak nic nie zastąpi rozmowy po hiszpańsku. Nieznajomość języka może prowadzić do tego, ze do pewnych miejsc nie dotrzemy, nie usłyszymy autentycznych relacji na temat rzeczy, które nas zainteresują lub zaciekawią.

K.L.: Jakie środki transportu są najwygodniejsze na długie podróże, a które wybierać na krótsze dystanse? Czy powiedzenie, że podróżowanie po Meksyku autobusem jest najlepszym i najtańszym rozwiązaniem sprawdza się we wszystkich przypadkach?

J.A.: Rzeczywiście podróżując po Meksyku najlepiej wybrać (oczywiście pomijam wycieczki na dalsze dystanse) linie autobusowe. Jedne są lepsze, inne gorsze. Od nas zależy jak chcemy podróżować i jakiego standardu wymagamy. Podróż po Meksyku to podróż, która nigdy się nie kończy, dlatego nie ma mowy o znalezieniu uniwersalnego środka transportu na każdą okazję. Zwłaszcza, że Meksyk to ogromny kraj o powierzchni pond dwóch milionów kilometrów kwadratowych. Tu każdy stan to rodzaj małej ojczyzny ze swoimi tradycjami i kulturą. Kuchnia, historia, obyczaje i ceremonie to elementy, które różnią poszczególne regiony na tyle, że można swobodnie o wielokulturowości.

K.L.: Co może sprawić, że zakochamy się w Meksyku? Jak wyglądała Pana pierwsza podróż do tego kraju?

J.A.: Byłbym ostrożny z tym sformułowaniem. Lepiej powiedzieć, że Meksyk to kraj, który nie pozostawi nikogo obojętnym. Niektórzy są nim zachwyceni, wręcz zakochani, ale inni podróżni mówią o uczuciu odrzucenia, które spowodowała wizyta w tym państwie. Powody dla, których lubi się lub nie ten kraj mogą być przeróżne. Obyczaje, ludzie, kuchnia, zapachy, kolory. Są i tacy, których denerwuje wszechobecny zapach tortilli, meksykańskiego chleba powszedniego. Przy czym na mnie nie robił on takiego negatywnego wrażenia.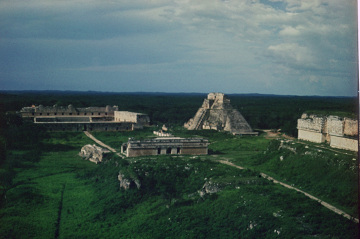 fot. Jerzy Achmatowicz


Moja przygoda z Meksykiem rozpoczęła się w grudniu 1980 roku, kiedy wylądowałem w mieście Meksyku. Byłem wtedy stypendystą rządy meksykańskiego. Przyjechałem z rudymentarną znajomością hiszpańskiego, co spowodowało wiele zabawnych sytuacji, ale na szczęście udało mi się znaleźć lokum na południu stolicy i spędzić tam 10 miesięcy w dzielnicy –trzeba zaznaczyć- bardziej przyjaznej Europejczykowi. Mam na myśli zarówno względy architektonicznie, ale też społeczne.

K.L.: W których ze świąt narodowych lub lokalnych warto uczestniczyć i dlaczego?

J.A.: Trzeba pamiętać, że mamy do czynienia z republiką, która ma około 200 lat, dlatego najbardziej hucznymi świętami państwowymi, będą te związane z obchodami dnia niepodległości. Najczęściej w państwach Ameryki Łacińskiej są to daty umowne związane z początkiem procesu narodowo-wyzwoleńczego. Tak samo jest w przypadku Meksyku.

K.L.: Burritos, tortilla czy tamales takie pozycje znajdziemy w karcie dań w restauracjach meksykańskich? Która z tych potraw najbardziej przypomina Panu Meksyk? Czy lubi pan ten typ kuchni?

J.A.: Burritos to wymysł Macdonalda i nie ma to nic wspólnego z kulturą meksykańską. Tortilli nie należy traktować jako potrawy, ale jako produkt używany do komponowania bardziej złożonych dań. Gdy do tortilli dodamy kilka składników, nazwiemy taką potrawę tacos. Tamales są bardzo meksykańskie, a właściwie południowo meksykańskie, bo z tego regionu pochodzą. Kuchnia meksykańska bardzo mi odpowiada. Każdy ze stanów reprezentuje odmienny rodzaj kuchni. Inne będą dania w Puebli, mieście Meksyku czy na półwyspie Jukatańskim. I choć najczęściej mówi się, że są to dania bardzo ostre, nie wolno dać się zmylić ogólnym opiniom. Można spotkać potrawy bardzo pikantne, ale też łagodne, charakterystyczne dla Majów. Zresztą fenomenalne, bardzo smaczne.

K.L.: Najczęściej kojarzy się Meksyk z tequilą i mezcalem, jednak zapomina się o innych napojach, które są charakterystyczne dla tego kraju. Jakich i dlaczego tak rzadko można spotkać je zagranicą?

J.A.: I słusznie, jednak trzeba dodać, że bardzo charakterystycznym napojem jest też pulque. Jedni kwalifikują ten napój do jednego z rodzajów piwa, ale trudno mówić o czystej przynależności do tego typu alkoholi, ponieważ pulque przyrządzany jest z meksykańskiego kaktusa maguey. Jest to święta roślina w Meksyku, z której według starych tradycji upuszczane są soki. Następnie one fermentują i tak powstaje pulque.

K.L.: Dlaczego tak ważne jest oczyszczanie wody, którą się spożywa?

J.A.: Kwestia higieny jest bardzo istotna. Gdy nie zadba się o to, można nabawić się różnego rodzaju pasożytów, a jak wiadomo nie jest to zbyt przyjemne doświadczenie, a wręcz uporczywe.

K.L.: Meksyk jest bardzo wysoko położonym krajem. Czy to ma wpływ na samopoczucie? Można się do tego przyzwyczaić?

J.A.: Trzeba powiedzieć, ze centralna część Meksyku (Altiplano) jest położona na wysokości ponad 2000 m n.p.m., dlatego odczuwanie zmęczenia może być naturalnym objawem, jednak mnie to jakoś nie dotknęło. Nie jest to, aż taka zawrotna wysokość jak na przełęczach andyjskich, gdzie wysokość sięga 4000 m n.p.m. i więcej.

K.L.: Czy kobiety mogą swobodnie podróżować same po Meksyku? Których regionów należy się wystrzegać? Do jakich miejsc nie wchodzić? Czy to może jedynie mit machismo?

J.A.: Oczywiście, że kobiety mogą podróżować po Meksyku. Więcej mówi się o machismo niż jest to warte. Wiadomo, że kiedy przechodzi ładna kobieta ulicą, słychać okrzyki czy cmokanie, jednak nie można powiedzieć, że byłoby to coś co przeszkadzałoby znacząco w zwiedzaniu. Trzeba tylko pamiętać, jak zresztą we wszystkich innych krajach, żeby nie zapuszczać się w miejsca takie jak slumsy, dzielnice biedoty, w których gringo (obcy) może być narażony na różnego rodzaju nieprzyjemności.

K.L.: Jakie obiekty architektury sakralnej można polecić podróżnikowi, który lubi ten typ zabudowań?

J.A.: Katedry z okresu kolonialnego. Są na prawdę wspaniałe. Co więcej? Kościoły z XVI i XVII wieku, piękne budowle, w których dominuje styl churrigueresco.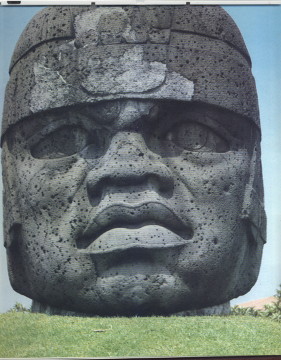 fot. Jerzy Achmatowicz
K.L.: Majowie czy Aztekowie. Która z kultur miała większe znaczenie na kształtowanie się tego co nazywamy współczesną kulturą meksykańską?

J.A.: Ciężko jednoznacznie odpowiedzieć na to pytanie, jednak prawdą jest, że współcześni Meksykanie (nie licząc mieszkańców Półwyspu Jukatańskiego) bardziej utożsamiają się z kulturą aztecką bardziej niż Majów. Której jest więcej? Trudno określić, ale za pomoc mogą posłużyć murale malowane przez Diego de Riverę, Siqueirosa czy Orozco, na których ta przeszłość prehiszpańska jest widocznie obecna.

K.L.: Acapulco jest miastem wczasowym, które lubią turyści. Które wybrzeże polecimy miłośnikom samotnych wypraw i chcących odpocząć od miejskiego zgiełku?

J.A.: Do Acapulco nie radziłbym jechać. Może kiedyś było to miasto jakoś szczególnie lubiane przez turystów. Miłośnikom samotnych wypraw doradziłbym raczej podróż wybrzeżem Pacyfiku na południe od stanu Jalisco. Po drodze spotkać można piękne kurorty jak Zihuatanejo czy Huatulco. Warto zaznaczyć, że są to rejony mało eksplorowane, a przez to ciekawsze dla osób, które lubią przygody i mało znane miejsca.

K.L.: Matka Boska z Guadelupe jest patronką tego kraju. Czy można powiedzieć, że Meksykanie to naród pobożny, dbający o tradycje chrześcijańskie?

J.A.: Meksykanie są katolikami respektującymi pewne tradycje chrześcijańskie, ale nazwałbym je raczej ludowymi wierzeniami pozbawionymi w większej mierze jakiegoś intelektualno-ortodoksyjnego stosunku do wiary. Oczywiście w porównaniu do tego, co znamy w Polsce, ale wszystko wynika z różnić w historii i kulturze. Inaczej rozłożone są akcenty w pewnych kwestiach, ale nie zmienia to faktu, że przywiązanie do wiary, kultu jest znaczące. Trzeba mieć na uwadze, że przez długi okres czasu właściwie do niedawna panowały silne tendencje antyklerykalne. Było to uregulowane przez konstytucję, w której zapisano np. zakaz o noszeniu sutann poza kościołami.

K.L.: Czy można nazwać Meksyk rajem dla podróżników?

J.A.: W moim przekonaniu tak, ale wszystko zależy od gustów.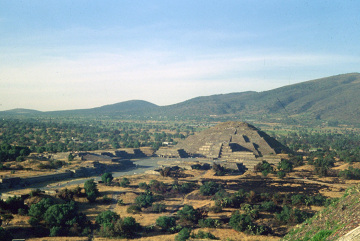 fot. Jerzy Achmatowicz
K.L.: Najsłynniejszy obraz, budowla, święto, danie i osoba w Meksyku to…..?[/b]

J.A.: Najsłynniejszy obraz to oczywiście wizerunek Matki Boskiej z Gwadelupy. Budowlą, a raczej ich zbiorem będzie kompleks sakralny w Teotihuacán. Świętami Objawienie Matki Boskiej z Gwadelupy z 12 grudnia oraz Święto niepodległości. Jako najsłynniejszą osobę można wskazać Benito Juareza, jeśli mówimy o postaciach historycznych, ponieważ był on przecież pierwszym indiańskim prezydentem.