Joanna Maślankowska: Niektórzy uważają, że osoba która tanio podróżuje z plecakiem i namiotem, to ktoś kogo nie stać na wczasy. Twierdzą, że to znacznie gorsze niż pięciogwiazdkowy hotel. Czy zgadasz się z powyższą opinią, czy uważasz raczej, że "Tanio nie znaczy wcale gorzej"?
Adam Wnuk: Są różne formy podróżowania. Jedni wolą wykupić wycieczkę do pięciogwiazdkowego hotelu, siedzieć nad basenem i cieszyć się tym. Odpoczywają w ten sposób. Opalają się, skaczą do basenu, pojadą zobaczyć typowe atrakcje danego kraju. Inni natomiast wolą co innego. Wziąć plecak i wędrując bez przewodnika, poznawać prawdziwą kulturę, zwyczaje i społeczność kraju. Jeden może spędzić 14 dni w danym miejscu i tak naprawdę nic nie zobaczyć. Ja natomiast te 2 tygodnie mogę wykorzystać wędrując przez cały kraj, a przy tym poznawać wspaniałych ludzi. Wracam do domu z pełnym bagażem doświadczeń.
Aczkolwiek wiadomo, że każdy lubi co innego i nie można krytykować ludzi za to, jak lubią spędzać swoje wakacje. Ja osobiście wolę doznawać i doświadczać przygody. A więc wracając do pytania. Tanio nie znaczy wcale gorzej. Powiedziałbym wręcz, że taniej znaczy lepiej. Więcej doświadczeń, wspaniali ludzie. Jest fajnie.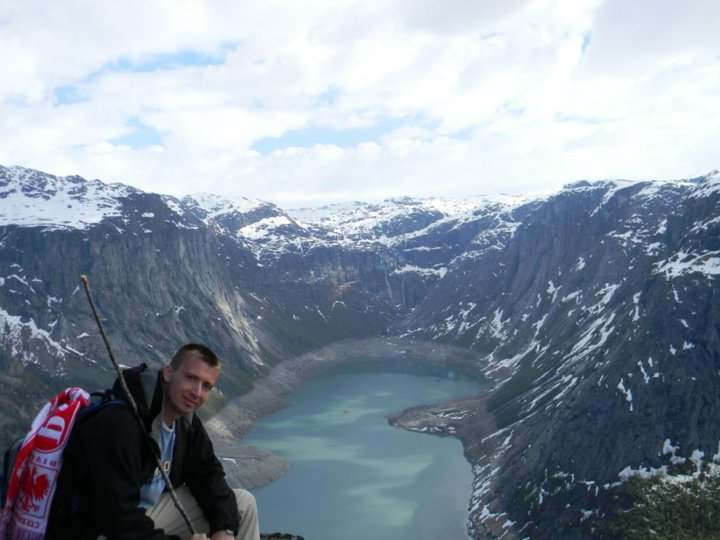 Adam Wnuk nad norweskim fiordem. Fot. Adam Wnuk
J.M.: Skąd inspiracja do taniego podróżowania?
A.W.: Brak pracy (śmiech). A tak poważnie zaczęło się, kiedy byłem dzieckiem i po przeprowadzce jeździłem pociągami do swojego miejsca zamieszkania. Na studiach to odżyło. Była majówka, bilet weekendowy, możliwość zwiedzania kraju za bezcen. Wtedy przemieszczanie się pociągiem z jednego miejsca do drugiego było tanie i proste. Do tej pory bardzo pozytywnie wspominam wyjazd do Kudowy, gdzie po kilku godzinach stwierdziliśmy, że będąc już na południu Polski należy się ruszyć i jechać dalej. Wsiedliśmy w pociąg pospieszny i następnego dnia rano, piwo kupione w Nachodzie w Czechach, piliśmy na plaży w Sopocie. Więc jednego dnia mogliśmy znaleźć się w zupełnie innych, tak oddalonych od siebie miejscach. I nie kosztowało nas to wiele.
A więc początkowo były to pociągi, piesze wędrówki po Polsce i poznawanie jej zakątków. Potem poszło to trochę dalej. Poczułem, że to mi nie wystarcza i chciałbym zobaczyć coś poza granicami kraju. Natrafiłem przypadkiem na okazję skorzystania z autostopu do Rumunii. Poznałem fajną osobę, z którą później podróżowałem. Kraj, który początkowo wydawał się dla mnie bardzo odległy, okazał się jednak osiągalną destynacją. Cała, dwutygodniowa wyprawa wyniosła mnie około 200 zł, a wspomnienia mam nieziemskie. Na pewno to otworzyło mi oczy i pokazało nowe możliwości. Mogę pojechać, zwiedzić i nie potrzebuję na to wielkich pieniędzy.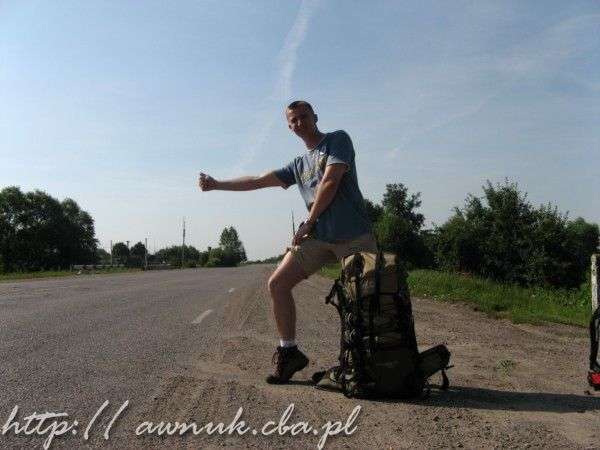 Pierwsze doświadczenia autostopowe, Rumunia. Fot. Adam Wnuk
J.M.: To w takim razie jaki jest idealny przepis na tanią podróż?
A.W.: Trzeba się zastanowić na co przeznaczamy najwięcej pieniędzy? Na transport i nocleg. Więc jeśli chodzi o przemieszczanie się, warto skorzystać ze wspomnianego wcześniej autostopu. To jest naprawdę fajna sprawa, bo oprócz transportu, poznajesz sympatycznych ludzi, którzy mogą zaoferować Ci pomoc, powiedzieć o miejscach, których nie zobaczysz w przewodniku. Często zdarza się, że nadrabiają spore kilometry, żeby pokazać Ci to miejsce. Ostatnio jadąc po Polsce, kierowca nadrobił 100 km, tylko po to, żeby dowieźć nas na miejsce.
Poza tym są tanie linie lotnicze. Ostatnio leciałem za 20 zł do Norwegii. Ciekawą opcją jest polski przewoźnik, którym pojeździmy nawet za złotówkę. W ten sposób byłem w Pradze na weekend. Za 1 zł pojechałem, za 1 zł wróciłem, a za 5 zł miałem nocleg. Wszyscy patrzyli na mnie niepoważnie i sceptycznie. Wystarczy chcieć, wystarczy obserwować i śledzić. Naprawdę można.
Nocleg to również nie jest problem. Bierzesz namiot na plecy i jedziesz nie wiedząc, gdzie wylądujesz na noc. Raz nocowałem między autostradą, a siatką, a innym razem na polu między rzędami aronii.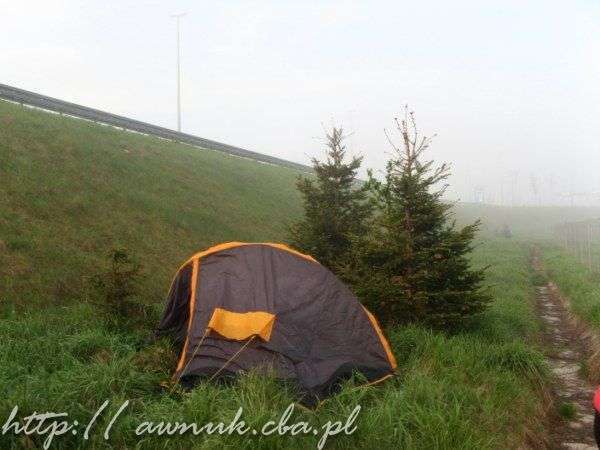 Nocleg między autostradą, a siatką, Chorwacja. Fot. Adam Wnuk
J.M.: Całkiem ciekawe miejsca noclegu. A nie było konfliktu z rolnikiem?
A.W.: Nie. Aczkolwiek, kiedy wcześnie rano usłyszeliśmy traktor, nieco przyspieszyliśmy ze zwijaniem naszego obozowiska (śmiech).
Wracając do poprzedniego pytania, ciekawą formą noclegu jest Hospitality Club, z którego na samym początku korzystałem. Później pojawił się Couchsurfing. Dały mi one możliwość poznawania ciekawych ludzi, a przy okazji nocowania bez ponoszenia jakichkolwiek kosztów.
J.M.: Czy mógłbyś w takim razie przybliżyć, czym jest Couchsurfing?
A.W.: Z jednej strony jest to portal społecznościowy, z drugiej idea zrzeszająca ludzi o tych samych zainteresowaniach, wartościach i pasji jaką jest podróżowanie. Kiedy jedziesz do danego kraju, wyszukujesz osoby, przeglądasz jej profil i wybierasz ten, który najbardziej Ci odpowiada. Dzięki opisowi, wiesz m.in. co dana osoba lubi, czego nie, jakie zna języki, jaka jest jej główna filozofia, gdzie była i gdzie chce pojechać. Poza tym, jest tam coś na zasadzie systemu referencji, dzięki którym mogę np. sprawdzić, czy dana osoba ma jakieś negatywne opinie.
Kiedy już mam wybraną osobę, wysyłam tzw. requesta. Daje mi to możliwość darmowego noclegu, praktycznie w każdym kraju na świecie. Z drugiej strony, to ja mogę oferować taki nocleg. Często słyszę pytanie, czy to jest rzeczywiście bezpłatne i czy kiedy ja do kogoś jadę, muszę tę osobę u siebie przenocować? Odpowiedź jest prosta. Nie, nie muszę i jest to całkowicie bezpłatne. Wiadomo, że nie każdy ma możliwości przenocowania innej osoby i to wcale nie wyklucza go ze społeczności Couchsurfingu. Natomiast jeśli jedziesz do kogoś, wystarczy że się odwdzięczysz, pójdziesz z nią na piwo, porozmawiasz, zostawisz jakąś pamiątkę, czy chociażby pozmywasz naczynia za to, że poczęstowała Cię obiadem.
Z hostem Enrique w Tyssedal, Norwegia. Fot. Adam Wnuk
J.M.: Ciekawa alternatywa dla typowej turystyki masowej.
A.W.: Na pewno jest to jakaś alternatywa. Jedni wolą leżeć na plaży i się byczyć, a inni na własną rękę zwiedzają świat. Może się też zdarzyć, że wykupujesz wycieczkę za duże pieniądze, ale czy masz pewność, że z niej wrócisz zadowolona i wykorzystasz ją w całości?
J.M.: Przy obecnej sytuacji ekonomicznej, można się niemiło zaskoczyć.
A.W.: No właśnie. Ostatnio kolejne biuro podróży zbankrutowało. Osoby, które zapłaciły grube pieniądze za wycieczkę, muszą wracać po kilku dniach do domu. I co z Twojego urlopu, który planowałeś przez cały rok?
Natomiast w moim przypadku jadę i nie martwię się, że ktoś zadzwoni i powie, że mam wracać do domu. Jestem panem własnego losu. Ja decyduję, gdzie pojadę, co zrobię, co zobaczę. I to jest najfajniejsze. Jest to więc bardzo dobra alternatywa dla turystyki masowej. I jeśli komuś nie zależy na hotelach i luksusie, to odnajdzie się w tym bardzo dobrze.
J.M.: Jak reagują ludzie kiedy mówisz im, że jedziesz stopem, a nocujesz u zupełnie nieznajomych osób?
A.W.: Wśród znajomych zdania są podzielone. Z jednej strony jest podziw, że za tak małe pieniądze zwiedzam świat...no może na razie tylko Europę (śmiech). Z drugiej strony wiele osób dziwi się, że nie ma strachu, nie boję się o swoje życie, czy zdrowie. Natomiast wydaje mi się, że jeśli podchodzi się pozytywnie do ludzi, to działa to i w drugą stronę. Jak na razie nie miałem żadnych negatywnych doświadczeń. Widzę też, że coraz więcej ludzi patrzy z zazdrością i pyta, czy nie mógłbym ich ze sobą zabrać. Są ciekawi, chcieliby przeżyć taką przygodę, ten dreszcz emocji, kiedy jedziesz nie wiedząc gdzie będziesz danego dnia, gdzie spędzisz daną noc, do jakiego kraju dojedziesz, jakiego miasta, albo czy w ogóle dojedziesz (śmiech).
J.M.: A co ze spaniem u nieznajomych osób? Jak do tej kwestii podchodzą Twoi znajomi, rodzina?
A.W.: Wybierając osobę u której mam zamiar nocować, kieruje się wspomnianymi wcześniej referencjami. Nie jadę więc w ciemno. Jeśli chodzi o znajomych, na początku byli trochę zdziwieni, ale już przywykli do tego sposobu podróżowania.
J.M.: Czy masz jakiś system, według którego wybierasz swojego hosta?
A.W.: Każdy się kieruje referencjami. Jeśli ktoś ma negatywną opinię, na pewno nie pojadę do takiej osoby. Wyznaję także zasadę, że jeśli ktoś ma bardzo dużo referencji, do takich osób przeważnie też nie piszę. Uważam, że stało się to dla nich zbyt powszechne. Lubię osoby, które dopiero zaczynają przygodę z Couchsurfingiem. Są jeszcze na tyle zafascynowani tym wszystkim, że możesz z nimi spędzić fajne chwile, zwiedzając nietypowe miejsca w danym mieście. Starają się pokazać swoje miasto od jak najlepszej strony.
J.M.: A czy masz jakieś negatywne wspomnienia nocując u takich osób, albo goszcząc je u siebie?
A.W.: Typowo negatywnych doświadczeń nie mam. Aczkolwiek jedno zdarzenie zapadło mi bardziej w pamięci. Mianowicie, będąc w Tallinie nocowałem u osoby, która zdecydowanie rutynowo podeszła do kolejnego gościa. Zajmowała się raczej swoimi sprawami. Mimo wszystko udzieliła nam noclegu, więc też nie mogę mieć do niej pretensji.
J.M.: Ale reszta wrażeń raczej pozytywna?
A.W.: Bardzo pozytywna. Poznałem bardzo fajnych ludzi, sympatycznych, pomocnych. Z wieloma z tych osób utrzymuję kontakt do tej pory.
J.M.: Czym kierujesz się wybierając destynacje podróży?
A.W.: W sumie ciekawe pytanie. Rzadko podróżuję do krajów zachodnich. Bardziej pociąga mnie wschód, dzikość natury. Lubię miejsca, które nie są jeszcze skomercjalizowane i skażone przez cywilizację. Czasami jak gdzieś jadę, słyszę pytanie – Po co tam jedziesz? Dobrym przykładem jest Ukraina, o której wszyscy myślą w kategoriach biedy, zacofania. Wbrew pozorom poznałem fajnych ludzi, zobaczyłem przepiękne miejsca. Naprawdę polecam. Podobnie Rumunia, która jak w przypadku Ukrainy uważana jest za biedny kraj, w którym cyganie nago biegają po ulicy (śmiech). Według mnie jest to cudowne miejsce i tak naprawdę, to od niego zaczęła się moja autostopowa przygoda. Dodatkowo, zawsze staram się połączyć moje podróże z górami.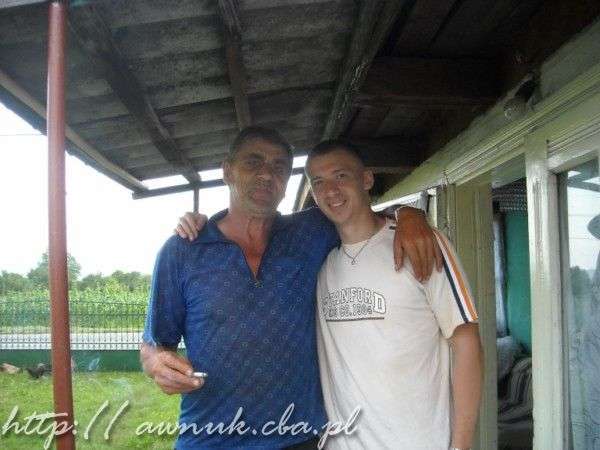 Z pewnym gospodarzem w miejscowości Sapanta, Rumunia. fot. Adam Wnuk
J.M.: I tu pojawia się kolejne pytanie. Czy jest inna pasja, która pociąga Cię tak samo jak podróżowanie?
A.W.: Można powiedzieć, że taką pasją są właśnie góry. Gdzie nie pojadę, zawsze staram się znaleźć czas na wędrówki po nich. Oczywiście jeśli jest taka możliwość. Nie jestem żadnym himalaistą, alpinistą i nie uprawiam wspinaczki. Bardziej chodzi tu o trekking górski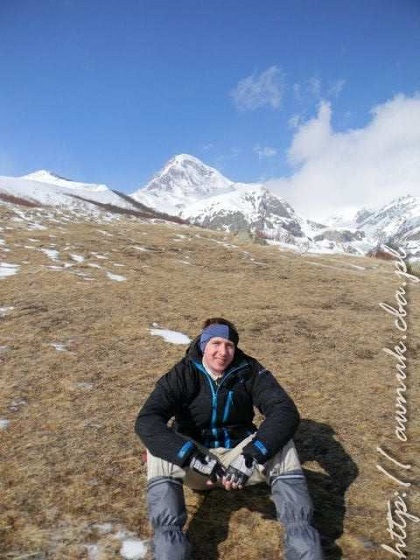 Z Kazbekiem w tle, Gruzja. Fot. Adam Wnuk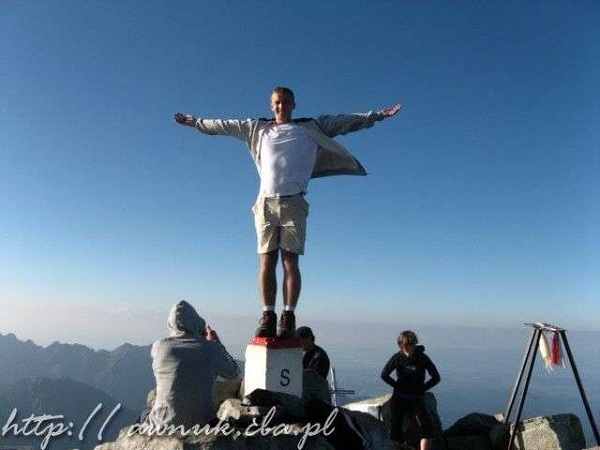 Na najwyższym szczycie Polski. Fot. Adam Wnuk
J.M.: Na sam koniec, czy masz jakąś radę dla osób, które chciałyby podróżować w ten sposób, ale jednocześnie boją się?
A.W.: Nie bać się. Spróbować, uwierzyć. Znaleźć osobę, która w ten sposób już podróżowała. Może ona pozwoli nam uwierzyć, że to nie jest science fiction. Po prostu trzeba dać wiarę w to, że można i nie zrażać się, gdy ktoś będzie mówił, że to nierealne.
W trakcie autostopowej wycieczki po Bośni i Hercegowinie. Fot. Adam Wnuk
J.M.: Dziękuję za inspirującą rozmowę i życzę wytrwałości w zdobywaniu świata bez fortuny w kieszeni.
A.W.: Dziękuję.