Tony Halik kojarzony jest przez Polaków przede wszystkim z autorem książek o tematyce podróżniczej oraz programów telewizyjnych (wraz z żoną Elżbietą Dzikowską). Kim był, czym się zajmował, gdzie dotarł? O tym teraz słów kilka…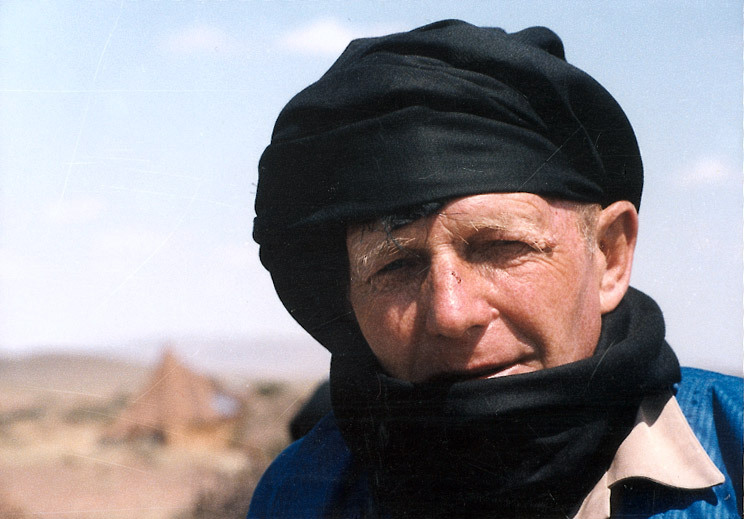 Tony Halik. Fot. Elżbieta Dzikowska (źródło: Wikimedia.org)

"Urodziłem się pod szczęśliwą gwiazdą, a moim przeznaczeniem jest przygoda".

Tony Halik, a właściwie Mieczysław Sędzimir Antoni Halik, urodził się 24 stycznia 1921 roku w Toruniu jako syn Zbigniewa i Heleny, właścicieli majątków ziemskich Tupadło, później Żabin. Dorastał na Pomorzu i w Płocku, gdzie uczęszczał do gimnazjum. Pierwszą podróżniczą przygodę przeżył w wieku zaledwie 14 lat, kiedy wbrew woli ojca popłynął na tratwie z flisakami z Płocka do granicy Wolnego Miasta Gdańska. Wyprawa skończyła się wraz ze spotkaniem Straży Granicznej, która odstawiła buntowniczego młodzieńca do domu.

Po wybuchu II wojny Halik dostał się przez Rumunię do Francji, gdzie wstąpił do Wojska Polskiego. Później znalazł się w Wielkiej Brytanii i tam służył w RAF w Dywizjonie 201. W tamtym czasie po raz pierwszy miał styczność z kamerą, filmując samoloty, także zestrzeliwane. Sam został zestrzelony przez Niemców dwukrotnie. Pierwszy raz miał miejsce nad kanałem La Manche; nieprzytomnego Halika wyłowiono po kilku godzinach i przetransportowano do szkockiego szpitala. Po raz drugi został zestrzelony nad terytorium Francji. Wówczas wylądował na spadochronie na jednej z farm, a pomocy udzieliła mu dziewczyna o imieniu Pierrette, która w roku 1946 została jego pierwszą żoną. Halik dołączył do Ruchu Oporu. Później odznaczono go francuskim Krzyżem Wojennym, otrzymał również polskie oraz brytyjskie odznaczenia wojskowe.
"Nie ma takiego miejsca na Ziemi, gdzie nie spotka się Polaka".

W 1948 roku z żoną wyemigrował do Argentyny. Cztery lata później za zgodą ówczesnych władz polskich przyjął obywatelstwo argentyńskie, aby móc swobodniej podróżować po świecie. Wymowa jego polskich imion sprawiała spore problemy, dlatego zastąpił je imieniem Antonio, które później zdrobniono do formy Tony. Początkowo Halik pracował jako pilot w Buenos Aires, później został fotografem ekipy obsługującej Juana Peróna, prezydenta Argentyny.

Fascynacja dziewiczą przyrodą oraz życiem Indian przekładała się na częste wyprawy z żoną do amazońskiej dżungli. Pierwsza wyprawa w poszukiwaniu indiańskich plemion odbyła się na małej żaglówce, która otrzymała nazwę Halikówka. Po tej podróży nawiązał współpracę ze stacjami telewizyjnymi, magazynem Life, potem także z Time and Life i Sport Magazine. Na początku lat pięćdziesiątych zaczął pracować dla amerykańskiej sieci telewizyjnej NBC.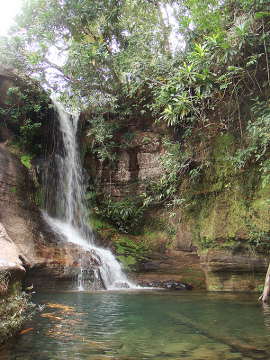 Complexo do Bateia w Mato Grosso.
fot. Thiago Avancini / flickr.com
W kolejną podróż Tony Halik wyruszył na pokładzie żaglówki White Shadow w górę rzeki Paragwaj. Na dłuższy czas zatrzymał się w amazońskim stanie Mato Grosso, do którego powrócił z żoną w latach 1955-1956. Po odłączeniu się od pewnej wyprawy myśliwskiej wyruszyli w dół rzeki Araguai, później szukali rzeki Rio das Mortes. Wtedy natrafili na górskie pasmo Serra do Roncador, gdzie Halik odkrył system jaskiń oraz tuneli. Jedną z jaskiń ze względu na jej kompozycję stalaktytów nazwał Jaskinią Orła Białego.

Najsłynniejszą podróż (w latach 1957-1962) Halik odbył z żoną Pierrette jeepem z Ziemi Ognistej do Alaski, podczas której przemierzyli ponad 180 000 kilometrów, odwiedzając 21 krajów. W 1959 roku, w trakcie tej wyprawy, urodził się ich syn Ozana. Imię otrzymał na cześć Indianina, który uratował Halikowi życie podczas walki dwóch skłóconych plemion. Wiele lat po zakończeniu tej podróży Halik dowiedział się o powstaniu miejscowości Puente Halik (Most Halika) w miejscu, gdzie zbudował most, obok którego dla żartu zostawił tablicę z takim właśnie napisem.

W latach sześćdziesiątych pracował w Meksyku jako korespondent NBC na Amerykę Łacińską. W swoich wypowiedział wielokrotnie bronił Indian. W 1972 roku otrzymał w USA nagrodę Humanitas Prize za film pokazujący ludobójstwo brazylijskich plemion.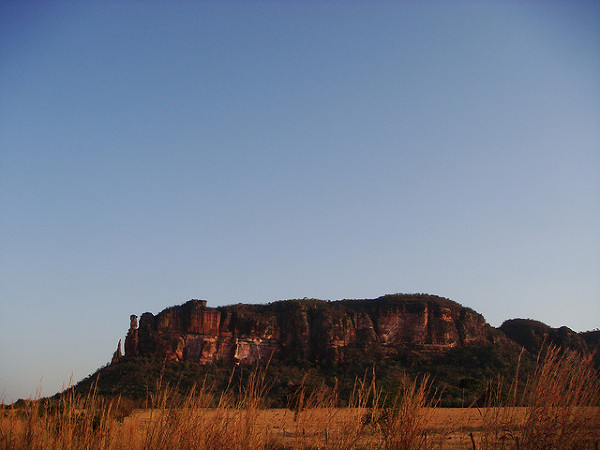 Serra do Ronca. Fot. Thiago Avancini/flickr.com


"Jedno zdjęcie mówi więcej niż tysiąc słów".

W 1974 roku poznał Elżbietę Dzikowską, która w Meksyku przeprowadzała z nim wywiad dla Kontynentów. Jego pierwsza żona pozostała w Meksyku, a on sam w 1975 roku na "stałe" przeniósł się do Polski. Przez 24 lata wspólnego życia z Dzikowską podróżowali po najdalszych zakątkach świata, przybliżając je swoim rodakom w programach telewizyjnych – Tam, gdzie pieprz rośnie, Tam, gdzie rośnie wanilia, Pieprz i wanilia. Ze swoich wyjazdów przywozili różnorodne pamiątki, które gromadzili w swoim domu w Warszawie. Przedmioty były wybieranie z myślą o widzach, przywozili tylko to, co można było pokazać w Pieprzu i Wanilii. Program nadawany był z prowizorycznego atelier znajdującego się w ich domowej piwnicy. Halik nadal pracował również dla NBC, zdając relacje m.in. z okresu powstawania Solidarności, strajków czy stanu wojennego.

W 1976 roku Halik razem z Dzikowską zostali pierwszymi Polakami (w towarzystwie profesora Guillenema), którzy dotarli do Vilcabamby. Była to pierwsza wyprawa, która dostarczyła dowodów, że właśnie to miejsce jest legendarną stolicą Inków.

Tony Halik był zapalonym żeglarzem, w latach 1987-1988 opłynął świat na pokładzie żaglowca Dar Młodzieży. Wcześniej latał również na bojerach. Obecnie w Pucku odbywają się co rok regaty jego imienia. Halik potrafił rozmawiać w języku angielskim, czeskim, francuskim, hiszpańskim, niemieckim, portugalskim, rosyjskim, włoskim oraz w kilku narzeczach Indian. Pisał książki oraz reportaże dla miesięcznika Kontynenty, udzielał wywiadów, spotykał się ze swoimi czytelnikami, najchętniej z młodzieżą. Jest patronem kilkunastu szkół w Polsce. Dla liceum w Ostrołęce ufundował dla najlepszego absolwenta wakacyjnie stypendium w Oksfordzie.

W Mojej wielkiej przygodzie wyznał:

Odkryłem wówczas, że nie jestem sam, ponieważ poprzez moje relacje otwierają się nowe drogi, które z ciekawością przemierzają tysiące czytelników, telewidzów i radiosłuchaczy na świecie. Wszyscy oni znajdowali się blisko mnie w najtrudniejszych i najbardziej niebezpiecznych chwilach życia. Myśląc o nich zdobywałem się na odwagę, by niemożliwe uczynić możliwym.


Podczas wypraw Halika kilkakrotnie pojawiały się fałszywe informacje o jego śmierci. Wiele razy ocierał się o śmierć między innymi podczas wojny, polowań, rejsów czy napadów. Podczas filmowania gór Hondurasu śmigłowiec na wysokości ponad 1000 metrów uległ awarii. Halik wciąż filmował, wierząc, że przynajmniej nagrany film uratuje się. Jednak pilot uniknął rozbicia, a Halik zawisnął na pasach, łamiąc sobie obojczyk. Zmarł po długiej chorobie 23 maja 1998 roku w Warszawie. 15 lat później w Toruniu otwarto Muzeum Podróżników im. Tony Halika, większość eksponatów zostało przekazanych przez Elżbietę Dzikowską.

Tony Halik był postacią bardzo popularną, a jego nazwisko pojawiało się w kulturze graffiti pod postacią napisu "Byłem tu. Tony Halik".



Śródtytuły są cytatami pochodzącymi z książek autorstwa Tony Halika – "Wielkie przygody małej Patrycji" oraz "180 000 kilometrów przygody".