Wyjazdy firmowe – trendy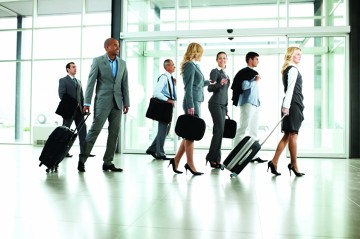 Rynek wyjazdów służbowych stał się obecnie i bardziej wymagający, i zarazem ciekawszy niż jeszcze kilka lat temu.
fot. Comstock Images
Czasy, gdy miernikiem udanego wyjazdu firmowego były litry wypitego alkoholu, należą już do lamusa. Dzisiejszy rynek jest dużo bardziej wymagający, a przegląd ofert coraz ciekawszy.

Tak jak pracownicy są największym kapitałem każdego przedsiębiorstwa, tak organizacja udanego wyjazdu firmowego stanowi inwestycję oraz dobrze ulokowane pieniądze, a nie przykry, konieczny wydatek, warunkowany przelotną modą.

O wyborze właściwej formy wypoczynku w ramach firmowego funkcjonowania, decydują dwa podstawowe czynniki: cel wyjazdu oraz jego charakter. Od ich prawidłowego określenia zależeć będzie powodzenie całego wyjazdu, tak z punktu widzenia pracownika, jak i pracodawcy.

Niebanalnie i z adrenaliną

Adrenalina, mocne przeżycia, niezapomniane chwile. A wszystko przyprawione nutą niebanalności. Mowa oczywiście o ekstremalnych wyjazdach firmowych, które są specyficznym pomysłem na integrowanie teamu pracowniczego. Intensywność emocji podczas tego rodzaju wypraw, mimo konieczności przełamania własnej słabości, gwarantuje ogromną dawkę pozytywnych przeżyć. W ofertach firm specjalizujących się w organizacji wycieczek z dreszczykiem znajdziemy między innymi: survival, wspinaczkę górską, nurkowanie we wrakach, skoki spadochronowe, rafting czy skoki na bungee.

Kluczowa w tym aspekcie jest współpraca z wysoko wykwalifikowanymi i doświadczonymi instruktorami, co zapewni maksymalny poziom bezpieczeństwa uczestnikom wyprawy.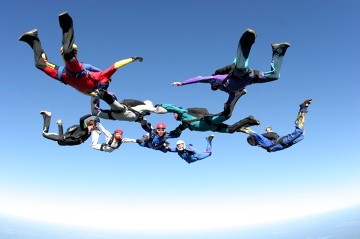 Wyjazdy firmowe wbrew temu co się o nich często sądzi, mogą gwarantować także dużą porcją adrenaliny i mocnych przeżyć.
fot. sxc.hu
Ekstremalna rozrywka nie jest jednak dla wszystkich. Nie każdy bowiem gotowy jest na wrażenia, które zakładają element ryzyka. Choć obserwujemy trend wzrostowy, takie wyjazdy wciąż nie są dominująca formą spędzenia czasu oferowaną przez firmy. Za to wycieczki zakładające łagodniejsze formy aktywności, takie jak jazdę na rowerze, gry zespołowe czy gokarty, to już absolutny standard wyjazdów firmowych z ponad minimalnymi aspiracjami.

Przede wszystkim motywuj

Wyjazdy incentive są szczególnym typem wycieczek firmowych, zorientowanych na zwiększenie poziomu integracji pracownika z firmą poprzez budowanie jego motywacji oraz chęci do podejmowania kolejnych wyzwań. Wyjazdy motywacyjne mogą mieć charakter nagrody za osiągnięte wyniki lub stanowić zachętę na przyszłość. Forma jaką przybierze wyjazd incentive powinna być szczególna, ponieważ ma ona stanowić widoczne wyróżnienie dla wybijającej się osoby.

Wyjazdy dla rodziny

Wyjazd zorganizowany przez firmę może mieć także charakter rodzinny. Tego typu oferta dostępna jest między innymi w ramach tzw. timesharingu, usługi adresowanej głównie do firm, które preferują długofalowe planowanie. – To, co wyróżnia timesharing, na tle innych produktów turystycznych, to gwarancja wysokiego standardu, na poziomie cztero- czy pięciogwiazdkowego hotelu. Proponowane apartamenty dają poczucie komfortu, wygody oraz niezależności – wyjaśnia Arkadiusz Olszowy z Holiday Travel Center Sp. z o.o. Tym firmom, które chcą się przekonać ostatecznie do timesharingu, proponowany jest pobyt testowy. Korzysta z niego zazwyczaj właściciel firmy z rodziną, oceniając czy oferta przyjmie się w przedsiębiorstwie.

Wymienione i opisane wyżej podziały wyjazdów mają raczej charakter umowny, niż sztywny i nieprzekraczalny. Nic bowiem nie stoi na przeszkodzie, by wyjazd rodzinny w ramach timesharingu był formą nagrody dla zaangażowanego pracownika. Podobnie jak integracja zespołu może odbywać się w formie tradycyjnej ogniskowo-zabawowej atmosfery lub zgoła inaczej, choćby poprzez wspólny skok ze spadochronu czy ekstremalną jazdę samochodem terenowym.
Nowe trendy

Rynek wyjazdów firmowych podlega też nieustannym zmianom, kreowanym przez nowe trendy. Jeśli mowa o wyjazdach połączonych ze szkoleniami, coraz większą rolę odgrywa możliwość uczestniczenia w wydarzeniach za pośrednictwem urządzeń mobilnych. Dużą znaczenie przy wyborze lokalizacji ma standard hotelu czy też apartamentu. Dodatkowe udogodnienia, w postaci chociażby dobrze wyposażonej kuchni do dodatkowe atuty, na które zwracamy uwagę. Nie mniejszą rolę odgrywa wyjątkowość oraz atrakcyjność miejsca zakwaterowania. To ono w dużej mierze przesądzi, jakie wrażenia z pobytu w nas pozostaną.