Tomek Michniewicz, najbardziej znany backpacker w Polsce, dziennikarz, fotograf, radiowiec. Autor dwóch bestsellerowych książek: "Samsara. Na drogach, których nie ma" oraz "Gorączka. W świecie poszukiwaczy skarbów", które sprawiły, że cała Polska zapragnęła założyć plecak i jechać w świat. Miałam niezwykłą okazję odebrać go z poznańskiego dworca PKP i w drodze na jego prelekcję w ramach X edycji festiwalu podróżniczego "Dni Turystyki" na Uniwersytecie im. Adama Mickiewicza, przeprowadzić rozmowę o podróżowaniu, pisaniu i jego książkach.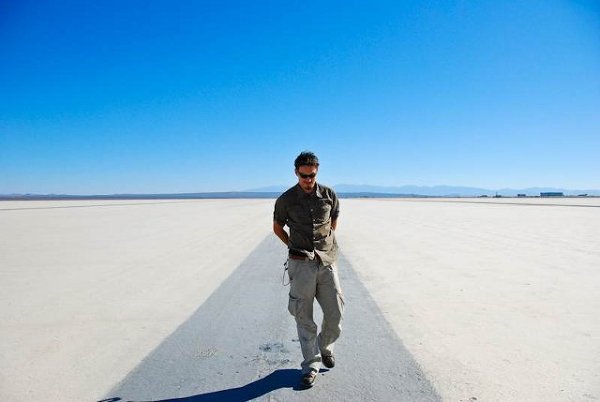 Fot. archiwum prywatne Tomka Michniewicza
Karolina Łuczak: Jesteś znanym obieżyświatem. Czy czujesz teraz taką presję, że musisz gdzieś jeździć? Na pewno ludzie stale pytają dokąd odbędziesz swoją następną podróż.

Tomek Michniewicz: Nie pamiętam takiego wywiadu, w którym nie padłoby pytanie, dokąd teraz ruszę. Presji jednak nie mam, traktuję podróże jako coś, z czego nie muszę się utrzymywać, więc i obowiązków raczej nie uświadczę w tym temacie. Podróże są tak wspaniałe, bo to jest chwilowa ucieczka od życia. Masz jakieś problemy w domu, faceta, który Cię nie szanuje, kiepską pracę, kredyt na mieszkanie… cokolwiek. Sto różnych problemów. Kiedy wylatujesz na miesiąc czy dwa zostawiasz wszystko za sobą, staje się to fajną ucieczką. W momencie, gdy zmienia się to w pracę, wszystkie te problemy – przymusu, odpowiedzialności, zabierasz ze sobą w podróż. To już nie jest takie fajne, bo tracisz najważniejszy aspekt podróży - wolność. Ja jeżdżę kiedy chcę, a nie kiedy muszę.

K.Ł.: Ale czy nie jest tak, że zarabiasz na podróżowaniu?

T.M.: Raczej: z podróżowania utrzymuję podróże. Nie "zarabiam" na tym. Jestem aktywnym dziennikarzem, producentem medialnym, robię szkolenia, mam własną firmę. Mam się z czego utrzymywać, dlatego jeżdżę raz na jakiś czas, potem coś napiszę lub sprzedam zdjęcia, mam czas żeby pojeździć po kraju, spotkać się z ludźmi, nie serwuję prelekcji za bilety ani gwiazdorskich stawek za wywiad. Nie muszę wydawać 5 książek w roku, żeby mieć za co spłacić czynsz. To nadal moja pasja.

K.Ł.: Mówiąc o pisaniu i wydawaniu książek – czy robisz notatki na bieżąco w czasie podróży?

T.M.: Dokładnie tak. Detale błyskawicznie uciekają, zwłaszcza gdy jest to trasa dłuższa niż dwa czy trzy tygodnie, czas jakby się rozciąga i wydaje się, że mijają dwa lata. Potem, będąc – powiedzmy – w Bangkoku, wracam do pierwszych dni takiej podróży i nie jestem w stanie sobie nic przypomnieć. Gdzie ja wtedy byłem? Z kim? Tym różnię się od innych, że wieczorami backpackerzy sączą sobie piwko w barze hotelowym, a ja wracam do pokoju i notuję. Przywożę z podróży grube zeszyty wypełnione notatkami, datami, wypowiedziami różnych ludzi… Coś odkryłem, coś znalazłem. Zapisuję wszystko. Do tego dochodzi jeszcze obróbka fotografii – koszmar, bo jest ich niesamowita ilość, nawet 10 – 15 tysięcy klatek z jednego wyjazdu.


K.Ł.: Jesteś zadowolony ze swoich książek?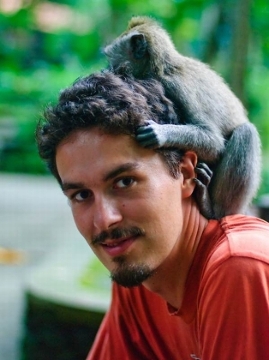 fot. archiwum prywatne Tomka Michniewicza

T.M.: Nie. Zawsze sobie myślę, że mogłem to wszystko opisać inaczej, lepiej.

K.Ł.: A kiedy już wracasz i po jakimś czasie myślisz o swojej podróży, wszystkich przeżytych przygodach… wydaje Ci się to realne, czy bardziej traktujesz wszystko co się wydarzyło w kategorii snu?

T.M.: Podróże najbardziej nierealne wydają się zaraz po powrocie. Kiedy już odeśpię, ogarnę pierwsze sprawy, zadzwonię do szefa, wezmę pierwsze zlecenia. Mijają 3 dni od powrotu i myślę, że to wszystko mi się przyśniło. A potem, gdy analizuję podróż typowo pod książkę albo obrabiam zdjęcia, zaczynam kolejny raz przechodzić przez to wszystko. Mam nagrane wywiady, notatki, rozpisane mapy… to, co zrobiłem, zobaczyłem, szybko wraca. Przestaje być senne. Ale bardzo lubię ten motyw snu, o którym mówisz. Świetne uczucie.

K.Ł.: Trzy rzeczy, bez których się nigdy nie udajesz w podróż?

T.M.: Na pewno nie jadę bez mapy, bo właściwie już przestałem jeździć z przewodnikami, nawet z Lonely Planet, bo nie widzę takiej potrzeby. Jeżdżę, gdzie mnie poniesie, więc trzeba stamtąd jeszcze jakoś wrócić. Mapa się przydaje. Druga rzecz to aparat fotograficzny, a trzecia to chyba jednak ubezpieczenie. Może to trochę odpowiedź zbyt asekuracyjna, ale generalnie tak jest.

K.Ł.: Jesteś przesądny? Masz jakiś talizman lub rytuał przed podróżą?

T.M.: Miałem takie różne chore przyzwyczajenia, ale się z nich na szczęście wyleczyłem. Pamiętam lata, kiedy za każdym razem na Okęciu, wylatując dokądkolwiek, musiałem sobie kupić żelki anyżowe. Paskudne. Bez tego nie było opcji i za każdym razem, kiedy łamałem tę zasadę, coś złego przydarzało mi się w podróży, były problemy.


K.Ł.: W takim razie chyba było ciężko to przerwać…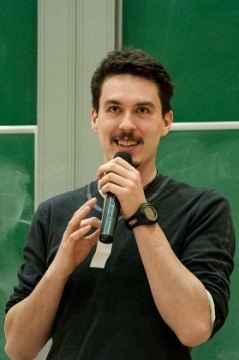 Podczas prelekcji na festiwalu podróżniczym "X Dni Turystyki"
fot. Małgorzata Bilska

T.M.: Wyobraź sobie 10 lat takiej postawy. Przyjeżdżasz na lotnisko i myślisz – kurczę, tym razem ich nie kupię, niech się dzieje co chce. A jedziesz w Himalaje, gdzie może się dużo wydarzyć. Nawet jeśli przez godzinę byłem twardy, to potem sobie myślę – nie no, w mordę, wydam jednak te 5 zł na te głupie żelki. Wtedy na pewno wszystko będzie dobrze. Taki mój talizman. Mam kolegę, Michała Żakowskiego, pracuje w radiu, w Jedynce. Ma identyczny tik nerwowy – z lotniska dzwoni do swojej bratowej, choć mają ze sobą czasem rzadki kontakt. Ale dzwoni. Musi.
K.Ł.: W "Samsarze" przedstawiasz Rogera, czyli wewnętrzny głos, intuicję, która podpowiada Ci, że coś jest niebezpieczne i lepiej się wycofać. Roger pojawia się tylko na pustyniach, w buszu, czy może w Polsce także?
T.M.: Tu chyba nie. Nie pamiętam, żeby w Polsce miała miejsce taka sytuacja.
K.Ł.: Nie żyjesz tak ekstremalnie?
T.M.: Roger nie uaktywnia się wtedy, gdy widzę, że coś jest niebezpieczne. Powiedzmy, że jedziesz szybko autostradą i jest to w sumie niebezpieczne, ale masz wszystko pod kontrolą. Wtedy Roger siedzi cicho. On się raczej uaktywnia, gdy nie mam na coś wpływu. W Polsce rzadko zdarza się taka sytuacja, żebym sobie nie zdawał sprawy z problemu. Więc raczej nie. A może po prostu go nie słucham lub jestem zbyt zajęty, żeby go słuchać.
K.Ł.: Takie rzeczy to tylko w nepalskich autobusach…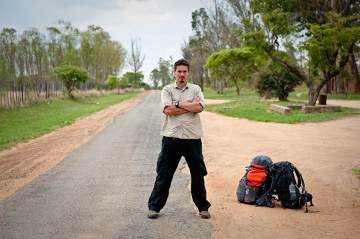 Bo autostopem najlepiej...
fot. archiwum prywatne Tomka Michniewicza

T.M.: To nie jest tak, że on się ujawnia wtedy, gdy stoisz i patrzysz spokojnie na drzewka, a tu nagle obok kłapie paszczą krokodyl i wpadasz w drżączkę, że ci odgryzie nogę. To są różne sytuacje. Np. idziesz do knajpy na końcu świata i dostajesz ryż z krewetkami – jakieś lokalne danie. Patrzysz na nie, wszystko wygląda niby w porządku, ale masz wrażenie, że coś jednak jest nie tak. Właściwie nie wiesz co. Wtedy albo jesz, albo słuchasz Rogera. Ja go zawsze słucham, bo jeśli nie, to potem rzygam dwa dni. Wystarczy się parę razy sparzyć i nagle się okazuje, że intuicja to bardzo precyzyjne narzędzie pomiarowe.
K.Ł.: W swoich książkach zawsze opisujesz podróże, które odbyłeś w czyimś towarzystwie. Odnajdujesz się także w samotnym podróżowaniu?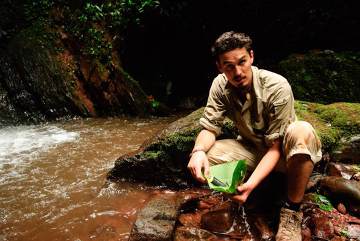 fot. archiwum prywatne Tomka Michniewicza
T.M.: Zawsze jeżdżę z kimś. Generalnie prawie wszyscy ludzie piszący książki czy robiący programy telewizyjne jeżdżą z kimś, mimo, że potem wygląda to tak, jak gdyby jechali sami. Podróż w duecie jest po pierwsze tańsza, po drugie bezpieczniejsza, bo zawsze masz kogoś, kto na Ciebie uważa, a gdy masz 40 stopni gorączki, zadzwoni po lekarza. Ale dla mnie najważniejsze jest to, że mam się z kim podzielić wrażeniami. Podróże fascynują mnie w takim stopniu, że wracam wieczorem do hotelu z całym dniem wrażeń i zdjęć w plecaku, i muszę to jakoś rozładować, pogadać, pośmiać się. Znam mnóstwo ludzi, którzy jeżdżą samotnie i świetnie się w tym odnajdują, ale w moim przypadku to się nie sprawdza. Wpływ na ten wybór ma też charakter tego, co robię w podróży. Rzadko kiedy mam czas, żeby gdzieś posiedzieć z ludźmi na plaży czy grać na gitarze. Prawie mi się to nie zdarza. Jeśli już jadę, to z konkretnym planem, a wtedy zazwyczaj warto mieć kogoś ze sobą.


K.Ł.: Z każdym podróżujesz w inny sposób. Z jednym z wytyczonym sztywno planem, z drugim tam, gdzie Cię wiatr zapędzi. Jak wolisz?

T.M.: Chyba najbardziej lubię to, że z każdym jest inaczej. A z Kaczorem, jednym z bohaterów moich książek, to już zwłaszcza. Ten facet jest dla mnie zagadką. Jeżdżąc ze mną jest w stanie robić ekstremalne rzeczy, przejść przez Saharę czy spać i jeść gdzie popadnie w środku monsunu w dżungli, a podróżując ze swoją żoną, potrafi pojechać do jakiejś doliny w Rumunii i oglądać drewniane cerkiewki przez dwa tygodnie. I jest tym zachwycony! Realizuje się i w takich "moich" wyprawach, i w takich, gdzie ja bym się porzygał z nudów. Z każdym ta dynamika wygląda zupełnie inaczej. Ja czerpię więcej radości z podróżowania z planem, ale nie takim sztywnym programem "co zobaczyć", tylko z jakimś celem do zrealizowania. Na przykład mieszkać z nomadami na Saharze i zobaczyć skąd oni biorą wodę. Jadę wtedy na pustynię do Algierii, Maroka, szukam ich obozu i mieszkam z nimi. To jest mój cel. Wszystko, co dzieje się po drodze to tylko droga do tego celu. Obecnie zajmuję się nosorożcami i na tym się skupiam. Przejechałem dwa razy całe Zimbabwe i ominąłem dwa największe zabytki, bo miałem zupełnie inny cel. Teraz wolę mieć coś do zrobienia, niż do zobaczenia.

K.Ł.: Historia z nosorożcami, którą opisujesz w książce "Gorączka. W świecie poszukiwaczy skarbów" rzeczywiście jest bardzo przejmująca. Muszę przyznać, że czytając popłakałam się…

T.M.: Bardzo mnie to cieszy, bo ja muszę Ci się przyznać, że pisząc ten fragment beczałem przez tydzień… Historia o afrykańskich kłusownikach i małym nosorożcu Tatende to w sumie raptem kilkustronicowa opowieść. Walczyłem z nią przez tydzień, po osiem godzin dziennie. Nie byłem w stanie tego napisać, wypłakałem oczy. To było najgorsze doświadczenie dziennikarskie, jakie kiedykolwiek przeżyłem. Wyobraź sobie – odsłuchujesz wywiady, słyszysz jak ci ludzie płaczą, trzęsie im się głos, kiedy o tym mówią. Masz te hardcorowe zdjęcia, a w pamięci jeszcze świeże doświadczenia stamtąd, całą tę krew, strach, złość. To rozwala. To nie jest zwykłe relacjonowanie, to jest coś więcej. Musisz oddać, a nie opisać, to co tam się działo. Możesz to zrobić albo z wygibasami i zawijasami słownymi, albo najprościej jak się da. Ja starałem się pisać bez jakiegokolwiek podkręcania. Kawa na ławę. A opowieść robi TAKIE wrażenie, bo to jest TAKA historia, nie musiałem jej ubarwiać.
K.Ł.: No dobrze, a na koniec wyobraźmy sobie Tomka Michniewicza za 20 – 30 lat. Dalej będzie podróżował?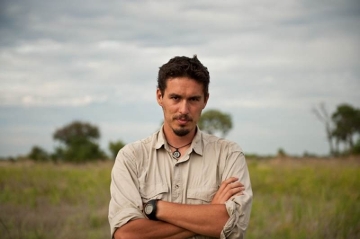 fot. archiwum prywatne Tomka Michniewicza

T.M.: Nie ma mowy. Podróżowanie jest fajne, gdy patrzysz na nie z zewnątrz. Kiedy słuchasz prelekcji Olka Doby, który pokazuje zdjęcia z samotnego rejsu kajakiem przez Atlantyk, albo jedziesz na Kolosy i patrzysz na półgodzinną prezentację Pawła Kilena, który jeździł przez 5 lat po całym świecie, przez 4 kontynenty. Myślisz – ale ten koleś ma niesamowite życie! Rewelacja, też tak chcę! Ale wszystko zmienia się, kiedy robisz to samemu długodystansowo i staje się to poważniejsze niż zwykły urlop. Musisz tam zarabiać, z czegoś się utrzymywać, a potem jeszcze wracasz do domu i nie masz pracy, mieszkania, nie masz co ze sobą zrobić. Nie masz kompetencji, kwalifikacji, bo jedynym punktem w twoim CV jest to, że siedziałeś dwa lata na tropikalnej wyspie. Tego nie widzisz, patrząc na takie prelekcje. Podziwiasz świetne zdjęcie, ale nie zauważasz tego, że autor, żeby je zrobić, przez 20 dni musiał iść przez pustynię – głodny, spocony, obolały, a do tego z chorobą lokomocyjną, która się akurat uaktywniła na wielbłądzie.

Nie widzisz kosztów, jakie ci ludzie ponoszą. Dlatego na pewno za 20 lat nie będę podróżował, a jeśli już, to tylko rekreacyjnie. To jest fajne jako ucieczka od życia, codzienności, ale nie jako sposób na życie. Za każdym razem, kiedy nie ma Cię na miejscu, w domu… coś ucieka. Oddalasz się od ludzi, od pracy, przyszłości. Cały czas jesteś na zero albo lekkim minusie. To bardzo niebezpieczne na dłuższą metę.