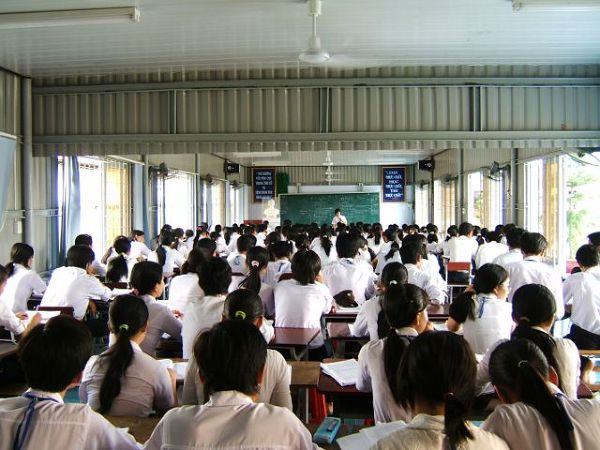 Fot. demenftu/sxc.hu
Przeprowadzony przeze mnie wywiad kieruję w szczególności do studentów i osób młodych – znajdziecie w nim sposób na wyjazd do Wietnamu z możliwością nauki, a nawet zarobienia kilku groszy. Osoba, z którą rozmawiałam to Izabela Sepioł. Skończyła pierwszy stopień studiów o kierunku kulturoznawstwo dalekowschodnie i obecnie studiuje rosjoznawstwo. Spędziła rok w Wietnamie na stypendium z Biura Uznawalności Wykształcenia i Wymiany Międzynarodowej (BUWiWM). Zapraszam do lektury!

Natalia Stecka: Czy ciężko było dostać stypendium do Wietnamu? i jak je załatwić?

Izabela Sepioł: Informacja na temat stypendium i wymagań do Wietnamu znajduje się na stronie BUWiWMu (http://www.buwiwm.edu.pl/wym/intro.htm). Jest 10 miejsc na czas 10 miesięcy. Ubieganie się o to stypendium to przede wszystkim załatwienie dużej ilości formalności i druków. To także życie w niepewności, gdyż nikt nic nie wie i nie wie, gdzie się dowiedzieć. Trzeba być upartym, cierpliwym i pozytywnie nastawionym.

N.S.: Jak wygląda nauka tam? Czy stypendium wystarcza do przeżycia? Jakie wady/zalety ma owo stypendium?

I.S.: Stypendium wynosi 240$ miesięcznie. Jest to kwota pozwalająca przeżyć w Hanoi, ale na minimum. Jeśli chce się coś zobaczyć poza Hanoi, przestać poruszać się straszną komunikacją miejską i zastąpić ją skuterem, od czasu do czasu pozwolić sobie na "europejskie" jedzenie czy zakupy, wtedy trzeba już mieć więcej pieniędzy. Na miejscu istnieje możliwość dorobienia sobie nauczając języka angielskiego. Wynagrodzenie jest dosyć wysokie, jak na niewielką ilość godzin, którą poświęcamy na pracę.

Jeśli chodzi o naukę, to są to 3 godziny języka wietnamskiego dziennie przez cztery dni w tygodniu. Zajęcia odbywają się na uniwersytecie, a w grupie są inni obcokrajowcy. W moim przypadku nauczyciel był Wietnamczykiem, nie mówił po angielsku, więc bywało zabawnie.

Stypendium jest bardzo ciekawe, pozwala poznać niesamowitych ludzi, zobaczyć przepiękne miejsca. Wadą jest jedynie organizacja. Wymiana informacji między Polską a Wietnamem jest strasznie powolna. Na miejscu natomiast nie ma właściwie żadnego koordynatora, który by pomógł, wyjaśnił i przetłumaczył. Przyjeżdżając na Wietnamu trzeba liczyć przede wszystkim na siebie i na kolegów z akademika, którzy znają język wietnamski i chętnie pomagają.

N.S.: Jakie różnice sposobie życia czy kultury najbardziej zapadły Ci w pamięć?

I.S.: Najbardziej zaskoczyło mnie to, że Wietnamczycy wszędzie poruszają się na motorze. Nawet jeśli jest to wyjście do sklepu zaraz za rogiem, pójście na festyn czy na zakupy. Motory zdają się być podstawą bytu. Jest ich wielka ilość, a wraz z niekoniecznie przestrzeganymi przepisami drogowymi przejście przez ulicę zakrawa na walkę o życie.

N.S.: Twoje ulubione miejsce w Wietnamie to...

I.S.: Hoi An. Prześliczne miasteczko turystyczne w centrum Wietnamu. Mnóstwo sklepików z ubraniami, wspaniały targ ze świetnym jedzeniem i piękna plażą. Dodatkowo, godzinę drogi od Hoi An, znajduje się My Son, zabytkowy kompleks świątynny, wpisany na Listę Światowego Dziedzictwa Kulturalnego i Przyrodniczego UNESCO. W drodze do My Son może podziwiać przepiękne widoki, pola ryżowe, wietnamskie wsie. Po codziennym życiu w zatłoczonym Hanoi, cudownie jest odpocząć w tak cichych i spokojnych miejscach.

N.S.: Ludzie, których tam poznałaś to głównie inni studenci na stypendium czy raczej Wietnamczycy? Jak spędzaliście czas?

I.S.: Osoby które tam poznałam to przede wszystkim studenci z Rosji – mieszkający w tym samym akademiku oraz Wietnamczycy. Dzięki swoim wietnamskim znajomym miałam możliwość poznać życie w Wietnamie z punktu widzenia Wietnamczyka, zobaczyć jak wyglądają ich mieszkania, spróbować różnych domowych potraw i bywać z nimi w miejscach – w restauracjach, na marketach, ukrytych w małych uliczkach, trudnych do znalezienia, znanych tylko tubylcom.

N.S.: Co spotkało Cię tam najlepszego? Lub czy spotkały Cię tam jakieś śmieszne sytuacje lub przygody?

I.S.: Cały mój pobyt w Wietnamie to najlepsza przygoda jaka spotkała mnie w całym moim życiu. Każdego dnia działo się coś nowego, często nieprzewidywalnego. Do końca życia nie zapomnę swojej wizyty w Snake Village, gdzie jadłam różne potrawy z węża, a także innych dziwnych potraw, z psa czy żab. Najbardziej się cieszę, że dzięki pobytowi tam nauczyłam się jeździć na motorze, dzięki temu cały ruch drogowy w Wietnamie w ogóle nie wydaje się już straszny.

I na koniec:
N.S.: Twoje zdanie na temat Wietnamu, Wietnamczyków?

I.S.: Wietnam to piękny kraj i jeśli ktoś już zdecyduje się tam pojechać, powinien przeznaczyć na to dużo czasu, gdyż jest tam tyle do zobaczenia i zrobienia. Każde miejsce – miasto, wieś czy targ jest interesujące, można zobaczyć różnorodne budynki, spróbować różnorodnej kuchni [a ta jest inna na północy, inna w centrum i inna na południu]. Wietnamczycy natomiast to bardzo przyjaźni ludzie, pomocni i chociaż czasami biała skóra jest dla nich zaskoczeniem, to jednak jest to pozytywna reakcja i dzięki temu, nawet do uczucia nieustannego wzroku na sobie można się przyzwyczaić

N.S.: Dziękuję serdecznie Izabeli za chęć podzielenia się swoimi wspomnieniami z wyjazdu do Wietnamu. Tekstem tym chciałam przede wszystkim pokazać, iż każdy, przysłowiowy "biedny" student, ma możliwość wyjechać, nauczyć się czegoś nowego i nawet zarobić. Niedużo osób wie o istnieniu tego rodzaju wyjazdów i to nie tylko do Wietnamu. Mam nadzieje, że natchnęłam kilka istnień do zobaczenia tego pięknego kraju i skorzystania z okazji wyjazdu. Jest to idealny sposób na zobaczenie kawałka świata dopóki jesteśmy młodzi i nie związani z żadną stałą pracą.