Czy jestem w stanie żyć monotonnie, popaść w rutynę albo zrezygnować z przygód? Nigdy. Staram się postępować tak, aby czerpać radość z każdej chwili, ulotnego momentu. Mam zaledwie 18. lat i mogę powiedzieć, że moje życie nabrało nowego sensu. Ogromna miłość do gór, natury i zwierząt pozwoliła mi spełnić marzenie i zrealizować wyprawę "Włóczyłapki Na Szlaku". W wakacje pokonałam lęk i strach, aby przejść całe polskie góry od zachodu aż po wschód.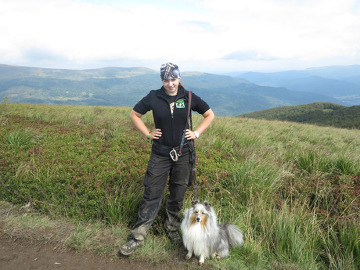 fot. Martyna Trocha
Oczywiście przy moim boku nie mogło zabraknąć Banja – czteroletniego owczarka szetlandzkiego, mojego najlepszego przyjaciela i kompana wszystkich wycieczek. Tylko razem zdołaliśmy w 52 dni pokonać dystans ponad 900 km górskimi szlakami.
1 lipca 2012 roku rozpoczęliśmy naszą przygodę w Świeradowie – Zdrój. W tym dniu otworzyłam nowy rozdział w moim życiu. Moment rozstania z bliskimi był jednym z najtrudniejszych. Zostałam sama w górach, w nieznanym mi dotąd miejscu i sytuacji. Wiedziałam, że spoczywa na moich barkach ogromna odpowiedzialność za Banja, ale także rodzinę, która jest 300 km ode mnie i martwi się każdego dnia, a sumienie uspokaja jej tylko krótki telefon, możliwość rozmowy z córką, wnuczką i siostrą. Wyprawę zaczęliśmy w Sudetach, aby po 20 dniach dotrzeć do Beskidu Śląskiego, kontynuować naszą wędrówkę przez Beskidy, Gorce, Pieniny i zakończyć ją 20 sierpnia w Bieszczadach. Dzień w dzień napędzani nogami i łapami, adrenaliną, strachem, ale przede wszystkim chęcią poznawania gór, obcowania z przyrodą oraz doświadczenia czegoś nowego. Pierwszy miesiąc szłam tylko z psem, ale w Bielsku – Białej do "Włóczyłapek" dołączył mój chłopak – Patryk. W głowie nie było już wizji samotnej walki o przetrwanie, zapanował spokój. Wreszcie mogłam z kimś porozmawiać, pośmiać się i wypłakać. Były dni lepsze i gorsze. Kryzys przypadł na Beskid Niski, pod koniec wyprawy ból mięśni bardzo mi doskwierał, momentami uniemożliwiał dalszą wędrówkę. W takich chwilach zastanawiałam się czy iść dalej, ale wątpliwości szybko zostawały rozwiane. Ilekroć widziałam szczęście w oczach Banja, radość jaką czerpie z przebywania w górach, przypominałam sobie cel tej wyprawy, ideę, która jej przyświeca – chęć pokazania młodemu pokoleniu, że warto jest zamienić komputer na parę wygodnych butów.
Każdy dzień był inny i dostarczał nowych doznań. Pomimo, iż wyprawa była starannie zaplanowana, często byliśmy zmuszeni dopasować się do sytuacji i podejmować spontaniczne decyzje. Codziennie mieliśmy jakieś przygody, z których możemy wyciągnąć wnioski.
PARALIŻ
17. dzień samotnej wędrówki, przyzwyczaiłam się już do 13 kg na moich plecach, organizm dobrze znosił codzienny wysiłek. Koło południa wspinałam się na zamek "Karpień" w okolicach Lądka – Zdroju. Nigdy nie przypuszczałam, że Matka Natura ukaże mi się z bliska w swej pięknej, acz przerażającej okazałości. Podłoże było błotniste, co jakiś czas kamienie wbijały mi się w podeszwy butów. Przede mną dumnie kroczył Banjo. Nagle stanął w bezruchu, zdziwiło mnie jego zachowanie, więc kucnęłam obok niego, aby zapytać co się stało. Gdy zniżyłam się do poziomu psa, nie musiałam już nic mówić, nawet nie byłam w stanie. Strach sparaliżował moje ciało. Dwa, trzy metry przed nami stał ogromny jeleń szlachetny, który przez ułamek sekundy nie był świadomy naszej obecności. Oddzielały nas tylko niskie, gęste drzewka, które częściowo zarastały szlak. Bałam się, że to masywne zwierze, którego poroże było pewnie osadzone na smukłej czaszce, staranuje nas ze strachu. Wszystko działo się bardzo szybko, ale dla mnie trwało to wieki. Jeleń zaryczał, zerwał się i uciekł w drugą stronę, słyszałam tętent racic i czułam drganie ziemi. Jeszcze długo nie potrafiłam się ruszyć, cała się trzęsłam, a serce waliło mi jak młot. Kocham zwierzęta, ale mam świadomość, że są one bardzo niebezpieczne. Dziękowałam Banjowi, że nie zaczął szczekać na dzikie zwierzę, bo nie wiadomo jakby się to skończyło.
LIS NA DIABLAKU
30. lipca pierwszy raz postawiłam stopę na Babiej Górze. Na szczycie było dużo turystów, niektórzy nawet leżeli na kamieniach, opalając się w promieniach słońca. Nie sądziłam, że po zdobyciu najwyższego szczytu Beskidu Żywieckiego, będą mną targać tak silne emocje. Zmęczenie przyćmiły pozytywne uczucia – radość, euforia, duma. Po kilku godzinach zostaliśmy na Babiej tylko w piątkę – Patryk, Kokos (nasz przyjaciel), Banjo, ja oraz Kacper z Krakowa, który od kilku lat swoje urodziny spędza na szczycie. Wspólnie uzgodniliśmy, że nie ma sensu wracać do schroniska, więc zostajemy całą noc na Diablaku, ubierzemy się ciepło i prześpimy się pod gołym niebem. Słońce zaczęło powoli chować się za horyzontem, góry spowił mrok, a małe, migocące w dole lampki, okazały się być ulicznymi latarniami z pobliskich miasteczek.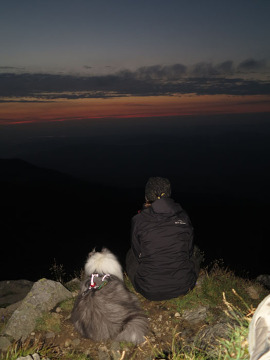 Zachód słońca na Babiej Górze, Beskid Żywiecki
fot. Martyna Trocha
Banjo oddalił się od nas, usiadł na skarpie i przyglądał się światu. Wyglądał jakby kontemplował. Usiadłam obok niego, wskazałam palcem na punkt przed nami mówiąc, że tam jest nasz dom, następnie skierowałam dłoń na wschód. – Gdzieś daleko, za szczytami znajduje się cel naszej wędrówki. Tam idziemy Banjo. – powiedziałam do psa. On spojrzał na mnie jakby wszystko rozumiał.
Siedzieliśmy tak jeszcze chwilę, gdy zawołali nas chłopcy. Dochodziła północ, rozkładaliśmy karimaty na kamieniach i szykowaliśmy się do snu. – Nie ruszaj się. Za tobą stoi ryś. – poważnym tonem ostrzegł mnie Patryk. Myślałam, że jest to kolejny żart. Odwróciłam wzrok i… wydobyłam z siebie przeraźliwy pisk, który odbił się od pobliskich szczytów niosąc echo po całych górach. Widziałam parę świecących oczek, które wpatrywały się we mnie. Było ciemno, więc początkowo pomyślałam, że to ryś, ale gdy oświetliłam zwierzę czołówką, okazało się, że jest to mały, przerażony lisek. Próbowaliśmy go przepłoszyć, ale bezskutecznie. Pies ujadał, a ja bałam się, że dziki lis może roznosić wściekliznę. Zanim uciekł, chytrus podchodził nas cztery razy z różnych stron, ale Banjo był jak radar, wyczuwał zagrożenie i w porę nas ostrzegał. Zmęczona zaszyłam się w śpiworze. Długo nie potrafiłam zasnąć. Kamienie wbijały mi się w plecy, było tak zimno, że trzęsłam się jak osika, próbując utrzymać stałą temperaturę ciała. Wszystkie niedogodności spania "pod chmurką" rekompensował cudowny widok nieba, które usiane było milionami gwiazd. Sklepienie nie było zwyczajne, różniło się od tego, które widzę wieczorem w mieście – było granatowe z wieloma białymi odcieniami, bez problemu znalazłam Drogę Mleczną czy Wielką Niedźwiedzicę. Czasem, gdy zamknę oczy przypominam sobie to niebo i wracam myślami do tamtych chwil. Spaliśmy tylko trzy godziny.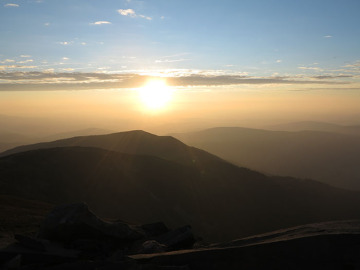 Zachód słońca na Babiej Górze, Beskid Żywiecki
fot. Martyna Trocha
Koło 3:30 zaczął się kolejny spektakl – wschód słońca. Horyzont znów zmieniał barwę, słońce wyłaniało się mozolnie zza szczytów, ogrzewając nas swymi promieniami. Ulotne chwile, ale jakże piękne. Dostarczają wielu ciepłych wspomnień i skłaniają do refleksji. Myślę, że jeszcze nie raz wrócę w to miejsce, aby ponownie wraz ze słońcem budzić się do życia.
KRAKSA
Trasa prowadziła przez Magurski Park Narodowy. Planowaliśmy wyruszyć koło 10:00, lecz nie da się wszystkiego przewidzieć. 42. dzień wyprawy. Rano powinna dołączyć do nas znajoma z Wrocławia z dwoma psami, niestety Magda miała po drodze "drobne" problemy z samochodem. Cały dzień padał deszcz, więc drogi były śliskie. Starego Opla wyrzuciło na zakręcie do rowu i samochód dachował. Na szczęście nikomu nic się nie stało. Po kilku godzinach udało się Magdzie wydostać auto, lecz po ujechaniu 10 km odpadło koło. Dziewczyna musiała czekać na pomoc drogową. Było po 17:00, gdy Magda przyjechała do Zdyni, a wraz z nią Żubr – Chiuaua z wrocławskiego schroniska – oraz Kraksa – suka ze sparaliżowanymi tylnymi kończynami, która porusza się na specjalnym wózku. Mieli dołączyć do nas dwa tygodnie wcześniej, ale zapadł im się sufit w mieszkaniu, więc znajoma była zmuszona zrobić remont.
Wszystko sprzysięgło się przeciwko nam, pomimo wielu przeciwności losu Magda dołączyła do "Włóczyłapek". Na szlak wyszliśmy dopiero o 19:30. Padał deszcz, zaczęło się ściemniać, a przecież czekała nas prawie pięciogodzinna trasa do schroniska. Po dwóch godzinach wyczerpały się baterie w jednej z latarek. Prowadziłam grupę, ponieważ tylko moja czołówka była sprawna. Śliskie, strome zejścia i podejścia nie ułatwiały wędrówki. Adrenalina we krwi osiągnęła poziom krytyczny. Słyszałam każdy szmer i szelest liści. Bałam się, ponieważ Magurski PN to jedna z największych ostoi niedźwiedzi w Polsce.
Po trzech godzinach marszu dotarliśmy do skrzyżowania, gdzie od głównego, czerwonego szlaku odchodził inny – żółty - który prowadził do Schroniska "Hajstra" w Hucie Polańskiej.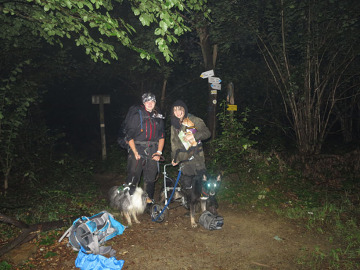 Przełęcz Mazgalica, Magurski Park Narodowy, Beskid Niski
fot. Martyna Trocha
Nie potrafiłam uwierzyć, że tak szybko dotarliśmy na miejsce. Wyprzedziliśmy plan o ponad godzinę. Zadzwoniłam do właściciela, który z przykrością oznajmił mi, że wszystkie pokoje ma zajęte, ale w świetlicy są trzy wiklinowe kanapy, na których możemy się przespać. Wszystko mi jedno, byleby się położyć w ciepłym, suchym miejscu. Rano, goście byli bardzo zdziwieni, gdy weszli do świetlicy i zobaczyli troje ludzi w śpiworach i psy, które smacznie spały na podłodze. Nigdy nie zapomnę ich przerażonych min, gdy opowiedzieliśmy im jak się tutaj znaleźliśmy.
CZY SKOŃCZYŁO SIĘ HAPPY END' EM?
Pewnie, że tak. 20 sierpnia o godzinie 14:10 przekroczyliśmy granicę miasta Ustrzyki Dolne. Na końcu szlaku czekali na nas rodzice, którzy bijąc brawa i wiwatując, witali nas jak bohaterów. Po 52. dniach zmagań dotarliśmy bezpiecznie do celu.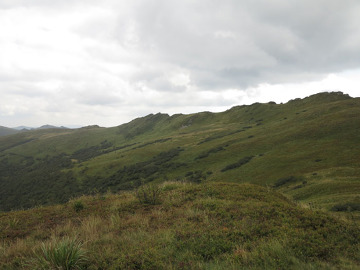 fot. Martyna Trocha
Spełniłam swoje marzenie, nie poddałam się i walczyłam z całych sił, aby po upadku podnieść się i iść na przód. Z perspektywy czasu mogę powiedzieć, że wyprawa "Włóczyłapki Na Szlaku" była długą lekcją życia, pokory i wytrwałości. Dzięki niej nauczyłam się doceniać to, co mam, co osiągnęłam. Cieszę się z drobiazgów i dostrzegam rzeczy, które dla wielu są codziennością, rutyną, która popada w zapomnienie. Jestem w klasie maturalnej i wiem, że jeśli bardzo czegoś pragniemy, jeśli wkładamy serce w realizację swoich marzeń, to one zawsze się spełnią.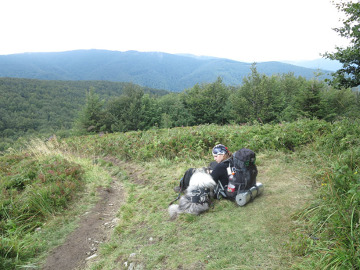 fot. Martyna Trocha
W górach spotkałam wielu wspaniałych ludzi. Zupełnie obce osoby, wspierały mnie i dodawały otuchy. To właśnie dzięki tym ludziom dotarłam tak daleko, to oni podali mi pomocną dłoń i pomogli wstać. Mam nadzieję, że dane mi będzie przeżyć jeszcze mnóstwo wspaniałych wypraw z Banjem, a pogoń za przygodą doprowadzi nas w wiele ciekawych miejsc.
Mało? Zapraszam na www.wloczylapki.blog.pl
Tutaj znajdziecie relację z każdego dnia wyprawy :)