Voluntarius, czyli dobrowolny

Słowo wolontariat pochodzi od łacińskiego słowa "voluntarius", czyli dobrowolny. Jest to bowiem dobrowolne i bezpłatne poświęcenie czasu i energii na rzecz społeczeństwa, społeczności lokalnej, wykraczające poza związki rodzinno-koleżeńsko-przyjacielskie. Oznacza to, że nie każda praca na rzecz innych jest wolontariatem. Przykładem jest choćby pomoc własnym dziadkom, opieka nad nimi. Tego typu praca wolontariatem nie jest, jednak gdy pomagamy osobom starszym w szpitalach czy hospicjach jest to już praca wolontariacka.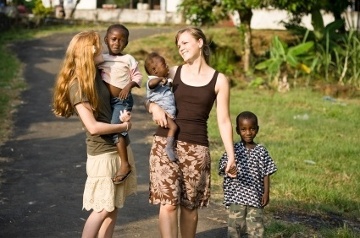 Wolontariusze są potrzebni wszędzie
fot. iStockphoto
To, że wolontariusz nie dostaje wynagrodzenia, nie oznacza, że nie uzyskuje innych korzyści niematerialnych. Przede wszystkim tego typu praca daje ogromną satysfakcję i poczucie sensu, podwyższa samoocenę, pomaga w zdobyciu nowych przyjaciół i znajomych, a także wiedzy, doświadczenia oraz umiejętności. W związku z tym można uzyskać także lepszą pozycję na rynku pracy.

Praca dla wolontariusza

Gdzie może pracować wolontariusz? Praktycznie wszędzie. Pomoc potrzebna jest w wielu miejscach, dlatego każdy może znaleźć pracę odpowiednią dla siebie. Może być to praca z dziećmi i młodzieżą, w szpitalach i hospicjach, w biurze czy gospodarstwie rolnym. Może być to także praca przy organizacji akcji, koncertów czy festiwali. Pomagać można zarówno w miejscu zamieszkania, w kraju, ale także zagranicą.

Wiele polskich organizacji zajmuje się koordynacją tego typu projektów i pomagają wyjechać do innego państwa, by tam pomagać ludziom. Mają one różnoraki profil i stawiają czasem określone wymagania przed potencjalnymi wolontariuszami. Oto krótki przegląd programów koordynowanych przez polskie organizacje, do których można się zgłosić z chęcią wyjazdu na wolontariat wraz z warunkami, jakie powinien spełniać przyszły wolontariusz.

Wolontariat Europejski (EVS)

EVS jest jedną z najpopularniejszych form wyjazdów wolontariackich. Wymagania są bowiem bardzo jasne. Trzeba być w wieku od 18 do 30 lat i chcieć poświęcić czas na wolontariat zagranicą. Nie ma wymagań, jeśli chodzi o znajomość języków obcych czy konkretne umiejętności. Ideą wolontariatu europejskiego jest uczenie się poprzez życie w międzynarodowym środowisku i realizację różnych projektów. Istnieją dwa typy wyjazdów, krótko- i długoterminowe. Krótkoterminowe trwają od miesiąca do trzech. Najczęściej organizowane są w miesiącach letnich, gdy studenci mają przerwę wakacyjną. Projekty długoterminowe trwają od czterech do dwunastu miesięcy.

Wolontariat europejski jest finansowany przez Unię Europejską i wolontariusz dzięki temu nie ponosi żadnych kosztów. Przejazdy, ubezpieczenie, zakwaterowanie są zapewnione. Wolontariusz otrzymuje także kieszonkowe, w zależności od kraju pobytu, wynosi ono około 180-220 euro. Poza tym organizacja goszcząca musi zapewnić kurs językowy.

Mimo że EVS to wolontariat europejski, możliwość wyjazdu nie ogranicza się tylko do Starego Kontynentu. Na chętnych do dalszych wojaży czekają także niektóre kraje Ameryki Południowej, np. Brazylia czy Urugwaj oraz niektóre kraje azjatyckie, np. Gruzja czy Armenia. Wiążą się z tym oczywiście większe problemy wizowe, ale jednak jest to okazja do odwiedzenia sporej liczby często egzotycznych krajów.

Dla wielu osób ważniejszy jest jednak projekt, przy którym będzie się pracowało niż miejsce. Taki wyjazd traktuje się jako szansę na znalezienie ciekawej pracy, w której można zdobyć doświadczenie, potrzebne także w późniejszej ścieżce zawodowej. A projekty są przeróżne: od związanych ze środowiskiem naturalnym, ochroną zabytków, przez kulturę, mniejszości narodowe po szeroko pojęte zdrowie. Każdy może znaleźć coś dla siebie.

Wszelkie formalności związane z wyjazdem załatwia organizacja wysyłająca, czyli organizacja z Polski, która ma uprawnienia do wysyłania wolontariuszy. Na stronie http://ec.europa.eu/youth/evs/aod/hei_en.cfm znajduje się wyszukiwarka zarówno organizacji wysyłających, jak i goszczących oraz projektów. Warto spędzić tu trochę czasu i znaleźć ciekawą inicjatywę w interesującym miejscu. Jeśli istnieje taka możliwość, dobrze też skontaktować się z byłymi wolontariuszami w danym miejscu, by dowiedzieć się wcześniej o warunkach pobytu i pracy.

Service Civil International

Service Civil International (SCI) jest międzynarodową organizacją pozarządową, która powstała w 1920 roku. Jej głównym celem było odbudowanie wzajemnego zaufania oraz możliwość pokojowej współpracy narodów, które walczyły ze sobą w I wojnie światowej. "SCI wierząc, że wszyscy ludzie są zdolni do życia razem we wzajemnym poszanowaniu i bez sięgania po przemoc w rozwiązywaniu konfliktów pomiędzy narodami, społecznościami czy ludźmi, pracuje na rzecz propagowania pokoju" (Konstytucja SCI). Obecnie SCI ma swoje oddziały i grupy lokalne na pięciu kontynentach. Polskim oddziałem SCI jest Stowarzyszenie "Jeden Świat".

SCI oferuje krótkie workcampy bądź długoterminowe wyjazdy na wolontariat (Long Term Volunteering = LTV (trwające od 2 do 12 miesięcy). W przeciwieństwie do EVS stawia się tu większe wymagania kandydatom. Osoba, która chce wyjechać na LTV powinna mieć ukończone 18 lat i znać w stopniu komunikatywnym język obowiązujący na projekcie – najczęściej angielski. Przydaje się jednak także władanie językiem lokalnym. Poza tym wolontariusz musi ponieść pewne koszty. Po pierwsze składka członkowska Stowarzyszenia "Jeden Świat" oraz opłata za projekt. Do tego dochodzi dojazd na miejsce wolontariatu oraz ubezpieczenie w podróży. SCI zapewnia jednak zakwaterowanie, wyżywienie, ubezpieczenie oraz czasami kieszonkowe.

Średnio co dwa miesiące pojawiają się aktualne oferty wolontariatów. Można więc na bieżąco śledzić ciekawe propozycje i wyczekiwać na odpowiednią. Ponieważ jest dość spora liczba chętnych, nie zawsze za pierwszym razem można trafić na wymarzony projekt. Trzeba zwracać uwagę jednak uwagę na szczegóły, bo za część projektów trzeba dodatkowo płacić. Szczegółowe informacje znajdują się na stronie: www.jedenswiat.org.pl.

Wolontariat Polska Pomoc

Ministerstwo Spraw Zagranicznych RP organizuje od 2008 roku Program Wolontariat – Polska Pomoc. Jego ideą jest wsparcie bezpośredniego zaangażowania polskich obywateli w pomoc państw rozwijających się oraz upowszechnienie w polskim społeczeństwie wiedzy na temat problemów, z jakimi te państwa się borykają. Program ten stanowi także istotny punkt dla współpracy między strukturami państwowymi i organizacjami pozarządowymi.

Wolontariusze pracują w krajach rozwijających się (m.in. w Ameryce Południowej i Afryce), realizując konkretne, wcześniej przygotowane projekty. Następnie w Polsce realizują przedsięwzięcia z zakresu edukacji rozwojowej. By uzyskać dofinansowanie wyjazdu ze środków Ministerstwa Spraw Zagranicznych, organizacja pozarządowa z Polski musi złożyć projekt, który ma realizować wolontariusz.

Osoba chcą wyjechać powinna być pełnoletnia, a także posiadać wyższe wykształcenie. Poza tym niezbędna jest znajomość języka kraju, do którego chce się wyjechać oraz doświadczenie w dziedzinie, w której ma być realizowany projekt. Uzyskany grant pokrywa koszty podróży, pobytu, ubezpieczenia, a także koszty prowadzonych na miejscu działań. Termin przygotowania projektu to wiosna, kwiecień/maj. Szczegółowe informacje znajdują się na stronie: www.polskapomoc.gov.pl.

GLEN

GLEN (Global Education Network) jest to niezależna politycznie i nienastawiona na zysk inicjatywa dziesięciu organizacji ze starych i nowych państw członkowskich Unii Europejskiej. Polskę reprezentuje Polska Akcja Humanitarna. Celem programu jest podnoszenie świadomości w krajach Północy na temat rzeczywistości krajów Południa. Program daje możliwość wyjazdu na trzymiesięczny staż wolontariacki, w trakcie którego pracują oni na rzecz lokalnych społeczności w jednym z krajów globalnego Południa. Każdy z projektów realizują uczestnicy z dwóch bądź trzech różnych krajów. Doświadczenia oraz wiedza zdobyta w ten sposób jest później przekazywana dalej przez wolontariuszy ludziom z Północy.

Co roku na początku stycznia odbywa się rekrutacja do poszczególnych projektów, głównie w Afryce. Zgłosić się może osoba w wieku 21-30 lat, która już jest zaangażowana w działalność społeczną np. wolontariat, organizacje studenckie i posiada wykształcenie bądź doświadczenie odpowiadające wymogom stażu. Poza tym wymagana jest znajomość języka angielskiego lub francuskiego. Także istotna jest długotrwała współpraca w całym cyklu GLEN, który poza stażem obejmuje też seminaria i inicjatywy edukacyjne po powrocie ze stażu. Przede wszystkim istotne jest podzielanie wartości związanych z Edukacją Globalną.

Organizatorzy pokrywają koszty szkoleń przygotowawczych, ubezpieczenia, biletu lotniczego do kraju goszczącego oraz zapewniają stypendium na pokrycie kosztów trzymiesięcznego pobytu na miejscu. Uczestnicy projektów GLEN muszą zapewnić sobie we własnym zakresie szczepienia, odpowiednią profilaktykę medyczną oraz potrzebne wizy. Szczegółowe informacje znajdują się na stronie: www.pah.org.pl.

AIESEC

AIESEC jest międzynarodową organizacją pozarządową prowadzoną przez studentów. Umożliwia ona młodym ludziom rozwój 5 kompetencji: przedsiębiorczości, odpowiedzialności społecznej, inteligencji emocjonalnej, umiejętności pracy w globalnym środowisku oraz aktywnego uczenia się. Dlatego też jako jeden z programów stworzono wolontariat zagraniczny. Jest on skierowany do pełnoletnich członków organizacji, maturzystów, studentów i absolwentów wszystkich kierunków, a w szczególności: socjologii, kulturoznawstwa, psychologii i innych nauk społecznych.

Wolontariat zagraniczny trwa najczęściej od 6 do 16 tygodni. Praca odbywa się w ramach projektów organizowanych przez AIESEC we współpracy ze szkołami lub innymi organizacjami pozarządowymi. Najpopularniejsze tematy dotyczą edukacji międzykulturowej, praw człowieka, ochrony środowiska oraz edukacji podstawowej dzieci i młodzieży z zaniedbanych regionów, profilaktyki HIV/AIDS. Możliwości wyjazdu jest kilka. Działają cztery programy: Discover Russia, Discover China, Discover Africa i Discover India. Rekrutacja odbywa się dwa razy do roku, jesienią i wiosną. Szczegółowe informacje znajdują się na stronie: www.aiesec.org/poland.

Młodzi Światu

Młodzi Światu to nazwa Salezjańskiego Wolontariatu Misyjnego (SWM). Włączyć się w niego może każdy, niezależnie od wieku czy wykonywanej pracy. Trzeba jednak mieć świadomość, że jest to wolontariat misyjny, nastawiony głównie na pomoc najuboższym i chorym, w duchu chrześcijańskim.

Placówki misyjne znajdują się w różnych częściach świata. Prowadzą one domy dla dzieci ulicy, szkoły, świetlice, ośrodki medyczne, projekty katechetyczne oraz animację życia lokalnej społeczności. Aby wyjechać na misje jako świecki wolontariusz potrzeba przede wszystkim silnej motywacji i predyspozycji do tego typu pracy. Poza tym należy być pełnoletnim, znać język obowiązujący w danym kraju misyjnym oraz zgromadzić fundusze na pokrycie kosztów ubezpieczenia, szczepionek i transportu na placówkę misyjną. Bardzo ważna jest także formacja wolontariusza i aktywny udział w krajowej działalności SWM przez minimum rok czasu. Ostateczną decyzję o wyjeździe na misję podejmuje duszpasterz wolontariatu. Szczegółowe informacje znajdują się na stronie: www.swm.pl.

Przedstawione programy to te najbardziej popularne w Polsce. Istnieje jednak także wiele organizacji współpracujących jak choćby z Niemcami, gdzie można odbyć roczny wolontariat w dziedzinie socjalnej, ekologicznej czy ochrony zabytków. Możliwości jest bardzo wiele, a można je znaleźć także dzięki organizacjom z innych krajów.