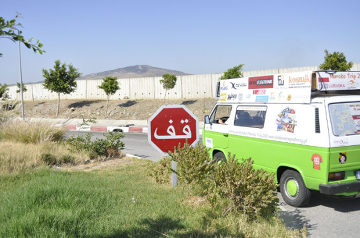 To maszyna, która jeździła już po niejednych drogach. Już wkrótce przed "ogórkiem" poważna próba: podróż dookoła świata
fot. Z indexem w podróży
Etraveler.pl: W maju 2015 roku zamierzacie wyruszyć w podróż dookoła świata, przejechać 4 kontynenty i odwiedzić 56 państw, a wszystko to, tradycyjnie, wysłużonym "ogórkiem". W jakich okolicznościach powstał ten ambitny plan?
Mariusz Malinowski: Pomysł narodził się już przed wyprawą do Maroka. Zawsze marzyliśmy i chcieliśmy stanąć przed możliwością postawienia wszystkiego na jedną kartę. Albo się uda, albo nie. Przeanalizowaliśmy wiele faktów, które pozwoliły nam zyskać niemalże pewność, że wyprawa dojdzie do skutku. Pewności dodali nam też sponsorzy, którzy już wcześniej zapowiedzieli, że bez względu gdzie pojedziemy, oni nam pomogą.
Każda z naszych wypraw zaczyna się w dwóch szalonych głowach. Potem dołączają kolejni wspaniali szaleńcy i tak tworzy się wyprawa Z indexem w podróży dookoła świata.
– W jaki sposób przygotowujecie się do tak długiej podróży? Kto i za co odpowiada?
– Jest wiele niewiadomych i co chwilę pojawia się coś nowego. Ale na takie wydarzenia jesteśmy przygotowani. Przede wszystkim mamy w tym roku prócz ekipy, która pojedzie (wciąż szukamy jeszcze jednego śmiałka), także sztab osób, który zostanie w Polsce i będzie wspierać naszą wyprawę. Podróż trzeba dobrze przygotować: logistycznie, technicznie, medycznie, potrzeba kilka szczepień oraz medialnie, ponieważ tak jak w ubiegłych latach będziemy emitować program z podróży w telewizji oraz relacjonować wyprawę w innych mediach. Będzie można czytać o naszych przygodach na portalu Etraveler.pl.
– Całkiem niedawno ogłosiliście "casting" – macie jedno wolne miejsce w busie i chętnie je oddacie osobie mocno zdeterminowanej, która nie boi się wyzwań i oczywiście kocha podróże. Opowiedzcie coś więcej o tej akcji: dostajecie sporo zgłoszeń? Kto i dlaczego chce wybrać się w tak długą podróż? I w końcu, czy nie macie obaw przed podróżą z ludźmi, których nie znacie?

Przeczytaj więcej o akcji "Pojedź z nami w podróż dookoła świata">>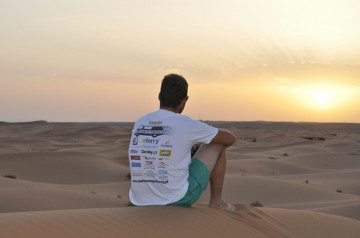 Mariusz Malinowski, członek ekipy z Indexem w podróży
fot. Z indexem w podróży
– Nasze doświadczenie mówi, że obca osoba potrafi się lepiej spisać, niż ktoś kogo dobrze znamy. Wiadomo, nowa osoba na początku będzie nam obca, ale mamy 1,5 roku, by ją dobrze poznać i pójść razem na nie jedno integracyjne spotkanie, czy w międzyczasie pojechać na krótszą wyprawę. Podczas takiej podróży stworzymy rodzinę. Zgłoszeń nadchodzi zaskakująco dużo. Ze wszystkich osób wybierzemy 10, z którymi następnie się spotkamy. Często w zgłoszeniach osoby piszą, że chcą jechać, bo będzie fajna zabawa. My jednak od kandydata wymagamy, żeby miał świadomość, że podróż dookoła świata to przede wszystkim wyzwanie i że nie zawsze na naszej trasie pojawią się piękne plaże i drinki z palemką. Taka podróż to walka z czasem i wieloma trudnościami, które na co dzień nas spotykają. Myślę jednak, że jeżeli ktoś pragnie wyprawy i jest w stanie zaryzykować tak jak my, to powinien być spokojny o wynik castingu.
– Jesteście studentami Uniwersytetu Zielonogórskiego. Zapewne wiele osób może się zastanawiać, skąd studenci maja fundusze na tak długą wyprawę?
– Czasem ludzie na forach piszą, że naciągamy sponsorów na kasę, żeby spędzić świetne wakacje. Nasz budżet w dużym stopniu opiera się na pieniądzach od sponsorów, ale tu muszę wyjaśnić, że firmy nas wspierają w zamian za reklamę. Podczas podróży piszemy relacje, nagrywamy programy radiowe i telewizyjne. Wszystko to dzieje się w trasie. Tysiące ludzi śledzi podróż, dzięki czemu też widzi loga sponsorów. Wkładamy w to wiele pracy i czasem ktoś to zauważy. Duża liczba sponsorów (podczas Maroko Trip było ich ponad 40) nie gwarantuje żadnych zysków ani pokrycia pełnej kwoty. Zawsze sporo musimy dołożyć, a co za tym idzie, musimy na to zapracować. W tym roku z podróży wróciliśmy z długami, za kupno kamer, którymi nagrywaliśmy program oraz za lawetę, ponieważ "Ogórek" odmówił posłuszeństwa. Na szczęście udało się je spłacić. Mamy cel, więc walczymy o jego osiągnięcie w każdy możliwy sposób.
– Jak na pomysł wyprawy dookoła świata busem zareagowali wasi bliscy?
– Na początku rodzice byli przeciwni, przez pierwszy tydzień próbowali nas zniechęcić, ale potem zobaczyli, że jest to niemożliwe i zaczęli nas wspierać. Cały czas nam podpowiadają, na co zwrócić uwagę. Pozostałe osoby reagują dość dziwnie. Coś na zasadzie "no to jedźcie, co tam szkodzi spróbować i tak się nie uda" – ta reakcja jest znana nam z pierwszej wyprawy. Te osoby, które jednak wiedzą, jak ciężko pracujemy nad naszymi projektami od razu mówią, że jeśli komuś ma się udać, to tylko nam. Dziękujemy za te słowa wsparcia, są dla nas na wagę złota.
– Jedziecie tym samym busem, który tak dzielnie Wam służył w trakcie dwóch poprzednich wypraw?
– Tak. Ogórka nie zamienimy za nic w świecie. Musimy tylko go podrasować, nad czym pracują w najlepszym warsztacie w Zielonej Górze Dieselelektronik.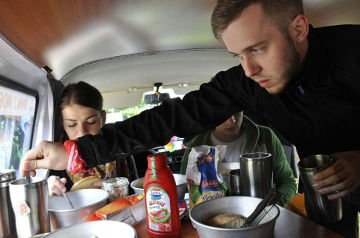 W trakcie wypraw bus jest nie tylko środkiem transportu, ale staje się również domem
fot. Z indexem w podróży
– Zastanawiacie się czasem, czy ze swojej pasji nie uczynić sposobu na życie? Zrobić coś, dzięki czemu podróżowanie stanie się źródłem utrzymania i satysfakcji?
– Tak, to piękna perspektywa – gdybyśmy mogli jak podróżnicy, których znamy z telewizorów czy z ich książek zarabiać na życie. To jednak śpiew przyszłości. Jeśli uda się objechać świat dookoła, może takie perspektywy się otworzą, ale to na razie odległe marzenie.
– Jaki podróżniczy cel można sobie wyznaczyć po powrocie z podróży dookoła świata? Myślicie o tym, co będzie po wyprawie, kiedy wrócicie do tzw. normalności?
– Obyśmy wrócili (śmiech). Mamy jeszcze kilka planów związanych z naszym busem i podróżami. Pytanie tylko czy jak wrócimy cali, to warto będzie ponownie kusić los. Myślę jednak, że na miejscu nie usiedzimy i zorganizujemy wyprawę, która również zaskoczy innych. Mam nadzieję, że nam się to uda.
– Na koniec, proszę, dokończ zdanie: "Gdyby nie było podróży, to…"
– Życie nie było by tak zaskakujące.