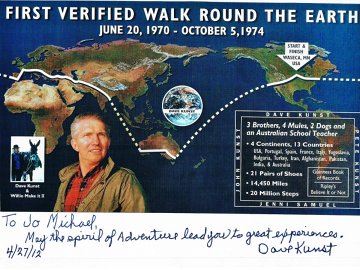 Zdjęcie z autografem, które Dave przysłał mi ze Stanów."Michale, niech podróżniczy duch prowadzi cię do niesamowitych doświadczeń"
fot. archiwum prywatne Dave'a Kunsta
Dave Kunst (ur. 16 lipca 1939 w Caledonia) to amerykański podróżnik, który jako pierwszy człowiek na świecie odbył pieszą wyprawę dookoła świata.
Wyprawa rozpoczęła się 20 czerwca 1970 w Waseca w stanie Minnesota, a zakończyła w tym samym miejscu 5 października 1974. Dave rozpoczął podróż wraz z bratem Johnem, który nie ukończył wyprawy z powodu śmierci 21 października 1972 w wyniku postrzału podczas napadu rabunkowego dokonanego przez afgańskich bandytów. Dave, który również ucierpiał podczas napadu przeżył udając martwego.

Wywiad z Davem Kunstem – pierwszym człowiekiem na świecie, który odbył pieszą wyprawę dookoła świata

Michał Lachowicz: W 1970 roku wyruszył Pan w pieszą wędrówkę dookoła świata, która trwała 4 lata, 3 miesiące i 16 dni. Skąd pomysł na tak niezwykłą podróż?
Dave Kunst: Planowałem przejechać przez Australię lub Amerykę Południową, ale mój przyjaciel powiedział mi, że to już zostało zrobione. Zasugerował żebym obszedł ziemię dookoła. Powiedziałem mu, że przecież to nie możliwe, gdyż są oceany. Podpowiedział mi, że mogę iść mając szansę napotkać na drodze trzy główne oceany, ale mogę je przecież przepłynąć, przelecieć lub pokonać w inny sposób. Spodobał mi się ten pomysł. Zdałem sobie sprawę, że jestem w stanie to zrobić i wiedziałem, że mój brat John także. Udało mi się to przy pomocy obu moich braci.
ML: Wyruszył pan w podróż z bratem Johnem, który niestety nie ukończył wyprawy, ponieważ został postrzelony 21 października 1972 roku przez afgańskich bandytów. Jak znalazł Pan w sobie siłę żeby iść dalej i się nie poddać?
DK: Wiedziałem, że muszę dokończyć to, co zaczęliśmy z Johnem. Wiedziałem też, że mój drugi brat Pete pomoże osiągnąć mi cel. Nigdy nawet nie myślałem, że mógłbym nie ukończyć tej podróży.
ML: Jakie najciekawsze przygody spotkały pana podczas tej czteroletniej wyprawy?
DK: Było ich wiele. Atak bandytów w Afganistanie, nauka dosiadania muła. Także wędrówka przez Turcję, Iran, Afganistan i Pakistan była pełna przygód, ponieważ tamtejsza religia, kultura i języki są tak bardzo różne, że stanowiły dla nas wyzwanie.
ML: Przeczytałem gdzieś, że wykonał Pan 21 milionów kroków! Czy to prawda?
DK: Odległość 100 stóp zajmowała mi 31 kroków. Przeszedłem 14 450 mil.
ML: Czy planując taką podróż, jak pańska trzeba być bogatym? Czy pracował Pan gdzieś po drodze, aby móc się utrzymać podczas wyprawy?
DK: Wcale nie trzeba być bogatym. Po prostu najlepiej jest wierzyć w siebie.
Zaczynając mieliśmy tysiąc dolarów. Nasi rodzice wysłali nam kilka razy sto dolarów, a kiedy postrzelono Johna pięcioro naszych przyjaciół dało nam pięćset dolarów.
ML: Jak przygotowywał się pan do tej podróży? Jaka była reakcja pańskiej rodziny?
DK: Położyliśmy na podłodze dużą mapę świata i zaznaczaliśmy naszą trasę patrząc na państwa i duże miasta. Poszliśmy też do biblioteki, aby dowiedzieć się więcej o miejscach, które chcieliśmy odwiedzić. Tak zaczęliśmy planować naszą wędrówkę. Kiedy docieraliśmy do jakiegoś kraju, od razu kupowaliśmy mapę drogową. Moi bracia i ja nie byliśmy zbyt uważni w całym tym planowaniu. Po prostu wpadliśmy razem na taki pomysł. Nasze nastawienie było takie, że będziemy przyjmować wszystkie sytuacje, które pojawią się na naszej drodze. Więc po jakimś czasie opuściliśmy zdeterminowani rodzinne miasto, aby okrążyć ziemię. Dostaliśmy od najbliższych ogromne pokłady wsparcia.
ML: Jak zapamiętał pan swojego brata? Proszę powiedzieć o nim coś więcej.
DK: Zawsze kiedy opowiadam o mojej podróży, ktoś kontaktuje się ze mną i dopytuje mnie o to. W każdej chwili kiedy idę, myślę o Johnie. Miał mentalność młodego studenta, ponieważ na krótko przed wyprawą ukończył University of Minnesota. Miał w sobie prawdziwego, podróżniczego ducha i chęć przeżycia przygody. Był wspaniałym człowiekiem.
ML: Jakie cechy według pana powinien mieć dobry podróżnik?
DK: Zawsze powtarzam, że każdy może osiągnąć to, co sobie wymarzy, jeśli skupi na tym wszystkie swoje myśli. Główne składniki udanego przedsięwzięcia to: pasja, determinacja, motywacja wytrwałość i cel napędzający kolejny cel. Prawdziwy podróżnik musi być zdolny do tego, żeby podjąć ryzyko. Niezwykłe czyny są realizowane przez zwykłych ludzi. Żeby osiągnąć w życiu swoje marzenie, trzeba dotrzeć do głębi własnego wnętrza, odnaleźć pasję i potem wzbudzić w sobie działanie.
ML: Podobno, kiedy połknie się podróżniczego bakcyla, trudno jest przestać. Czy pana to też dotyczyło?
DK: Dla mnie ta podróż to było coś więcej niż tylko chęć przeżycia przygody. Chciałem zrobić coś, co nigdy wcześniej nie zostało zrealizowane, znaleźć się w księdze rekordów Guinnessa i odkrywać nowe kraje.

ML: Który kraj z odwiedzonych podczas wędrówki jest dla pana najbliższy i wywarł na panu największe wrażenie?
DK: Australia to mój ukochany kraj. To tu spotkałem moją żonę, Jenni i ludzi, którzy mówią po angielsku. Dużym niebezpieczeństwem podczas wyprawy był ruch uliczny, ale właśnie to, że nie znaliśmy języków obcych stanowiło dla nas największy problem. Potrafiliśmy rozmawiać tylko w rodzimym języku.
ML: Dokąd odbył pan swoją ostatnią podróż?
DK: Razem z Jenni odwiedzamy Australię raz w roku żeby spotkać się z rodziną. Pamiętaj, że nie jestem prawdziwym podróżnikiem tylko facetem, który przeżył w życiu fantastyczną przygodę. Jakieś 10 lat temu polecieliśmy do Anglii. Popłynęliśmy promem do Belgii. Wynajęliśmy samochód i w 27 dni przejechaliśmy przez 9 krajów. Zapamiętam to jako fantastyczną przygodę.
ML: Jakie jest pana życiowe motto?
DK: Jeśli mogłem przejść świat dookoła, mogę wszystko, więc i ty także możesz.
MOŻESZ:)
Rozmawiał Michał Lachowicz
Prelekcja Dave'a Kunsta w wersji internetowej. Polecam:)
P. S. Razem z tą piosenką wysyłam uśmiech do wszystkich, którzy odkrywali ze mną Francję przez ostatnie 6 tygodni:)