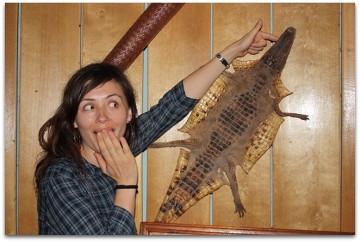 fot. Izabela Smalec

Czym jest dla ciebie podróżowanie?
Podróżowanie to coś więcej niż hobby, to styl życia, to cale życie. Użalenia i po prostu nie da się bez tego obejść… Po paru tygodniach siedzenia w jednym miejscu zaczynam się wiercić i wydziwiać. I wtedy wiem, że przyszedł czas, żeby się gdzieś ruszyć. Podróżowanie jest jak zaraza, masz to w krwi i nie sposób się tego pozbyć.
Już po paru tygodniach?!
Tak właściwie to nie, bo w związku z moja pracą podróżuje non stop, choć to nie to samo. Ale nawet jedno- czy dwudniowe "lay-overy", które oferuje mi praca, nie wystarczają.
Co to za praca?
Jestem stewardessa w pewnych liniach lotniczych na Bliskim Wschodzie. Podjęcie tej pracy było konieczne, żeby jakoś radzić sobie z moim "uzależnieniem" .
Czy ciągłe podróżowanie nie jest męczące?
Przyznaje, że czasami jest, szczególnie kiedy znowu trzeba pojechać do takiego np. Bangladeszu, ale z drugiej strony zdaję sobie sprawę, że gdyby nie ta praca, to nigdy nie mogłabym sobie pozwolić na tyle podróżowania, gdziekolwiek mi się podoba. Więc cóż, trzeba się czasami poświęcić, żeby robić to, co się chce.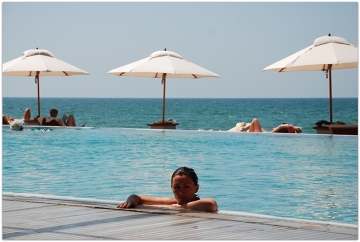 Odpoczywając na urlopie w jednym z kurortów w Abu Dhabi
fot. Izabela Smalec
Czy masz jakieś ulubione miejsca, do których chcesz wrócić, czy zawsze jeździsz w nowe miejsca?
Uwielbiam nowe miejsca i każde, które odwiedziłam w Ameryce Południowej jest moim ulubionym i do każdego z nich chciałabym wrócić, ale w związku z tym, że tyle jeszcze jest miejsc do odwiedzenia, zawsze jednak wybieram coś nowego. Natomiast jednym z moich ulubionych krajów, do którego wracam regularnie (krotki lot, jaki mnie od niego dzieli, na pewno się do tego przyczynia) jest Turcja. Dla mnie było to wielkie odkrycie, bo wcześniej jako wielką "Azjofilkę" nigdy mnie tam nie ciągnęło. Kiedy pojechałam po raz pierwszy, właściwie przez przypadek, zakochałam się bez pamięci. No i Tajlandia, w której mieszkałam przez kilka lat, więc za każdym razem czuję się jakbym jechała do domu.
Mieszkałaś jeszcze w paru krajach?
Tak, zaczęło się od Chin, później Tajlandia, Indie, znowu Tajlandia, a teraz Bahrajn.
No właśnie, Bahrajn, jak mieszka się na Bliskim Wschodzie? Panuje stereotyp, że kobiety są tam źle traktowane I dyskryminowane.
W Bahrajnie mieszka się ok, wszędzie jest dużo plusów i minusów, życie tu jest tak naprawdę bardzo łatwe. Co do kobiet, to ja osobiście uważam to za wielkie nieporozumienie. Pomijając Arabię Saudyjską, która w ogóle nie podlega żadnym klasyfikacjom, i o której wolę się nie wypowiadać, bo budzi we mnie zbyt dużo emocji (zresztą w większości Arabów z Zatoki również), kobiety na Bliskim Wschodzie są najbardziej rozpieszczonymi istotami, z którymi kiedykolwiek miałam do czynienia. Większość z nich robi to, co chce, wszystkie mają sprzątaczki i nianie do dzieci, więc tak naprawdę nie zajmują się niczym, wiele z nich pracuje, ale też w pracy specjalnie się nie lubią przemęczać. Od mężczyzn oczekują wiele, szczególnie na polu finansowym i bardzo, bardzo często zdarza się, że ich mężowie są pod pantoflem. W gazetach coraz częściej pojawiają się artykuły o przemocy domowej... w której ofiarą jest mężczyzna i wiele organizacji informuje, że takich ofiar jest o wiele więcej, jedynie nie chcą się do tego przyznawać.
Większość kobiet także sama decyduje, czy chce nosić tradycyjne chusty na głowach. Znam rodzinę, w której matka jest praktykująca konserwatywną muzułmanką, jedna z jej córek również, a druga chodzi w krótkich spódniczkach.
Kiedy obudziła się w tobie potrzeba podróżowania?
Wyjeżdżałam od zawsze, już w podstawówce moje największe batalie z rodzicami toczyły się o pozwolenia na kilkudniowe wyjazdy z moją drużyną harcerską. To wtedy i w związku z tym nauczyłam się podstaw negocjacji, perswazji i manipulacji. Każde kieszonkowe, każdą złotówkę odkładałam na wycieczki i nigdy nie wydawałam pieniędzy na nic innego. W liceum wyjeżdżałam już regularnie co miesiąc, rodzice byli już przyzwyczajeni (i powiedzmy sobie szczerze, przetrenowani). Groźba zostania w domu, była dla mnie największą tragedią, do tego stopnia, że raz (z czego dumna nie jestem) uciekłam z domu, kiedy tato zabronił mi wyjazdu. Wprawdzie moi rodzice wiedzieli gdzie i z kim jestem, ale mimo wszystko poczucie winy i wyrzuty sumienia nie pozwoliły mi miło spędzić czasu, więc zdecydowanie tej drastycznej metody nie polecam.
Pamiętam też, że moja mama miała książkę "Sto najsłynniejszych budowli", z niezbyt zresztą atrakcyjnymi biało-czarnymi zdjęciami. Jako dziecko potrafiłam tę książkę przeglądać godzinami i marzyłam o tym, żeby wszystkie te miejsca kiedyś odwiedzić. Wtedy nie wydawało mi się, że to kiedykolwiek nastąpi, teraz wiem, że jeśli tylko czegoś bardzo chcesz, to nie ma nic, co może cię zatrzymać. W wiele miejsc pojechałam dlatego, że pamiętałam je z tej książki.
Kiedy wyjechałaś z Polski i jakie były początki? Czego ci najbardziej brakowało?
Podczas studiów byłam przez parę miesięcy w Holandii i Szwecji, ale dopiero po ich skończeniu zdecydowałam się wyjechać. Miało to być tylko półtora roku. Było to 11 lat temu i jak dotąd do Polski wracam tylko na krótkie odwiedziny rodziny.
Zaczęło się od głębokiej wody, bo wyjechałam na 8 miesięcy do Chin. Przyznaje, że było to bardzo ciekawe przeżycie i fantastyczne doświadczenie, ale też niełatwe. Nigdy nie przyszłoby mi wcześniej do głowy czego brakowałoby mi najbardziej. Było to bardzo zaskakujące, ale po prostu fantazjowałam.. o chlebie i ziemniakach zresztą nie ja jedna, wszyscy Europejczycy, z którymi tam byłam marzyli o tym samym, więc urządzaliśmy wycieczki do stolicy regionu, w którym przebywaliśmy tylko po to żeby kupić chleb w jedynej zachodniego stylu piekarni, którą odkryliśmy, prowadzonej przez Kanadyjczyka, a potem zamrażaliśmy go na zapas. Restauracje, którą mięliśmy w pobliżu nauczyliśmy robić frytki, żeby chociaż od święta zaspokoić nasze fantazje.
Mówiąc o jedzeniu, czy zawsze próbujesz lokalnych potraw?
Zdecydowanie tak! Jest to nieodzowna cześć podróży i poznawania kultury. Nigdy w życiu nie zrozumiem turystów, którzy wyjeżdżają na dwa tygodnie do obcego kraju i połowę posiłków spożywają w zachodnich fast foodach. Dla mnie to profanacja.
Oczywiście są pewnie granice, których nie przekroczę; w Chinach, w ciągu pierwszych paru dni nauczyłam się znaku oznaczającego "psa" i przed każdym wejściem do nowej restauracji stałam przed oknem i śledziłam rzędy znaków w poszukiwaniu tego oznaczającego kudłacze. Jeśli znalazłam, to jak osioł odmawiałam wejścia do środka. Moi chińscy znajomi mieli poważne wątpliwości co do mojego zdrowia psychicznego. Z innych pobudek, nigdy nie wejdę do restauracji, o której wiem, że serwuje płetwy z rekina, nie ważne jaki to lokalny przysmak.
Kiedy wyjechałaś na dobre, jak reagowali twoi znajomi?

To bardzo ciekawe, ale wszyscy mówili, jak ci fajnie, jak ja ci zazdroszczę. Ale kiedy mówiłam im, że oni też tak mogą, bo ja wyjeżdżając ani nie miałam pracy, ani pieniędzy, to wszyscy zmieniają ton. Tak naprawdę większości ludzi podoba się sam pomysł, ale nigdy w życiu sami nie chcieli by znaleźć się w takiej sytuacji. Zastanawia mnie tylko skąd ta zazdrość, skoro tak naprawdę oni sami tego nie chcą.
Czy jest jakaś podróż, która szczególnie zapadła ci w pamięci?
Jest wiele, ale może najbardziej ta, na którą wybrałam się z koleżanką 2 lata temu. Zaplanowałyśmy wyjazd do Ekwadoru w najmniejszych szczegółach. Ja jechałam na dwa tygodnie, ona tylko na tydzień. Ja, drugi tydzień planowałam spędzić na nurkowaniu z rekinami młotami na Galapagos. Pierwsze siedem dni miałyśmy opracowane, żeby zrobić jak najwięcej. Leciałyśmy z Amsterdamu. Niestety kiedy dotarłyśmy na lotnisko, okazało się, że nie możemy użyć naszych biletów (my, jako pracownice linii lotniczych podróżujemy na innych zasadach). Nagle więc całe plan runął.
Byłyśmy jednak zdesperowane, żeby nie tracić cennych wakacji na niczym, więc uknułyśmy bardzo skomplikowany plan, który na szczęście się udał i następnego dnia już leciałyśmy do... Wenezueli. Nie miałyśmy zielonego pojęcia co tam robić, ale były to jedne z moich najlepszych wakacji w życiu. Zrobiłyśmy mnóstwo rzeczy, pojechałyśmy do wielu miejsc, odwiedziłyśmy wiele atrakcji i było po prostu fantastycznie! Także nigdy nie ma tego złego co by na dobre nie wyszło, a ja ciągle planuje wyjazd do Ekwadoru.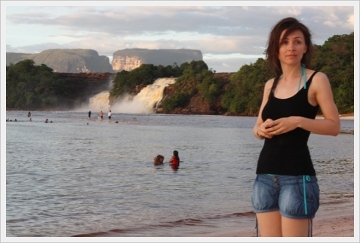 Jeden z przepięknych wodospadów w Wenezueli
fot. Izabela Smalec
Jakie masz najbliższe podróżnicze plany?
Za tydzień lecę do Brazylii i nie mogę się doczekać do tego stopnia, że, co mi sie nigdy nie zdarza, bo wszystko robię w ostatniej chwili, już zaczęłam się pakować.
W miedzyczasie jednak jeszcze dwa dni w Rzymie, więc przyszłość wygląda bardzo kolorowo.
Na koniec ciekawi mnie jaką pracę wykonywałabyś, gdybyś nie była stewardessą?
Sama się nad tym zastanawiam. Próbuje właśnie zmienić pracę, ale nie jest łatwo, bo wiem, że muszę albo dużo podróżować w ramach obowiązków zawodowych, albo mięć na tyle wolnego i pieniędzy, żeby podróżować we własnym czasie. Inaczej po prostu się nie da, życie nie miałoby sensu.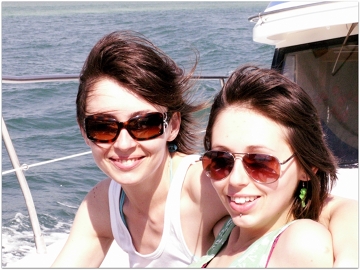 Razem z siostrą na wycieczce wokół Bahrajnu
fot. Izabela Smalec