Wszystko zaczęło się w Taszkiencie, gdzie dołączyłam do reszty ekipy (trzech wesołych studentów archeologii) tanim lotem w jedną stronę (około 650 zł). Całą podróż oraz powrót jak zawsze mieliśmy pokonać autostopem. Dodatkowo motywująca była perspektywa obowiązkowego stawienia się na weselu. Ślub miał się odbyć 11. września, a mój przypuszczalny powrót po ponad dwumiesięcznej tułaczce po Azji Centralnej miał się zakończyć na początku tego samego miesiąca. Miałam więc zaplanowany przynajmniej tydzień luzu przed samym weselem.
Nie wiedziałam wtedy, że na Wschodzie nikomu się nie spieszy, wszelka biurokratyczna procedura przedłuża się w nieskończoność, a na wizę tranzytową można czekać aż pięć dni. Nie wiedziałam, że na promie można spędzić dodatkowe 24 godziny, ponieważ niesamowita siła wiatru przy brzegach Baku grozi rozbiciem. Brak tej wiedzy zaowocował brakiem czasu, a ten z kolei groził absencją druhny, nieudanym ślubem i wieczną obrazą panny młodej. Na szczęście wszystko kończy się dobrze, no może w miarę dobrze, jak to w kiepskim filmie…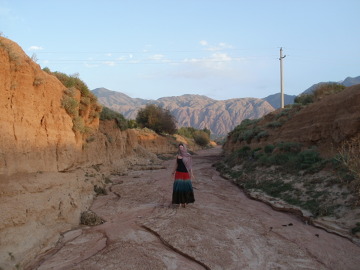 Wyschnięte koryto rzeki. Kirgistan
fot. Aga Sławek
Nasz plan podróży zakładał, że objedziemy stopem wszystkie "stany" począwszy od Uzbekistanu, stamtąd udamy się do Afganistanu, do w miarę bezpiecznej północy kraju, potem objedziemy Tadżykistan, Kirgistan, Kazachstan. Następnie przeprawimy się z powrotem przez Uzbek – tranzytem do Turkmenistanu, stamtąd promem do Baku a potem w zależności od czasu będziemy podróżować przez Azerbejdżan, Gruzję, Turcję aż do domu, czyli w moim przypadku do Kielc.

W Uzbekistanie okazało się, że musimy korzystać z transportu miejskiego, ponieważ wszyscy chcą na tym zarobić, a każde prywatne auto pełni rolę taksówki. Od czasu do czasu udawało się jednak złapać stopa. Zwiedziliśmy więc Taszkient, góry w pobliżu stolicy, legendarną Samarkandę, przepiękną Bucharę, by ostatecznie dotrzeć na południe do granicznego miasta z Afganistanem – Termezu. Miejscowość słynęła z podejrzliwości wobec przyjezdnych i niechęci do dziennikarzy, którzy byli systematycznie deportowani. W pobliżu miasta, a raczej przy samej granicy położone jest stanowisko archeologiczne, które było przedmiotem naszego zainteresowania.
Pojechaliśmy tam z zamiarem udokumentowania miejsca na zdjęciach, naokoło znajdowaliśmy podziurawione kulami hełmy i inne powojenne artefakty, które, ku naszej uciesze, także stały się obiektem wnikliwej dokumentacji. Kiedy wracaliśmy usłyszeliśmy serdeczne nawoływania robotników z pobliskiego placu budowy. Postanowiliśmy z nimi porozmawiać i napić się herbatki, którą wszyscy pijali tu na litry. Robotnicy okazali się bardzo mili, oczywiście byli w posiadaniu upragnionego płynu, którym nas poczęstowali, a następnie wypytywali dosłownie o wszystko, jak to mają w zwyczaju na Wschodzie.
Po jakimś czasie podjechała terenówka z pięcioma wojskowymi. Wysiedli i od razu nas wylegitymowali. Coś wisiało w powietrzu, nie wyglądali na zadowolonych. Zostaliśmy "zaproszeni" do furtki, a po jej przekroczeniu okazało się, że znajdujemy się na zamkniętym placu budowy. Starą skuteczną sowiecką metodą natychmiast rozstawiono stół i kilka krzeseł na środku podwórka, w pełnym słońcu, gdzie nas posadzono i przeszukano. Potem zaczęło się przesłuchiwanie. Przez godzinę podchodziło do mnie po kolei pięciu wojskowych i zadawało te same pytania. Spisano nasze wszystkie dane, kartę hotelową i zabrano paszporty. Nie czułam się komfortowo zwłaszcza, że miałam akurat dolegliwości żołądkowe. Potem zostawiono nas na godzinę w 45-stopniowym upale, polecając nie ruszać się z miejsca. Po godzinie znowu przesłuchanie i te same pytania. To miało nas złamać. Wszystko trwało łącznie ponad pięć godzin, bez picia i toalety.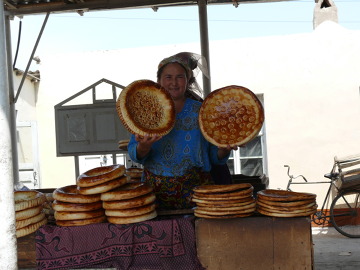 fot. Aga Sławek
Potem zapakowali nas z powrotem do terenówki i wywieźli do pobliskiej jednostki, tam znowu kazali czekać, tym razem w ocienionej altance. Byłam wykończona i znudzona. Po chwili wróciło do nas około ośmiu uśmiechniętych wojskowych, którzy zaczęli nas przepraszać. Wezwano lekarza wojskowego, który zbliżał się do mnie zatroskany z zardzewiałą apteczką. Nalegał, żeby zrobić mi zastrzyk, ale widok grubej igły i strzykawki wypełnionej bóg wie czym uruchomił u mnie serdeczną, ale i kategoryczną odmowę.
Ostatecznie okazało się, że nasze zeznania się potwierdziły i nie jesteśmy ani szpiegami, ani terrorystami, więc w ramach przeprosin zaproszono nas na ucztę obficie zakrapianą wódką w specjalnie zarezerwowanej sali eleganckiej restauracji. Zabawiał nas młody agent, który mimo wszystko cały czas "miał nas na oku". Szaleńczy wieczór dobiegł końca, zaowocował w miarę szczerą obopólną sympatią, zmęczeniem i porankiem z bólem głowy.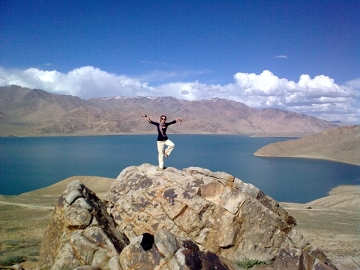 Zielone Jezioro. Pamir. Tadżykistan
fot. Aga Sławek


Z Termezu mieliśmy już tylko około 20 km do przejścia granicznego z Afganistanem. Na miejscu okazało się, że mój przyjaciel postradał gdzieś "ważną" karteczkę z lotniska w Taszkiencie, co nastręczało wiele problemów. W efekcie solidarnie wróciłam z nim z powrotem do Termezu, aby pozyskać drugą taką samą na lokalnym lotnisku.
Po trzech godzinach dołączyło do nas również dwóch pozostałych towarzyszy podróży. Tej nocy w tanim hotelu dla kierowców o wdzięcznej nazwie "Finka" z zatrudnionymi prostytutkami po rozmowie spotkaliśmy kierowcę tira z Polski, który akurat przyjechał tu prosto z Afganistanu. Okazało się, że nasza wiedza na temat bezpieczeństwa w płn. Afganistanie była trochę nieaktualna, ponieważ korzystaliśmy z przewodnika wydanego dwa lata wcześniej. Od tamtego czasu troszkę się zmieniło, nasz nowy znajomy wyjaśnił, że wybraliśmy kiepski czas na podróż w to piękne miejsce, ponieważ porwania zdarzają się często i wynikają ze zwyczajnej biedy. Zdecydowaliśmy, że nie stać nas na taksówki, i że jednak za bardzo zwracamy na siebie uwagę. Odwołałam więc zapowiadaną wizytę u znajomego w Mazar. I dobrze. Chyba dobrze. Tak sobie tłumaczyliśmy powstały niedosyt. Ruszyliśmy zatem w dalszą drogę.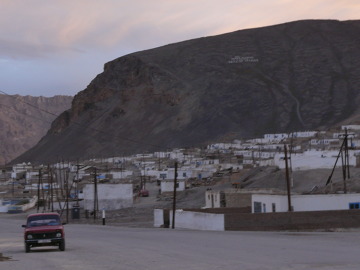 Murgab. Pamir. Tadżykistan
fot. Aga Sławek


W Tadżykistanie po zwiedzeniu Duszanbe i wykupieniu "pozwolenia na Pamir" spędziliśmy trzy dni na przeprawie przez te słynne góry. Był to czas rekordowy, zważywszy, że jeździ tam jeden samochód terenowy na około trzy godziny i na ogół jest wynajęty. Do tego dochodzi mróz w nocy i ból głowy towarzyszący na wysokości ponad 5500 m. Łapanie stopa w Pamirze było dla nas wyzwaniem. Napotkani Francuzi utknęli w górach Pamiru na dwa tygodnie. Jak wiadomo para autostopowiczów składająca się przynajmniej z jednej kobiety to już połowa sukcesu.
Nie obyło się jednak bez niespodzianek – w nocy na wysokości 5200 m n.p.m. rzeka wylała, wyrwała część drogi, a błoto zatopiło koła naszej ciężarówki.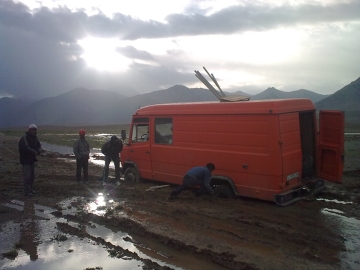 Awaria ciężarówki. Pamir. Tadżykistan
fot. Aga Sławek
W tej sytuacji spędziliśmy noc w kabinie ciężarówki razem z ośmioma robotnikami, którzy jechali do pracy pod granicę z Kirgistanem, w oczekiwaniu na jakiekolwiek auto, które będzie tamtędy przejeżdżać. Nikt nie jechał. W tej sytuacji sami musieliśmy sobie poradzić używając kamieni i desek.
W kirgiskim Osz zobaczyliśmy świeży krajobraz po zamieszkach na tle etnicznym, które miały miejsce miesiąc wcześniej, m.in. pomnik z napisem "Pokój światu" na tle spalonych domów. Masakra na ludności uzbeckiej w wyniku której zginęło ponad 2 tys. osób była sprowokowana przez kirgiskie władze. Zastaliśmy krajobraz po bitwie – ślady i plamy krwi, spalone uzbeckie domy, stragany targowe, apteki itp. Znakiem, którym zabezpieczano budynek przed zniszczeniem i spaleniem był napis "Kirgi". Miasto straszyło, dosłownie, a po zmroku niepokoiło dziwną ciszą. Nikt nie spacerował po ulicach, wszyscy czmychali do domów albo do namiotów.
Z Osz ruszyliśmy z dwójką znajomych z Biszkeku na wycieczkę wokół gigantycznego jeziora Issyk-Kul, zwanego również "Słodkim Morzem", po drodze podziwialiśmy wspaniały kanion.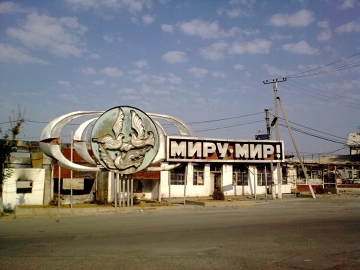 Pomnik "Pokój Światu" po masakrze w Osz. Kirgistan
fot. Aga Sławek
W Kazachstanie czekaliśmy na uzbecką wizę tranzytową aż pięć dni. Na szczęście konsul dał nam zniżkę 20 $ po tym jak dowiedział się, że z Ałmaty jedziemy dalej autostopem. Zadowoleni żartowaliśmy, że jesteśmy tak dobrzy w targowaniu, że potrafimy nawet wynegocjować cenę wizy. Po ponownej przeprawie przez Uzbekistan kierowaliśmy się do Turkmenistanu.
Granicę uzbecko-turkmeńską zamykają o godz. 17:00. Oczywiście spóźniliśmy się, a tego dnia właśnie kończyła nam się wiza tranzytowa. Groziły nam biurokratyczne problemy i, co najgorsze, nieplanowany wydatek w postaci grzywny. Udałam więc chorą a zaczepiony taksówkarz znał pewnego celnika… Znowu okazało się, że trzeba się tylko dobrze "zakręcić" i zagadać po przyjacielsku, a rozwiązanie samo się znajdzie. Moje umiejętności aktorskie widocznie poskutkowały, ponieważ rzeczony celnik spoglądał na mnie z litością i w ten oto sprytny sposób udało nam się opuścić granicę uzbecką bez żadnej kary pieniężnej. Następnie wpuszczono nas na "ziemię niczyją", gdzie rozbiliśmy namiot. Celnicy zaprosili nas na wesołą kolację, której efektem był esemes wysłany tego wieczoru do mamy:
– Mamusiu śpimy na ziemi niczyjej i pijemy wódkę z celnikami! Jest super! :-) *
– Cooo?!" – odpowiada mama.
Wokoło naszego namiotu dumnie wartowali udekorowani kałasznikowami strażnicy. Czuliśmy się bezpiecznie i spaliśmy wyjątkowo dobrze. Rano na granicy turkmeńskiej spotkaliśmy studentkę z Niemiec, którą rozbawieni celnicy pozdrowili niewinnie gestem dobrze znanym z czasów III Rzeszy i głośnym "Heil Hitler". W swej nieświadomości oczekiwali na równie żywą i przyjacielską odpowiedź zarumienionej już dziewczyny. Zwątpiliśmy w ludzkość i wszechświat…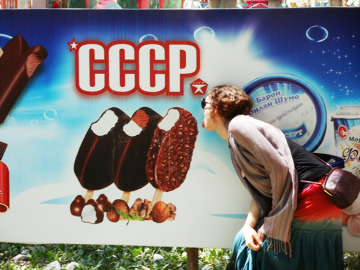 fot. Aga Sławek
Ruszyliśmy przez Turkmenistan, który jest pięknym i zadziwiającym państwem położonym na środku pustyni. Aszchabad na każdym kroku zdobiony jest złoconymi posągami powszechnie wielbionego prezydenta, a gmachy budynków użyteczności społecznej projektowane są przez najlepszych francuskich architektów. Szczytem wszystkiego był pomnik obracający się w stronę słońca. Każdy posąg, obrazek a nawet kalendarz przypomina o świetności głowy państwa.
Ze stolicy musieliśmy się przedostać do Morza Kaspijskiego, które planowaliśmy przepłynąć promem z Turkmenbaszy do Baku. Z relacji innych podróżników i informacji w przewodniku wiedzieliśmy, że możemy wypłynąć za chwilę, ale też równie dobrze za tydzień. Ta ostatnia myśl wywoływała we mnie niepokój, miałam bowiem świadomość zbliżającej się daty ślubu przyjaciółki. Byliśmy przygotowani na długi pobyt w porcie, obładowani jedzeniem rozłożyliśmy się na ławkach w oczekiwaniu na prom. Po trzech godzinach obudzono nas radosną wieścią, że prom już czeka. Zaproponowano nam drogie, ale i "luksusowe" kajuty.
Zostaliśmy oczywiście przy tej standardowej, wliczonej w cenę biletu za 90 $. Rejs miał trwać 14 godzin. Rozłożyliśmy się na wąskich łóżkach naszej kajuty, morze było wyjątkowo spokojne, pełnia księżyca zaglądała przez okrągłe okienko i oświetlała surowe, acz klimatyczne wnętrze. Natychmiast ukoił nas błogi sen. Następnego dnia rano pogoda diametralnie się zmieniła. Na pokładzie nie było wielu podróżników. Oprócz nas jakaś kobieta z dzieckiem, pan o wyglądzie hydraulika i sześciu studentów Akademii Morskiej w Baku, którzy właśnie odbywali tu praktykę. Ci ostatni wyjątkowo zabiegali o pozyskanie mojej przyjaźni, gawędzili na pokładzie, zapraszali na herbatkę, prawili komplementy. – Sympatyczne chłopaki – pomyślałam.
Przy obiedzie również wliczonym w cenę biletu wyglądającym jak papka z "Matrix'a" kapitan zakomunikował, że widać już Baku, niestety nie możemy dobić do portu, ponieważ wiatr jest tak silny, że grozi nam rozbicie, musimy zatem zaczekać przynajmniej dobę. – Co on plecie?! – pomyślałam. – Nigdy nie był w Kieleckiem, a tam jak wiadomo wieje najbardziej.
Natychmiast udaliśmy się na pokład, aby nasycić się widokiem miejsca, w którym dorastał Cezary Baryka. Kiedy tylko wbiegłam na pokład, poczułam jakby uderzenie w twarz i natychmiast odnotowałam brak okularów.
W ostatniej chwili powstrzymałam uciekająca chustę i ześlizgujący się, ku uciesze studentów, podkoszulek. Szybko chwyciłam się barierki, aby złapać równowagę i przestać się przewracać, tymczasem woda z wiatrem uderzała w twarz i ciało. To było szaleństwo. Spojrzałam na chłopaków, którzy w tym czasie świetnie się bawili robiąc "fruwające zdjęcia". Polegały na tym, że rękami chwytali się poręczy, a kiedy unosili nogi do tyłu, po prostu latali, ich ciała pozostawały w pozycji horyzontalnej. To było niesamowite. – No dobrze, niech mu będzie, wieje – pomyślałam dając za wygraną.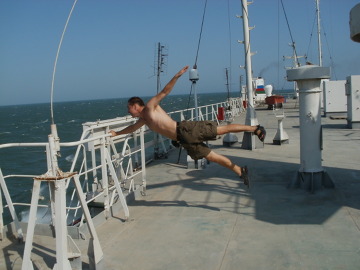 Na promie. Morze Kaspijskie. Gdzieś między Turkmenistanem a Azerbejdżanem
fot. Aga Sławek
Nie wiedziałam, że w tym momencie studenci robią dziury w cienkiej ściance naszej kajuty, aby móc mnie przez nie oglądać z sąsiedniej. Dotarło to do mnie dopiero w nocy, kiedy na mojej twarzy nagle pojawiło się dziwne niebieskie światło. – Kosmici?! – pomyślałam i zamarłam. Po chwili kolega zareagował głośnym "Szto wy zdjełaliscjie?!" Usłyszeliśmy już tylko tupot dwunastu stóp w korytarzu. Dla pewności dziury zakryliśmy ubraniami, a drzwi dodatkowo zablokowaliśmy plecakami. Tej nocy nie było już niespodzianek. Rano studenci unikali nas. Powoli zbliżaliśmy się do portu.
– "Cezary! Jesteśmy!" – krzyknęłam na powitanie nowego lądu.
W Baku czekał już na nas znajomy z Couchsurfing'u, mieliśmy spędzić u niego kilka dni. Moje pierwsze kroki w Azerbejdżanie skierowałam do kawiarenki internetowej, aby zorganizować sobie powrót do Polski. Wesele już za dziesięć dni, postanowiłam więc polecieć tanimi liniami z Batumi do Kijowa. Pozostało mi już tylko pięć dni na rozkoszowanie się miastem. Piątego dnia wieczorem okazało się, że lot został odwołany. Zaczęłam panikować.
Wobec tygodniowego opóźnienia rozpoczęła się szaleńcza droga powrotna do domu autostopem. Non stop. Postanowiłam, że natychmiast ruszam do Polski, ponieważ nie mam już innego wyjścia. Kolega zdecydował, że też ze mną wraca. Pożegnaliśmy się i ruszyliśmy w drogę.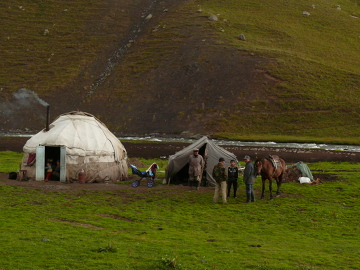 Okolice Issyk - Kul. Kirgistan
fot. Aga Sławek
Wzięliśmy nocny pociąg i następnego dnia koło południa byliśmy już w Gruzji, która zachwyciła mnie swoim pięknem i życzliwością tamtejszych ludzi. – Wrócę tu za rok – postanowiłam i dotrzymałam słowa. Cały dzień kierowaliśmy się w stronę Batumi, łapanie stopa w Gruzji szło dość łatwo, za każdym razem byliśmy częstowani lokalnymi przysmakami, nie musieliśmy więc tracić czasu na szukanie knajpek z jedzeniem. Nocą minęliśmy Tbilisi a popołudniu byliśmy już w Batumi, w którym jak zwykle padało. Stamtąd było już blisko do granicy z Turcją.
Kolejny kraj nie zawiódł moich oczekiwań związanych z łatwością podróżowania autostopem. Zatrzymywali się wszyscy, z życzliwości czy z ciekawości, ważne, że jechaliśmy w kierunku Polski skąd zdenerwowana przyszła panna młoda wysyłała mi esemesy z pytaniami, gdzie jestem i czy jeszcze życie mi miłe.
Z miasta Trabzon złapaliśmy kierowcę tira, któremu za pomocą rąk wytłumaczyłam całą historię, że się spieszę, że wesele, i że gdy on będzie spał na długiej pauzie, my wysiadamy i łapiemy dalej, bo panna młoda czeka. Patrzył z niedowierzaniem i tajemniczym uśmiechem, chyba zrozumiał bo żadnej pauzy nie robił i jechał ponad tysiąc kilometrów do samego Istambułu. Objął sobie za punkt honoru, że dowiezie mnie bezpiecznie najdalej jak może. Na pożegnanie dostałam w prezencie jedzenie i zapalniczkę wielkości dłoni. Przydała się, bo przez te cztery dni postanowiłam palić, aby przetrwać i się mniej denerwować. Podziękowałam kierowcy najszczerszym uśmiechem i nieudolnym ["czok te szekur aderin"] (dziękuję bardzo).
Najgorsze było przed nami – granica z Bułgarią i kilkukilometrowa kolejka tirów. Szliśmy powoli wzdłuż sznura ciężarówek, a moją drogę znaczyły gęsto niedopałki tanich papierosów. – Jeśli zaraz coś nie podjedzie i nas nie zabierze pod samą granicę, to umrę, umrę! – powiedziałam do Wojtka, który widząc jak długa droga przed nami, szedł smutno za mną. I nagle cud! Samochód osobowy zatrzymuje się, a przystojni biznesmeni w garniturach oferują podwózkę pod samo przejście.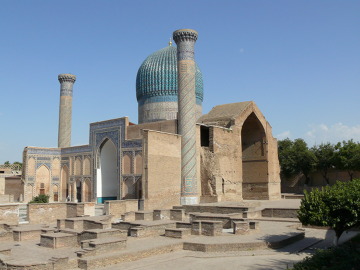 fot. Aga Sławek
– Jupi! – krzyknęłam szczęśliwa, ale po drugiej stronie było jeszcze gorzej. Wszystkie ciężarówki po stronie tureckiej ciągle stały i prawie nic nie jechało w naszym kierunku. Staliśmy tak trzy godziny. I nic. Byłam wcześniej w Bułgarii, wiedziałam więc, że autostop nie jest tu taką prosta sprawą. Należało zastosować drastyczne środki, ponieważ zbliżał się już wieczór. Poszłam więc na pobliską stację, umalowałam się i przebrałam a na małym kawałku tektury narysowaliśmy grube i wyraźne "PL". I zadziałało, bo po chwili podeszła do mnie dziewczyna i czystą polszczyzną zapytała, czy chcemy jechać z nią w kierunku Rumunii. Padła oczywista odpowiedź i już po chwili siedzieliśmy w polonezie caro z nią i jej chłopakiem.
– Jedziesz do Kielc? Tego poloneza kupiliśmy w Kielcach, wiesz? Jesteśmy z Cieszyna – przedstawiała się para podróżników. Kilka miesięcy później, przed wyprawą autostopem do Wenecji, odwiedziłam ich właśnie w Cieszynie. W pewnym momencie zgubiliśmy się. W Bułgarii niestety nie ma solidnych dróg, a znaki drogowe są mocno zagmatwane. Zatrzymaliśmy się i z oddali usłyszeliśmy głośne przekleństwa w naszym ojczystym języku. Okazało się, ze to młodzi kierowcy ciężarówek również wyrażali swoją opinię o bułgarskich drogach. Mieli jechać całą noc aż do Rumunii, docelowo do Piteşti.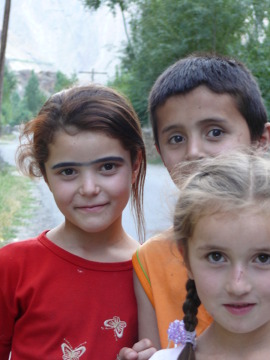 fot. Aga Sławek
Pożegnaliśmy się więc z naszymi wybawcami z Cieszyna i zalegliśmy na łóżkach w ciężarówkach nowych znajomych, którzy polecili nam spać spokojnie aż do rana. Sen jednak nie przyniósł ukojenia, miałam koszmary o tym, że nie zdążę na ślub, że będzie skandal i katastrofa.
Z Piteşti jechaliśmy tylko trzy godziny na przedmieścia Oradei. Trafił nam się prawdziwy pirat drogowy, który jechał bardzo szybko, ale i równie umiejętnie, i tylko to zdołało utrzymać mnie cały czas w samochodzie. W innym przypadku uciekłabym z krzykiem, ponieważ bałam się w ogóle spojrzeć na prędkościomierz. Gnał jak szalony. Pokonaliśmy całe miasto aż do wyjazdu na popularną trasę, którą mknęły wszystkie ciężarówki i dostawczaki. – Teraz to już pójdzie łatwo – pomyśleliśmy.
Zbliżał się wieczór. Jutro ślub. O 14:00 muszę być u panny młodej, wystrojona i zadowolona. Papieros. I kolejny. I nagle ciężarówka. W środku Litwin który jedzie do Słowacji aż pod polską granicę. Kolejne szczęście i kolejny papieros. Wieczorem byliśmy już na południowym, polskim przejściu w Barwinku. Dobiegała 22:00. Wszędzie zaparkowane tiry. Esemes do przyjaciółki: "Jestem w Polsce, niedługo będę. We własnym kraju przecież nie zginę! Bądź spokojna!".
Po chwili rozejrzałam się i zdałam sprawę z beznadziejności sytuacji. Byliśmy daleko od jakiejkolwiek drogi i transportu publicznego. Wszyscy w kabinach spali. Mieli tak spać przynajmniej dziewięć godzin. Zaczęło padać i zrobiło się zimno. Postanowiłam biegać i sprawdzać, czy może ktoś już nie śpi. Nagle podjechała ciężarówka z zamiarem zaparkowania na tymże parkingu.
– Błagam, niech pan się tu nie zatrzymuje, tu nic nie ma, a ja muszę zdążyć na jutro na ślub. Jestem druhną. Niech nas pan zabierze chociaż trochę dalej! – prosiłam zdesperowana. Kierowca popatrzył na mnie i od razu się zgodził. Obiecał transport do Jasła, potem się rozmyślił i powiedział, że już wróci do domu, do Tarnowa, czyli dla nas lepiej, bo zostało nam już tylko 160 km do Kielc.
Gonitwa myśli, czy jechać na dworzec, czy na pociąg do Krakowa, czy poczekać aż znajomy wytrzeźwieje, bo jest przecież piątek wieczór. Kierowca próbował nam pomóc znaleźć transport poprzez ciągłe nawoływanie na CB radio. Dosłownie w ostatniej chwili padła odpowiedź: "Ja wezmę tych studentów do Kielc". Znowu radość, po policzku popłynęły mi łzy szczęścia. Wiedziałam, że teraz już jestem uratowana i tym samym cała ceremonia zaślubin.
O 4:00 rano byliśmy w Kielcach, był to też czwarty dzień podróży z Gruzji, pokonałam stamtąd łącznie ponad 4000 km w cztery doby. Była to dla mnie przygoda i wyczyn, którego jak do tej pory jeszcze nie przebiłam, przynajmniej do następnego ślubu…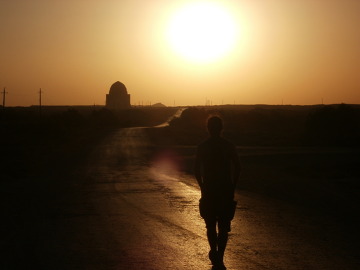 Stanowisko archeologiczne w Turkmenistanie
fot. Aga Sławek