Kiedy w sierpniu 2009 r. wędrowaliśmy przez Gorgany, w oddali majaczyły czarnohorskie szczyty Howerla i Pietros. Już wtedy narodził się pomysł kolejnej wędrówki najwyższym górskim pasmem Ukrainy. W ramach zwiększania naszego górskiego poziomu, po kilkunastu miesiącach, znaleźliśmy się pewnej lutowej mroźnej nocy ponownie przed dworcem w Iwano-Frankiwsku. Wiedzieliśmy, że tym razem wody na pewno nie będzie brakować w naszym otoczeniu, co najwyżej będzie wymagać pewnych przemian fazowych.
Nieśmiałe szczyty…
Można napisać [wersja dziennik]

Z Iwano-Frankiwska pociągiem [i]płackartnyj [/i]docieramy do, znanej nam z poprzedniej wyprawy, Worochty. Potem pociągiem klasy [i]obszczij [/i]do osiedla o charakterze miejskim, jakim niewątpliwie jest Jasina. Tam ostatni obiad w dość odległym od stacji [i]centr[/i] miejscowości i wyruszamy w kierunku Połoniny Szesa, na której spędzamy pierwszą noc.
Można też trochę inaczej [wersja poetycka]
Stacyjka Jasina była ostatnim etapem pokonywanej przez nas karpackiej drogi żelaznej. Ostatnie przysiółki były chyba zdziwione widząc kogoś oprócz miejscowych, zwożących konno drewno z gór. Czarnohorskie szczyty zdawały się być nieco nieśmiałe. Osnute chmurami nie chciały pokazać swojego oblicza. Tak już miało pozostać do końca naszej wędrówki. Przyjęły wędrowców, pozwoliły nam bezpiecznie przenocować, ale daleko im było do serdecznej gościnności. Tylko na kilka minut, jak gospodarz, który na krótko uchyla drzwi swojej sypialni pozwalając rozejrzeć się gościom, ale broniący do niej wejścia, kiedy byliśmy już na szczycie Pietrosa udało nam się zobaczyć wyłaniającą się z chmur [i]trudną do przejścia[/i] [1]
.
[i]Łapki[/i], czyli cнегоступы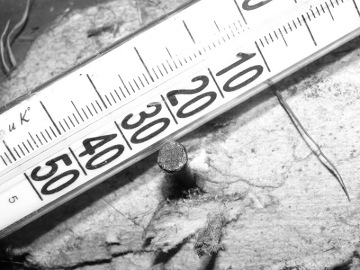 fot. Włodzimierz Kozłowski
– Na Połoninę Szesa dobrze idziemy? – z braku widoczności już na początku mamy pewne wątpliwości.
– Dobrze, ale tam nic nie ma i śniegu potąd – odpowiada jeden z napotkanych ludzi wskazując ręką linię piersi i dając na chwilę odpocząć swojemu koniowi mozolnie ciągnącemu bale drewna – letadło w Kijowie, nikt was tam nie znajdzie…
– Na wiosnę znajdziecie, mamy rakiety – wskazujemy na nasze plecaki.
– Rakiety? Aaaa… łapki, łapki są dobre – stwierdza drugi podkładając belkę pod kłody, żeby ułatwić koniowi przetransportowanie drewna o kolejne kilka metrów.
Idziemy zatem dalej. [i]Ekstremolce [/i]jak nazwał to, zaciekawiony naszym widokiem, ukraiński kierowca na dworcu w Warszawie. Zapakowaliśmy się do autobusu zanim jeszcze podjechał na stanowisko.
Uuuuummm…
Drugi dzień wędrówki. Kilkadziesiąt kroków wcześniej, jakby od niechcenia, robiąc kilkunastosekundową przerwę zmierzyłem kijkami nachylenie stoku. Chwilę potem oboje usłyszeliśmy [i]uuuuummm[/i][2]. Rzut porozumiewawczych spojrzeń… Niewątpliwie wyrwało nas to z pewnej monotonii marszu.
73 stopnie
Pomiary wysokości wskazywały, że jesteśmy na Pietrosulu (1855 m n.p.m.). Miejsce, z którego przyszliśmy znaczyły ślady raków, kierunek w którym mamy iść wskazywała igła kompasu. Z pobliskiego siodła mamy do pokonania 200 m przewyższenia. Szczytu nie widać, więc przyjmuję pewną pesymistyczną estymatę i kiedy doliczam do 73 zaczyna się coś wyłaniać. Szałas? Górski schron? Upadająca kapliczka…? Obok obalony krzyż, o którym nie było słowa w przewodniku[3]. Wskazanie nawigacji potwierdza, że jesteśmy na szczycie Pietrosa.
Ryzyko i szczęście
Naszła mnie taka myśl, że w wielu przypadkach osiągnięcie czegoś to spotkanie ryzyka i szczęścia. Gorzej jeśli do takiego spotkania nie dochodzi, szczególnie gdy zabraknie tego drugiego elementu. Oczekiwana poprawa warunków na szczycie Pietrosa nie nadchodziła. Wyruszyliśmy w południe i uszliśmy zaledwie kilkadziesiąt metrów, gdy z mgły zaczęły wyłaniać się ludzkie postacie. Grupa ukraińskich turystów na czele z [i]master of climbing[/i][4] była zapewne nie mniej zdziwiona tym spotkaniem niż my. Faktem pozostaje jednak, że tylko dzięki pozostawionym przez nich, ginącym czasami, śladom raków i czekana udało nam się zejść tą trasą. Trawers skalistym zboczem był dla nas pewnym zaskoczeniem po stosunkowo łagodnym podejściu na szczyt poprzedniego dnia. Nie wiemy czy ангел-хранитель, którego mały obrazek wisiał na szczycie nam pomógł, ale na pewno nie przeszkadzał.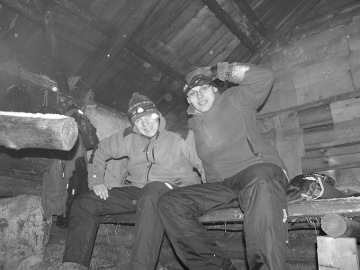 fot. Włodzimierz Kozłowski
[i]Kwitoki[/i]
Koniec górskiej wędrówki znaczy czujny wzrok strażnika. Nie mamy [i]kwitoków[/i], więc musimy się zarejestrować i uiścić nieco negocjowaną opłatę ograniczoną do drobnych [i]hrywni[/i], które akurat mamy. Z jednej strony tego typu wschodni porządek może rodzić zdziwienie lub uśmiech, z drugiej jest to zalążek, w co nie wątpię, sprawnie działającej w przyszłości górskiej służby ratowniczej. Podobne zdziwienie może budzić para strażników z karabinami przy każdym wiadukcie i tunelu. Nie wiem, czy ktokolwiek jeszcze wie, jaki jest tego cel, wiem natomiast, że pociągi się tutaj nie spóźniają.
———
Wykapka ta nie miała dla mnie głębszego wymiaru poza- geograficznego, krajoznawczego, sportowego…[5] Trudno doszukiwać się myśli w stylu Stasiuka czy Andruchowycza. Grażdanka nie sprawia problemów z czytaniem, tym bardziej dla człowieka, który zbliżony alfabet rosyjski jeszcze zdążył poznać w podstawówce. Człowiek czuje się tutaj dziwnie swojsko. Może to zasługa wcześniejszej wyprawy, a może jakaś romantyczna tęsknota za Polską w przedwojennych granicach, chociaż trzeba przyznać, że tym razem nie udało nam się przejść na [i]naszą [/i]stronę [i]polsko-czechosłowackiego[/i] pogranicza[6].
Sprzęt wysuszony, założenia organizacyjne wyprawy [i]zimowa Czarnohora 2[/i] przygotowane, [i]niestety [/i]trzeba będzie tam wrócić…
Przypisy
[1] Howerla — najwyższy szczyt Ukrainy, z rum. [i]hovirla [/i]— "trudne do przejścia"
[2] Skojarzenia romantycznego dialogu zimowych gór z wędrującymi po nich turystami lepiej jest zamienić na wiedzę z kursu lawinowego.
[3] Przewodnik [i]Góry Ukrainy z plecakiem. Czarnohora[/i] wyd. Bezdroża 2006. Napisy pozostawione przez turystów we wspomnianej kapliczce były nie starsze niż kilka lat. Czy to sugeruje, że sama budowla powstała już po jego wydaniu? Jaka jest historia krzyża na szczycie Pietrosa? W jakich okolicznościach tam powstał a w jakich podupadł?
[4] Grupa turystów okazała się uczestnikami kursu alpinistycznego [i]na certyfikat[/i] pod przewodnictwem [i]master of climbing[/i]. Określenie jest efektem naszych językowych zmagań w pidżynowym języku powstałym w wyniku połączenia polskiego, ukraińskiego i [i]little [/i]angielskiego, kiedy wspólnie jedliśmy sało (wschodnia przekąska ze słoniny) w pasterskiej chacie. Dwa dni wcześniej zdobyli Howerlę, na którą podejście od strony Przełęczy Harmanieskiej jest dużo łatwiejsze niż na Pietrosa.
[5] Zaintrygowali mnie jedynie, napotkani w autobusie, polscy studenci farmacji kształcący się za wschodnią granicą. O ile naturalna jest dla mnie edukacyjna migracja, szczególnie osób z polskimi korzeniami, z Ukrainy na zachód o tyle to zjawisko wymagało dodatkowej lektury już po powrocie z wyprawy.
[6] Nieprzypadkowo słowo [i]naszą[/i] napisane jest kursywą. Osobiście gdybym miał taką możliwość wybrałbym Polskę w przedwojennych granicach. [i]Zepchnięcie narodu polskiego ze stanowiska narodu wielkiego, którym był zawsze, przez cały ciąg dziejów, do roli narodu małego[/i] (Jędrzej Giertych, 1932 r.) dokonało się już dawno. Z pokorą i zrozumieniem, choć nie bez żalu, podchodzę jednak do historycznych przemian w tej części Europy. Z tego samego powodu nie obnoszę się tutaj ze swoją polskością. Mimo że zawsze mam ze sobą polską flagę to nie wymachuję nią przy każdej okazji (trochę inny pogląd mieli napotkani w Gorganach warszawscy [i]koledzy [/i]— znowu nieprzypadkowo kursywą). Nie chciałbym oglądać wielkiej czarno-czerwono-żółtej flagi na północnych karkonoskich zboczach, z których rozpościera się piękny widok na [i]prastare ziemie niemieckie[/i].
[7] Nazwę znaczyły wykonane farbą napisy alfabetu łacińskiego. Nie był to oczywiście ani hotel, ani tym bardziej koliba. Koliba to wszak [i]budynek w lesie, w którym mieszkają drwale[/i] (F. Antoni Ossendowski [i]Huculszczyzna: Gorgany i Czarnohora[/i] – Poznań 1936, Wrocław 1990, str. 224)
http://www.wedrownicy.org/blog/2011/02/zimowa-czarnohora/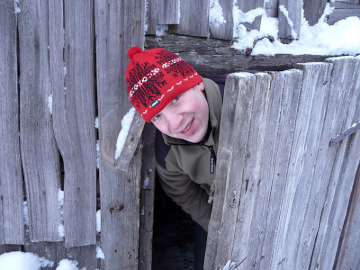 fot. Włodzimierz Kozłowski