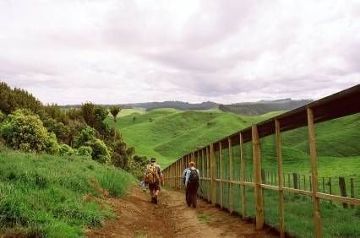 Przyjemne z pożytecznym – ekowolontariat
fot. iStock.photo
Idea ekowolontariatu nie różni się niczym od idei wolontariatu w ogóle. Chodzi o to, aby wyjechać i pomagać najbardziej potrzebującym, a do nich należy również nasza planeta. Jest to propozycja dla wszystkich, którzy są zainteresowani problematyką ochrony środowiska. Ekoprzyjazny wyjazd może oznaczać wakacje na zagranicznej farmie lub pomoc w rodzimych ośrodkach agroturystycznych, działalność w różnorodnych fundacjach czy organizacjach wspierających ochronę przyrody, pomoc zwierzętom itd.
Popularny na całym świecie
Ekowolontariat cieszy się ogromną popularnością na świecie. W Polsce idea nie jest jeszcze zbyt rozpropagowana, chociaż coraz częściej mówi się o pomyśle spędzenia wakacji na wyjeździe stricte wolontaryjnym. Istnieje wiele organizacji, za pośrednictwem których możemy wyjechać – zdecydowana większość ma jednak swoje siedziby za granicą. Niektóre zajmują się organizacją wyjazdów w jedno konkretne miejsce, inne w swojej ofercie posiadają wiele placówek, które potrzebują wolontariuszy. Nie zawsze też zagwarantowane jest jedzenie, zakwaterowanie czy przelot – dlatego zdarza się, iż do takiego wyjazdu trzeba dopłacić, czasami całkiem sporo. W Polsce ekowolonatriuszem można zostać w ramach projektów tworzonych przez Polski Klub Ekologiczny.
Strony organizacji:
www.ecovolunteerup.org

www.vfp.org

www.eco-volunteer.com

www.earthwatch.org

www.ecovolunteer.org

www.pke-zg.org.pl (Polski Klub Ekologiczny)


Organizacja WWOOF

Największą organizacją zajmującą się ekowolontariatem jest WWOOF – World Wide Opportunities on Organic Farms (Międzynarodowy Wolontariat na Farmach Organicznych). Wspomaga ona oraz pośredniczy w organizacji wyjazdów wolontaryjnych praktycznie na całym świecie. Swoim członkom oferuje bardzo wiele możliwości wyjazdu, głównie na farmy organiczne. W zamian za pomoc przy pracy, gospodarz farmy zapewnia wolontariuszowi zakwaterowanie, wyżywienie oraz wszelką pomoc w poznaniu i zrozumieniu proekologicznego stylu życia. Na farmach organizowane są różnego rodzaju warsztaty, takie jak pieczenie bochenków chleba w glinianym piecu, przetwarzanie owoców i warzyw czy ekologiczne budownictwo.

Początkowo wolontariat opierał się na pracy jedynie w weekendy w pobliżu miejsca zamieszkania wolontariusza, dziś zdecydowanie bardziej popularne są wyjazdy długoterminowe. Niektóre farmy są tak bardzo oblegane, że miejsca zarezerwowane są już 3 – 4 miesiące do przodu. Aby wyjechać na farmę organiczną należy bezpłatnie zarejestrować się na stronie WWOOF i za pośrednictwem specjalnego formularza skontaktować się z konkretnym gospodarzem.

Pomoc zwierzętom

Miłośnicy zwierząt mogą dołączyć do tzw. ekostraży i zostać wolontariuszem do spraw interwencji – inspektorem, do zadań którego należy właśnie interwencja w przypadku podejrzenia znęcania się nad zwierzętami. Inspektor ma też prawo do czasowego odbioru zwierzęcia. Aby zostać wolontariuszem do spraw interwencji należy obowiązkowo przejść szkolenia teoretycznego oraz praktycznego w zakresie prawa ochrony zwierząt. Ekostraż poszukuje także osób, które są w stanie zapewnić dom tymczasowy, pokrzywdzonym zwierzętom domowym, dzikim i wolno żyjącym pochodzącym z interwencji ekostraży. Chętny wolontariusz zobowiązuje się sprawować opiekę nad zwierzęciem do czasu, gdy to nie znajdzie stałego domu. Organizacja stara się pokryć wszelkie koszta związane z utrzymaniem zwierzęcia oraz obligatoryjnie zapewnia opiekę weterynaryjną.

Inne ciekawe projekty znajdziecie na stronach:

www.irissealssanctuary.ie – Irlandia – foki

www.project – tortuga.org – wybrzeże Ameryki Środkowej – żółwie

www.futurennepal.org – Nepal – praca z młodzieżą, edukacja kobiet, nauka angielskiego

www.iracambi.com – Brazylia – ochrona lasów tropikalnych

Zanim wyjedziesz na ekowolontariat:

Przed wyjazdem ustal z organizatorami dokładny zakres swoich obowiązków, zapytaj, kto będzie Twoim opiekunem i do czego będzie się sprowadzać pomoc tej osoby.

Upewnij się wcześniej, czy organizator jest uprawniony do międzynarodowej współpracy z wolontariuszami.

Zapytaj, ile czasu przewidziane jest na pracę wolontariacką, a ile na zwiedzanie itp.

Przed wyjazdem zapytaj, czy są jakieś dodatkowe koszty, co dokładnie pokrywa opłata za udział w programie, za co płacimy sami.

Zapytaj uczestników programów z poprzednich lat o ich wrażenia z wolontariatu.

Zadbaj o ubezpieczenie (nie zawsze organizacja wysyłająca je oferuje) i opiekę zdrowotną.