Auto-co?, czyli z czym to się je

W moim słowniku autostop to: sposób na przemieszczanie się z punktu A do B (ponad 3200 km na Islandii, około 5000 km cała podróż); poznawanie "lokalesów" i niejednokrotnie niezwykle edukacyjne rozmowy na temat kraju, jego kultury i historii; oszczędność pieniędzy, a tym samym przedłużanie przyjemności podróżowania (w trakcie 3,5-tygodniowego pobytu na Islandii wydałam 0 zł na transport);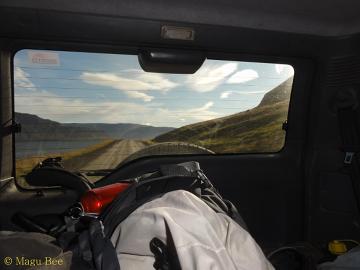 Autostop w takich okolicznościach przyrody to sama przyjemność.Zagubiona z plecakiem gdzieś pomiędzy islandzkimi fiordami.
fot. Magda Bębenek

Zwiedzanie bez przewodników – często dociera się w miejsca, do których inaczej się nie dotrze; wyjście na spotkanie przygodzie – nigdy nie wiesz, co i kto na ciebie czeka za kolejnym zakrętem (część ze zdjęć przy wodospadzie Skogarfoss zrobiła mi osobista fotograf księżniczki Omanu). Ale przede wszystkim, autostop to dla mnie ludzie i związane z nimi historie, o czym poniżej.

Stopobranie, czyli jak najlepiej złapać stopa

Tego nie wie nikt.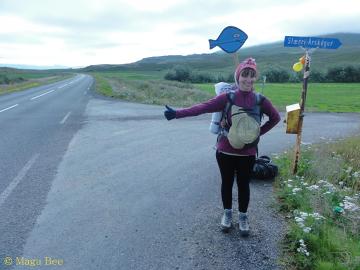 Czasem trzeba zdobyć się na odrobinę kreatywności.Opuszczając Dalvik po festiwalu rybnym na północy Islandii.
fot. Magda Bębenek


W Anglii, Francji i Polsce zagaduję kierowców na lotniskach, stacjach benzynowych i przy zajazdach. Na Islandii, we Francji, w Niemczech i w Polsce stoję przy poboczu drogi, uśmiecham się najszerzej jak mogę i prężnie wyciągam kciuk. Na Islandii, we Francji i w Niemczech stoję z kawałkiem kartonu (dziwnym trafem zazwyczaj pochodzącym z opakowania po płatkach śniadaniowych), na którym wypisaną mam nazwę miejsca, do którego chcę się udać.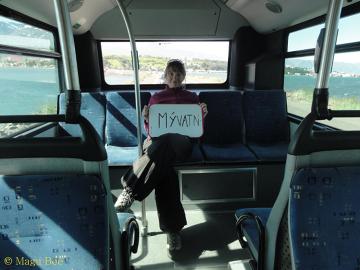 Nie często udaje się złapać na stopa autobus!Opuściwszy Akureyri, północ Islandii.
fot. Magda Bębenek


W Hiszpanii, cóż – w Hiszpanii wsiadam w autobus.

Stopem z lotniska, czyli interesujące początki

Nie wszędzie mogę lub chcę dojechać stopem, więc potrzebnych jest kilka lotów: Londyn, Rejkiawik, Carcassonne, Magdeburg. Położenie podmiejskich lotnisk i parkingów się zmienia, mnie jednak niezmiennie od razu po wylądowaniu odszukać można przed budynkiem, gdzie próbuję znaleźć przychylnych kierowców. Z Gatwick do 5. strefy Londynu podrzuca mnie Damian, który w wyniku nieoczekiwanego zbiegu wydarzeń przyjeżdża po mnie również wtedy, gdy wracam z Islandii, a do tego oferuje nocleg i następnego dnia odwozi na Luton.

Z Keflaviku do Mosfellsbaer spotykam roześmianą parę znajomych, którzy wiozą mnie i Antoine (znajomego Francuza, z którym jeżdżę po Islandii), gubiąc się przy tym strasznie i cierpliwie dzwoniąc do oczekujących nas gospodarzy.

Z Carcassonne do Montpellier m.in. podstarzałego rosyjskiego kierowcę tira, który sprawia, że czuję się bardzo niekomfortowo, a mimo to chwilę później specjalnie dla mnie zjeżdża z autostrady i na pożegnanie wciska mi kiść przewożonych bananów; i młodego studenta w rozklekotanym Peugeot, który wysadza mnie w samym centrum miasta i z uśmiechem na twarzy życzy Bonne chance!

Z Magdeburga do Frankfurtu nad Odrą tzw. stop na zamówienie – lądujemy późno, więc przyjeżdża po nas ojciec Pauli, kumpeli, z którą jeżdżę po południu Francji i północy Hiszpanii.

Islandia, czyli raj dla autostopowicza

Pierwszym punktem programu podróży jest miesiąc autostopu i spania na dziko na Islandii – magicznej i, jak dla mnie, mistycznej wyspie.

Pełna wulkanów i kraterów, na które chętnie się wspinam; lawy, między której formacjami hasam podobnie do członków załogi przygotowującej się do lotu na Marsa; naturalnych gorących źródeł, w których zmarznięta po deszczu i wielogodzinnej wędrówce przy świetle gwiazd objadam się islandzkim chlebkiem, camembertem i czekoladą; lodowców, na których gotuję żurek i stawiam pierwsze kroki w rakach;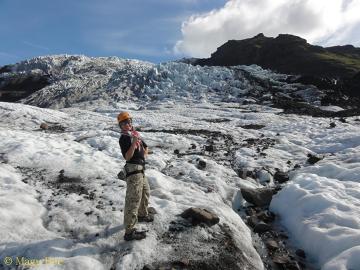 W końcu dotarłam na lodowiec, i to nie byle jaki - największy w Europie!Vatnajokull, Islandia.
fot. Magda Bębenek
kierowców, którzy chętnie biorą autostopowiczów nawet, jeśli nie znają żadnego języka obcego. I to właśnie ci kierowcy, przyznaję bez bicia, niesamowicie mnie rozpieścili.

Islandia znana jest z tego, że łatwo tam złapać okazję. Powodów jest kilka: jest to kraj bardzo bezpieczny, więc ludzie nie widzą w zabieraniu podróżujących aż takiego zagrożenia, jak np. w Polsce; żyje tu niecałe 320 tys. osób rozproszonych na wyspie o powierzchni 103 tys. km kwadratowych i zdają sobie sprawę, że w niektórych miejscach kolejny samochód za szybko się nie pojawi; co roku jest tu mnóstwo turystów, którzy wypożyczają samochody i udają się w poszukiwaniu najpiękniejszych zakątków tutejszych fiordów, chętnie pomagając w tym mniej zamożnym podróżnikom; no i w końcu Þjóðvegur 1, czyli droga numer 1 – główna jednopasmowa obwodnica wyspy, dzięki której zawsze wiesz, gdzie jest wylotówka…

Isladzka idylla i najbardziej typowy krajobraz wybrzeża.
fot. Magda Bębenek


Icelandic challenge accepted!

Brak większych wcześniejszych doświadczeń autostopowych i wrodzona niecierpliwość sprawiają, że po upływie 10 minut, w trakcie których nie zatrzymuje się dla nas żaden kierowca, zaczynam marudzić Antoine'owi jak to już długo czekamy – on śmiejąc się serdecznie opowiada mi o sytuacjach, w których na podwózkę czekał po 4-5 godzin. Postanawiam udowodnić mu, że ze mną dłużej jak 15 minut czekać nie będzie! Nie udaje mi się bardzo rzadko.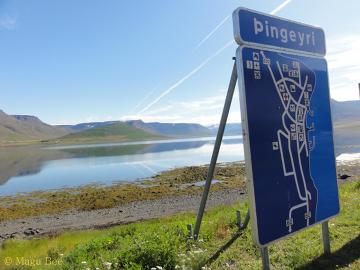 Moje ulubione miasteczko zagubione we fiordach północno-zachodniej części wyspy.Szczególnie polecana kawiarnia z goframi belgijskimi i ręcznie ucieranym dżemem rabarbarowym.
fot. Magda Bębenek


Zazwyczaj mamy szczęście i bardzo szybko pojawiają się kolejne samochody, a w nich ciekawi kierowcy: trzy zwariowane Niemki, które nie powinny mieć prawa jazdy; businessman, który porzucił karierę w Rejkiawiku i przeprowadził się z rodziną na wybrzeże, gdzie kupili dom i teraz zarobkowo łowi ryby; para Włochów z lekkim przerażeniem w oczach w malutkim czerwonym 4x4 z popsutym sprzęgłem; właścicielka hostelu w malutkim miasteczku, która wychodzi z pracy, aby podwieźć nas na oddalone o kilka kilometrów pole z dostępem do wody pitnej, gdzie możemy się rozbić. Czasem, jak w Mosfellsbær, mamy duże szczęście – w przeciągu 5 minut zgarnia nas operator telewizji islandzkiej jadący dokładnie tam, gdzie chcemy: ponad 450 km na północ wyspy, gdzie w Dalvík odbywa się akurat coroczny festiwal rybny.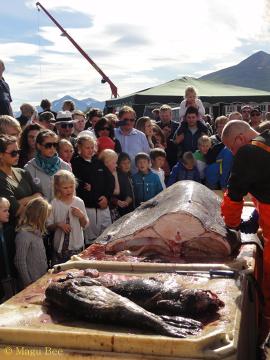 Chcących nauczyć się oprawy mięsa rekina zapraszam do Dalvik na coroczny Fiskidagurinn Mikli.
fot. Magda Bębenek


Z czarnych plaż Vík luksusową terenówką dostajemy się pod sam camping stolicy, a podgrzewane skórzane siedzenia są cudną odmianą po zimnym namiocie, w którym co nocy przymarzam.

Na porządku tygodniowym, tak to ujmijmy, pojawiają się sytuacje chwytające za serce: zgarnia nas kawalkada kamperów, w której francuscy emeryci objeżdżają wyspę – rozbijamy się wszyscy nad małą rzeczułką nieopodal Holmavík i słuchając Boba Marleya pałaszujemy z Antoine'm nasze zupki chińskie, zagryzając je grzankami z foie gras i popijając winem, którym częstują nas nowi znajomi.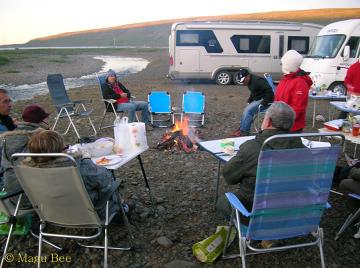 Francuski styl biesiadowania na islandzkim bezludziu.
fot. Magda Bębenek


W drodze do Þingvellir podwozi nas niezwykle ciepła i otwarta para Islandczyków, która opowiada nam o domu opieki dla niepełnosprawnych, który udało im się zbudować z dotacji ludzi z całego kraju, w którym koniec końców lądujemy na lunch i opowieści o tym, jak wiele można zdziałać, jeśli tylko ma się chęć udzielania pomocy innym; w drodze do Olafsvík trafiamy na małżeństwo podróżujące z 12-letnią córką i dwoma słodkimi psiakami. Małżeństwo zamiast podwieźć nas tych początkowych 15 km spędza z nami ponad 7 godzin obwożąc nas po okolicy – podwożąc pod sam jęzor lodowca Snæfellsjökull, pokazując swoje rodzinne miejsce piknikowe ukryte między skałami pięknej plaży i zabierając do ulubionej kawiarni z widokiem na morską jaskinię.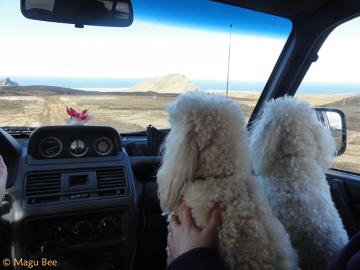 Nasi przewodnicy po okolicach lodowca Snaefsjokull.
fot. Magda Bębenek


Francja czyli cud, miód i bagietki

Z Islandii przez Londyn, i ponowne spotkanie z Damianem, trafiam na malutkie lotnisko w Carcassonne, skąd od razu udaję się do Montpellier – pełnego studenckiego luzu i francuskiej elegancji najszybciej rozwijającego się miasta kraju. Nawet wśród podróżników pokutuje opinia, że Francuzi są niesympatyczni i zamknięci na obcokrajowców, jednak ja z Paulą nigdy tego nie doświadczamy.

Przyznaję, że moja znajomość francuskiego może mieć tutaj znaczenie, jednak patrząc na to, jak starają się komunikować z kumpelą, która po francusku jedynie kawę na wynos umie zamówić (Un café à emporter svp – jest z tego bardzo dumna), opinia ta nadal wydaje mi się mocno przesadzona. W Montpellier, dokąd przylatuje Paula, spotykamy się z Michałem i Eweliną, którzy stopem jadą do nas z Barcelony (można powiedzieć, że przecierają nam szlaki!), również tu rozpoczyna się trwająca następne dwa tygodnie fascynacja połączeniem smaku serów kozich i miodu.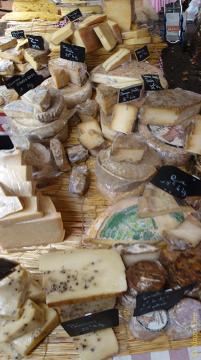 Który najlepiej smakuje polany miodem i schrupany ze świeżą bagietką?Na targu w Aix en Provence, Francja.
fot. Magda Bębenek


Spędzamy cudowny wieczór u hostów i rano ruszamy nad morze, jednak mając pod ręką bardzo tanie lokalne autobusy postanawiamy nie stopować – więcej czasu i pieniędzy pochłonęłoby dojechanie do punktu startowego niż podróż komunikacją na miejsce. Dojazd z nadmorskiego kurortu Le Grau du Roi, gdzie spędzamy noc ukryci w wydmach, do uroczego Aix en Provence rzeczywiście zajmuje nam relatywnie sporo czasu, ale to tak naprawdę jedyny tak kłopotliwy odcinek na francuskich drogach.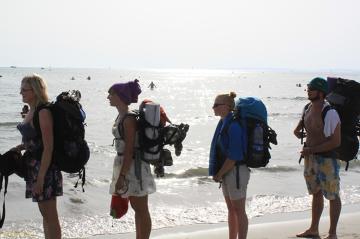 Plażowe losy backpackera i autostopowicza - w której wydmie śpimy?Le Grau du Roi, Francja
fot. Magda Bębenek

Okazuje się zresztą, że Aix było tego warte – jednodniowy pobyt szybko zamienia się w trzy dni: wspólne gotowanie i odkrywanie zawartości prowansalskich piekarni, łamańce językowe i długie rozmowy sprawiają, że mamy problem, żeby pożegnać się z naszymi gospodarzami. Tutaj również żegnamy się z moimi przyjaciółmi i, ponownie we dwie, ruszamy z Paulą do Avignon, którego średniowieczna architektura ukryta za potężnymi murami starego miasta natychmiast nas urzeka.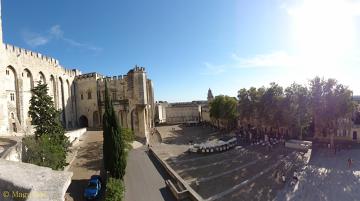 Urzekające i majestatyczne Avignon.
fot. Magda Bębenek


Niestety, pierwszego wieczora Paula ma mały wypadek i od następnego dnia porusza się o kulach, co daje nam jednak możliwość sprawdzenia, czy francuscy kierowcy są czuli na cierpienie innych…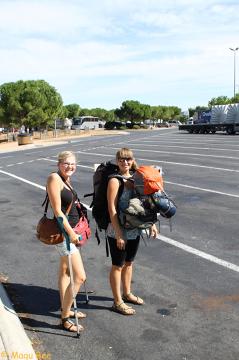 Testujemy poziom współczucia wśród francuskich kierowców. Gdzieś w drodze do Tuluzy.
fot. Magda Bębenek
Okazuje się, że z tą czułością jest umiarkowanie i przejechanie trochę ponad 380 km na zachód do Tuluzy zajmuje nam większość dnia. Na szczęście Paula zawsze ma ze sobą dobrą muzykę, więc usadawiamy się przy wyjazdach kolejnych stacji benzynowych i puszczamy największe przeboje lata, które w połączeniu z pięknym słońcem (prawie) pomagają nam zapomnieć, że 3 metry dalej licznymi pasami przelewa się morze samochodów, zamiast wód pobliskiego Morza Śródziemnego.

Hiszpania, czyli skąd odjeżdża najbliższy autobus

Z Tuluzy, stolicy europejskiego przemysłu lotniczego, która letnimi wieczorami pulsuje energią ludzi bawiących się w dziesiątkach klubów i pubów oraz biwakujących w grupkach znajomych nad Garonną, w której odbijają się tęcze świateł zdobiących liczne mosty, ruszamy dalej na południe, do intrygującej Barcelony.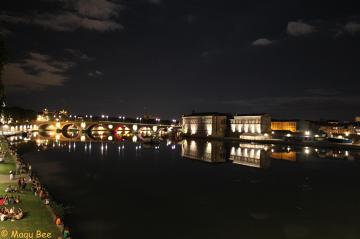 Piękna Tuluza nocą, niezapomniana energia miasta i jego mieszkańców.
fot. Magda Bębenek
Wielokrotnie słyszałam, że jeżdżenie stopem po Hiszpanii jest nie dość, że trudne, to i niebezpieczne. Cechą charakterystyczną tego rodzaju podróży miały być długi czas oczekiwania z jednej, i ogromna wylewność i szczodrość kierowców z drugiej strony. Do granicy hiszpańskiej jedzie nam się bardzo dobrze, udaje się nawet złapać na stopa Polkę, która okazuje się być koleżanką mojej znajomej z klasy z podstawówki, jakże by inaczej.

Wraz z dojazdem pod bramki graniczne kończy się jednak la vie est belle i zaczyna zmęczenie, które ogarnia człowieka po zbyt długim napromieniowaniu. Zdążymy zjeść lunch, pokręcić się wokół pobliskiej budki celnej, poczytać, popisać, potańczyć, a samochody nadal się nie będą zatrzymywać. Do czasu, gdy podjeżdża do nas minivan, a w nim dwóch starszych Hiszpanów. Patrzymy po sobie zdesperowane i oceniając ich jako bezbronnych, wsiadamy do z lekka zadymionego auta. Niebezpieczna ta podróż nie jest, ale trudna ze wszech miar – nasi kierowcy palą jak smoki i raczą nas niewybrednymi żartami, ja dodatkowo nienauczona Sycylią popełniam błąd zdejmując okulary przeciwsłoneczne i pokazując błękitne oczy, wyraźnie odbijające się od opalonej skóry. Paula, nie znając za bardzo hiszpańskiego, i tak przeczuwa, że atmosfera jest gęsta, i to bynajmniej nie z powodu dymu, jednak nie wie, jak bardzo niekomfortowo czuję się ja.

Te 250 km wydaje się ciągnąć w nieskończoność, jednak dojeżdżamy w końcu do małego miasteczka tuż za granicami katalońskiej stolicy, gdzie kierowcy wsadzają nas w metro. Jednak zanim nas skierują na dworzec, nie chcą nawet słyszeć o tym, żebyśmy nie zjadły i nie napiły się z nimi w pobliskiej tawernie. Wszelkie kolejne podróże po Costa Brava odbywamy autobusem.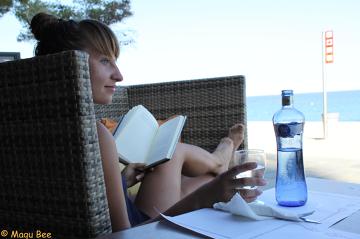 Po hiszpańskich perypetiach stopowych pora na relaks na wybrzeżu.
fot. Magda Bębenek


Najgrubszą kreską zapisane w pamięci

Wszystkie z powyższych, ale gdzieś między nimi: oferta pracy w charakterze niani, jaką słyszę w drodze na farmę koni gdzieś w północnej Islandii, po tym jak kilka minut bawię się z małym synkiem prowadzącej samochód kobiety i wieczorna wycieczka do jej domu, żeby poznać całą rodzinę, a noc spędzić w rozbitym w ogródku namiocie; jeśli będziecie kiedyś musieli w drodze z Frankfurtu do Warszawy późnym popołudniem zahaczyć o centrum Poznania, żeby odebrać islandzki dżem dla waszej mamy, dopilnujcie, żeby znajomi odwieźli was w dobry punkt – łapanie stopa ze środka autostrady, gdzie kierowcy nie mają się jak zatrzymać, a Wy w ogarniającej panice wysyłacie swojemu tacie współrzędne miejsca, w którym się znajdujecie w oparciu o GPS w aparacie fotograficznym, żeby napisał jak długo i w którym kierunku maszerować do najbliższej stacji to nic ciekawego. Uwierzcie na słowo.

Hardokor czy nie?

Za każdym razem, gdy streszczam ludziom zeszłe lato, widzę w ich oczach przerażenie pomieszane z podziwem: miesiąc stopem i pod namiotem na Islandii, kolejny we Francji i Hiszpanii, a wszystko to z 8,5-kilogramowym bagażem podręcznym – brzmi hardkorowo.

Jednak kiedy by spojrzeć na taką podróż dzień po dniu, okaże się, że podobny wyjazd nie jest niczym nadzwyczajnym. Że przy pewnej dawce samozaparcia i motywacji oraz odpowiedniego know-how, każdy z nas może być podróżniczym hardkorem. Tego Wam życzę i do tego zachęcam!

Jeśli szukasz inspiracji, zapraszam do siebie!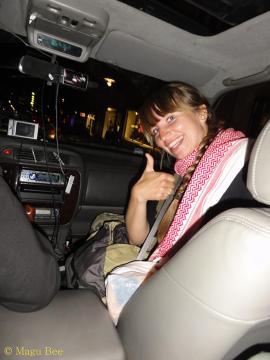 Stopem każdy jeździć może, jeżdżę i ja!Rejkiawik, Islandia
fot. Magda Bębenek