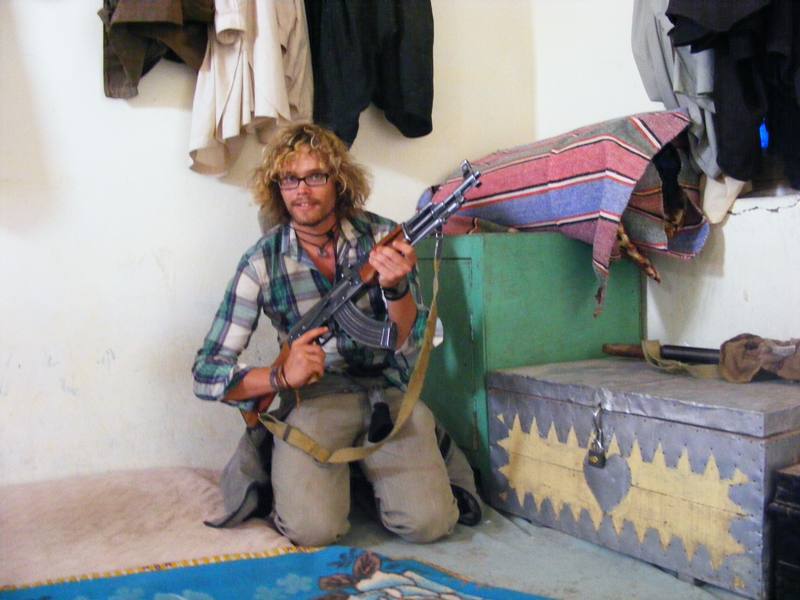 STRONA IRAŃSKA: NAWET BELUDŻYSTAN NIESTRASZNY
Znajomy z Zahedanu odprowadził mnie do terminalu taksówek. Miałem stąd przejechać dzielonym taksi do przejścia granicznego z Pakistanem. Ponieważ terminal jest na drodze wylotowej z Zahedanu, postanowiłem spróbować autostopu. W końcu w taki sposób przyjechałem aż z Polski. Nie widziałem sensu nagle przesiadać się na taksówkę. Zawinięci w turbany beludżyjscy, handlarze zmierzyli mnie znad zawiniętych do góry wąsów srogim wzrokiem. Żeby poczuć się trochę bezpieczniej, ustawiłem się przy posterunku policji. Funkcjonariusze wołali do mnie "Myster, escort, escort, danger", ale jakoś nie chciało mi się w to grać. W końcu dzień wcześniej, niebezpieczny Zahedan, okazał się nudną oazą spokoju.
Mieli być zamaskowani kowboje na wielbłądach strzelający z kałaszy do wszystkiego co się rusza. Były ciche ulice, wonne sosny i opustoszałe z powodu upału parki. W nocy, zamiast sygnałów karetek i radiowozów, słychać było jedynie szum wiatru.
– Ale Pakistan to co innego. Uważaj na siebie, uważaj komu ufasz – przypomniały mi się słowa Petera, Beludża, który dzień wcześniej udzielił mi dachu nad głową.
Po kilku minutach od ustawienia się przy drodze, zatrzymała się ciężarówka, której kierowca dowiózł mnie do samego przejścia. Granica jak granica – po irańskiej stronie schludna i bardzo dobrze oznakowana, niczym terminal na dobrej klasy lotnisku. W środku tłumy ludzi. Nie chciało mi się stać w długaśnej kolejce, więc pokręciłem się trochę udając sierotkę Marysię. W końcu jedna z osób zlitowała się nade mną i przepchnęła mnie do odprawy. I tutaj problem – komputer nie chciał dać mi zezwolenia na wyjazd. Wszystko przez to, że przedłużyłem sobie pobyt w Iranie o 1 dzień. A wszystko przez pociąg Zahedan – Quetta, który miał jechać 15 sierpnia, a na który nie sprzedano mi biletów.

– To co? Karę płacimy? – zapytał funkcjonariusz, który zaprosił mnie do swojego biura na dywanik.
– Ile?
– 15 dolarów.
Podałem naszykowane w tym celu, odliczone banknoty.
– Nie tutaj – zaoponował.
– A gdzie?
– W Zahedanie.
Nie chciało mi się wracać do oddalonego o blisko dwie godziny jazdy Zahedanu. Znów zagrałem sierotkę Marysię, tłumacząc, że nie czuję się w tym rejonie bezpiecznie. Urzędnik przyznał mi rację. Podniósł słuchawkę telefonu i zadzwonił. Prosto Do Teheranu. Po piętnastu minutach, miałem już w paszporcie pieczątkę wyjazdową z adnotacją długopisem. Obeszło się również bez płacenia kary.
STRONA PAKISTAŃSKA – WIĘZIENIE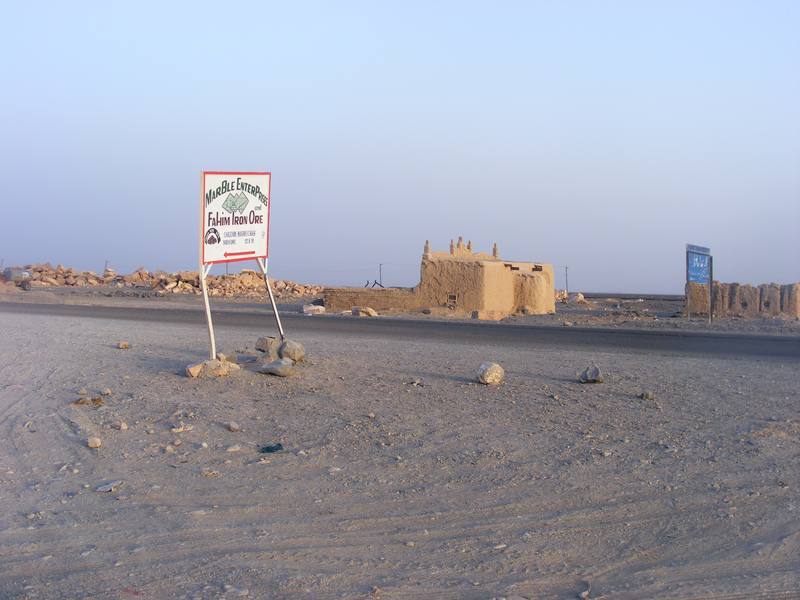 Po przejściu na drugą stronę... "Wracam do Iranu" – taka była moja pierwsza myśl. Niskie budynki rozrzucone w nieładzie na tle pustynnego krajobrazu. Droga może i kiedyś była, ale raczej dawno temu. Brakowało jakichkolwiek znaków. "Jakieś pieczątki? Gdzie tu się do cholery daje pieczątki? A może tak sobie iść, przed siebie?", myślałem. Jakimś cudem, udało mi się znaleźć schowaną w głębi odprawę paszportową. Siedzący w środku funkcjonariusze byli mną wyraźnie mniej zainteresowani niż cinkciarze wymieniający walutę po kursie, który powinien podlegać pod kodeks karny.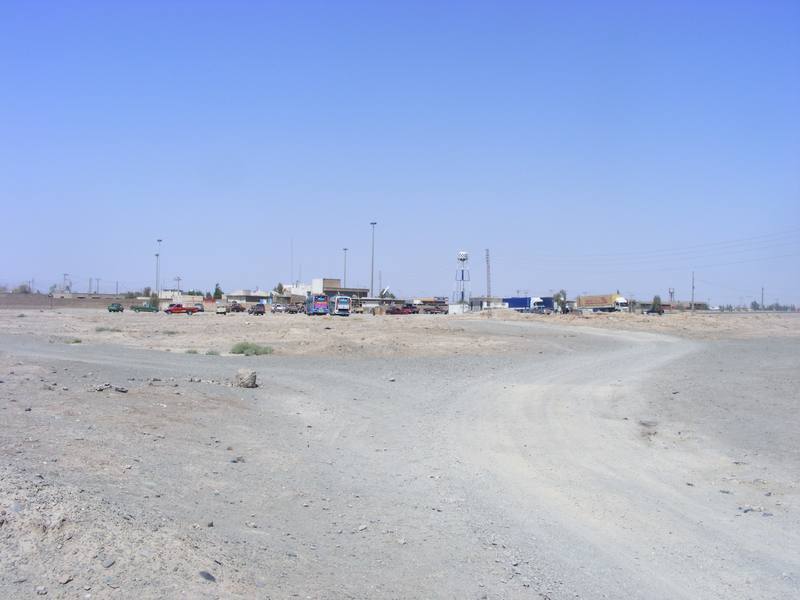 Po wypełnieniu formularza imigracyjnego i zrobieniu zdjęcia kamerką internetową byłem już wolny. No, może nie do końca. Jak tylko wyszedłem z budki celników, zawołał mnie Kamil, Francuz jadący przez Pakistan do Indii, którego poznałem jeszcze po irańskiej stronie.

- Czekałem na Ciebie. Powiedział
- To fajnie. Idziemy na bazar?
- Nie za bardzo możemy się stąd ruszyć. Ci goście chcą nam dać eskortę do samej Quetty (ok. 700km od Taftan).
- Myster, escort to Quetta, danger, włączył się jeden z funkcjonariusz z wielkim, pokręconym bardziej niż moje włosy, wąsem.
- Proszę wybaczyć, ale nie chcę eskorty. Jadę stopem. Przecież tutaj nie ma prawa się nic stać. To jest pustynia, jest Ramadan, wszyscy siedzą pozamykani w domach, nikomu się nie chce ruszyć bo jest za gorąco.
- But myster, danger, Al-Queida, Belochi Revolutionary Army, drug smugglers, terrorists, kidnapping. Escort must take.
- I tak nie chcę eskorty.

Zaprowadzili nas na posterunek policji. Pan z krzaczastym wąsem okazał się być komendantem. Po dwugodzinnych pertraktacjach stanęło na tym, że zgodziliśmy się na eskortę w postaci niedowidzącego dziadka uzbrojonego w kałasza, ale za darmo, płacąc tylko za bilet autobusowy.
Poszliśmy na bazar. Okazało się, że bilety kosztują 1.000 rupii ale w obecnej sytuacji, dla nas było to 2.000 rupii bo turysta to problem dla całego autobusu - musi się zatrzymywać na minimum 10 minut na każdym checkpoincie kontrolnym, przez co są potworne opóźnienia.

Drugie podejście - tym razem wymknęliśmy się niezauważeni bez strażnika. Bez eskorty, biletów nikt nie chciał nam sprzedać. Próbowaliśmy łapać stopa. Wszyscy, którzy się zatrzymali, mówili, że to niemożliwe, bo jak nas zobaczy policja na którymś z checkpointów, kierowca będzie miał spore problemy. W końcu, zdecydowaliśmy się zatańczyć jak nam zagrali i kupić bilety za 2.000 rupii. Koparki opadły nam wprost na pustynny piasek kiedy od przedstawiciela każdego biura, usłyszeliśmy, że wszystko na najbliższy tydzień zostało wyprzedane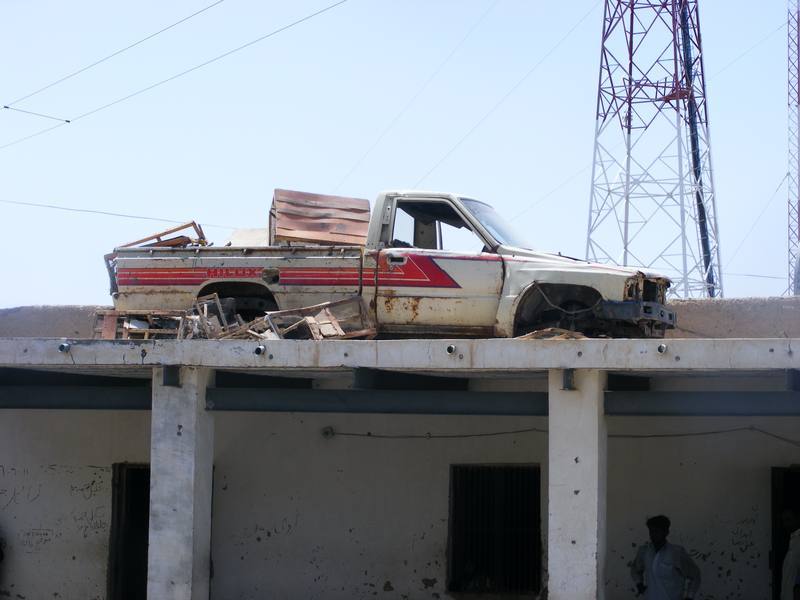 .
Wróciliśmy na posterunek policji. Strażnicy mięli przerwę a my nie chcięliśmy ich budzić. Podeszliśmy do kratek i w malutkiej celi zobaczyliśmy kilkadziesiąt osób. Jeden z nich wytłumaczył, że to deportowani z Iranu więźniowie przyłapani na przedłużeniu sobie pobytu - tylko nieco dłuższym niż mój :-). Mieli ich przewieźć do Quetty. Fajnie.
- Możemy jechać z wami? Zapytaliśmy przechodzącego akurat strażnika.
- Nie ma problemu. Autobus odjeżdża o 5 po południu więc macie tutaj cały dzień przed sobą.
- Ile to będzie kosztować?
- 600 rupii. Ale warunki bardzo niekomfortowe. Jest więcej osób niż miejsc w autobusie, a droga bardzo ciężka.
- Spoko. Jedziemy.


Zgłosiliśmy znalezione rozwiązanie komendantowi. Nie zgodził się, wyganiając nas z biura. Zapytaliśmy jak mieliśmy się wydostać z posterunku. Odpowiedział, że to nasz problem i kazał się nam wynosić i nie zajmować swojego cennego czasu.
Konsternacja. Odpowiedzialny za transport strażnik się zgodził, a komendant nie. "Czyli co?" Zapytał Kamil. "Czyli całodzienny pobyt na posterunku" , odpowiedziałem. "Nie mogą nas tutaj w nieskończoność trzymać". Rozmawiając, z zazdrością patrzyliśmy na jedzących więźniów.

- Możemy też prosić?
- Wam nie przysługuje.
Poszliśmy spowrotem do komendanta poprosić o pozwolenie wyjścia na bazar. Krzyknął żeby zejść mu z oczu.
- Bez eskorty nie wolno Wam się ruszać. Niebezpiecznie.
- A gdzie jest nasz eskort?
- Nie wiem.
- Nie mamy jedzenia.
- Nie obchodzi mnie to. Idźcie mi stąd.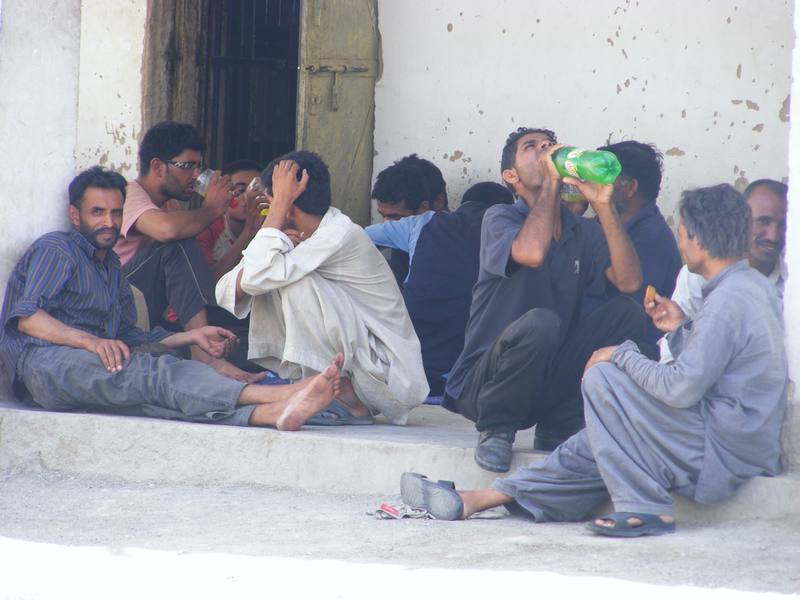 Tego już było za wiele. Byliśmy jak więźniowie, ale nie będąc więźniami, nie przysługiwał nam nawet talerz zupy. Bez eskorty, która gdzieś zniknęła, nie mogliśmy wyjść poza wysokie mury. Z drugiej strony, na terenie posterunku, mogliśmy robić co nam się tylko podobało i nikt na nas w ogóle nie zwracał uwagi. Mając nadzieję, że albo nas z tego miejsca wyrzucą na zbity pysk, albo aresztują i nakarmią, postanowiliśmy zamanifestować swoją obecność i poprzeszkadzać im jak możemy.
Zaczęliśmy od samoobsługi i kawy. Niestety, skończył się gaz w butli więc musiałem przegrzebać składzik, żeby znaleźć drugą.
Później wymyśliliśmy, że skoro pozostali wokół nas spali, my też utniemy sobie drzemkę. Ale.....
- Kamil....
- No?
- Widzisz te kałasze?
- No widzę. I co?
- Chodź, porobimy sobie z nimi zdjęcia.
- Dawaj :-).

I tak, cyknęliśmy sobie kilka fotek z leżącymi w rogu pokoju AK-47 zaraz obok śpiących na podłodzę policjantów. Szczerze mówiąc, nic nam nie mogli za to zrobić - oni musięli nam zapewnić bezpieczeństwo, a my nie mogliśmy z ich opieki zrezygnować. Byliśmy na siebie w pewien sposób skazani. Kamilowi najwyraźniej spodobała się sesja fotograficzna z AK-47:
- A jakbyśmy tak poszli na bazar i zrobili zakupy?
- Dobry pomysł. Bierzemy giwery?
- No a jak nie? Musimy się przecież słuchać komendanta. Bez eskorta nie możemy. Eskorta nie ma więc ktoś go musi zastąpić. Weźmiemy kałasze i Ty będziesz moim eskortem, a ja Twoim.

Plan wprowadziliśmy w życie. Zarzuciliśmy karabiny na ramię, wymknęliśmy się po raz kolejny przez skrzypiącą bramę i pobiegliśmy na bazar. Kupilśmy zapasy wody i jedzenia. Kilometr dreptania na pieszo spowrotem, zaoszczędził nam zatrzymany za pomocą kciuka kierowca pickupa z obwiniętą w chustę głową. Kiedy, pewni siebie, z karabinami na ramionach i torbami z prowiantem w dłoniach, przekroczyliśmy bramę posterunku, miałem wrażenie, że wszyscy stanęli jak wryci i wlepili w nas wzrok. Spokojnym krokiem udaliśmy się do biura. Na nasz widok, naszemu ulubionemu komendantowi, oczy wyszły z orbit.
- Meldujemy posłusznie, że wróciliśmy cało i zdrowo z arcyniebezpiecznej misji zakupów na bazarze.
- Wyjść, wyjść. Tam. Zejść mi z oczu. Ton głosu i upiorny wyraz twarzy komendanta, skuteczniej niż jakikolwiek chwyt judo zagonił nas do wskazywanego nam palcem, pustego pokoju.
Po chwili, jeden z policjantów przyniósł wiatrak. Chwilę później, dostaliśmy jedzenie.
Niestety, po 19 okazało się, że autobus odjeżdża dopiero o 4 rano następnego dnia. Nie było tak źle. Przynajmniej nas zauważono. Mieliśmy własny pokój i nie przymieraliśmy głodem. Kiedy obudziliśmy się o 10, więźniowie nadal byli na miejscu - tylko jakby rozmnożeni - Iran dowiózł kolejną porcję nielegalnych robotników. Okazało się, że będą dwa autobusy - obydwa o 17, ale nie wiedział którego dnia.
Pozostało albo iść z ekortem i kolejny raz próbować kupić na bazarze bilet na autobus albo cierpliwie czekać. Nasz strażnik, znów gdzieś się ulotnił a my, dostając jedzenie, wodę, a nawet pakistański czaj, nie chcięliśmy już podskakiwać. Po kolejnym dniu w naszym towarzystwie, strażnicy mieli już nas serdecznie dosyć więc jak najbardziej zależało im żeby się nas pozbyć. Niestety, w miarę upływu czasu, godzina przyjazdu autobusu się zmieniała. Zapytałem czy jest szansa, że nastąpi to jeszcze w tym miesiącu. Nie dostałem odpowiedzi.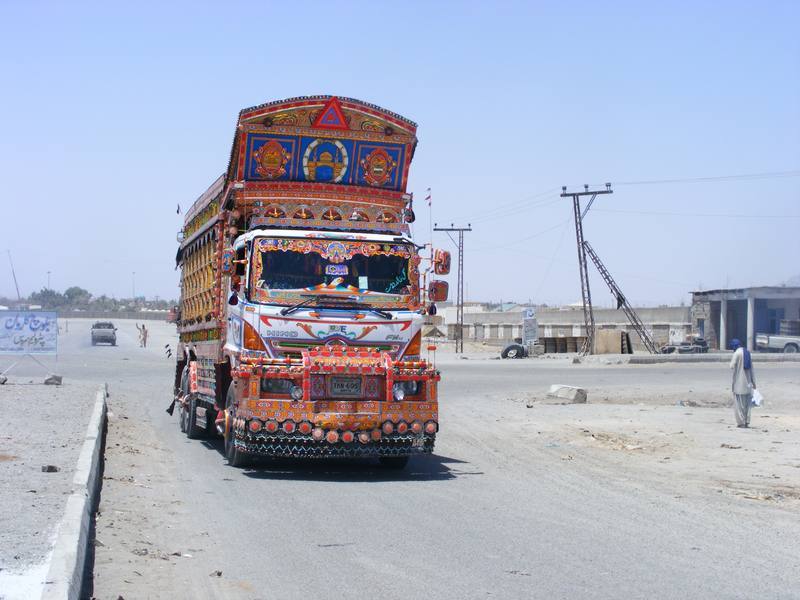 W końcu, autobusy przyjechały. Tuż przed zachodem słońca. Ogromne, mocno wysłużone już monstra z podniesiony zawieszeniem. Ładowanie ich po sam dach wielkimi workami zajęło ponad odzinę. Dostaliśmy miejsca siedzące. Więźniowie, którzy nie zmieścili się na fotelach zostali upchnięci z tyłu. Nie chciałbym pójść do więzienia w Pakistanie.


Nasz uzbrojony strażnik zajął miejsce tuż obok, oparty o swój niezawodny kałasznikow. "Kamil, zamieńmy się miejscami, ten facet ledwo zipie. A jak zaśnie i palec zsunie mu się po spuście?".
Zanim wyruszyliśmy w ostrą i wyboistą drogę, która miejscami zlewała się z pustynią a miejscami wyglądała jakby ktoś asfalt nakładał kropidłem, pomachałem w stronę znajomych mi już kramikarzy taftańskiego bazaru. Ktoś kiedyś opisał to miasteczko jako "piekło na ziemi". Widziałem gorze miejsca. Mnie się Taftan wydał, po prostu odizolowanym miejscem po środku niczego. Nic się nie działo. Ludzie byli senni, zamuleni, jakby pogrążeni w transie a każdy podmuch wiatru podnosił w górę tumany piachu.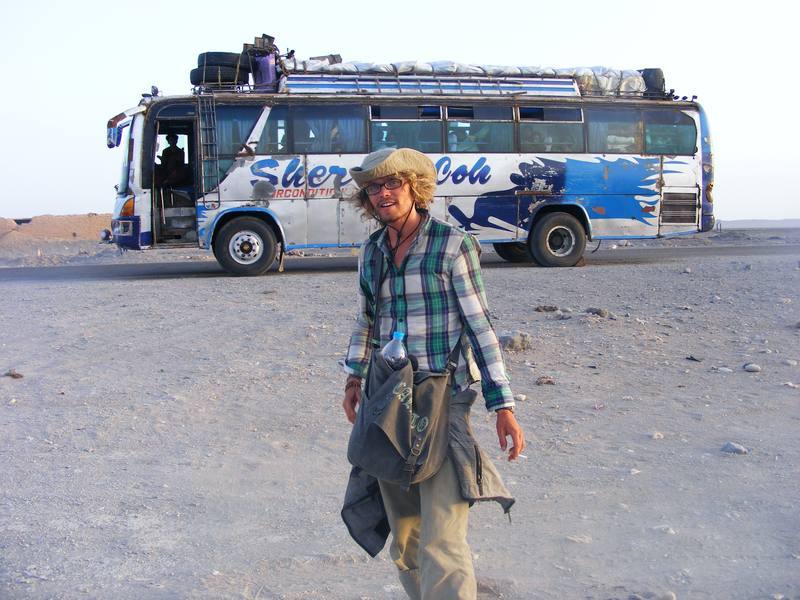 Po drodzę mijaliśmy kilka budek policji - przy każdej musięliśmy się zatrzymać i wpisać dane do księgi gości. Normalnie jak jakiś wyścig bo nawet czas meldunku wpisywaliśmy z dokładnością co do sekundy. Kamil przegrywał bo ja wpisywałem się pierwszy :-).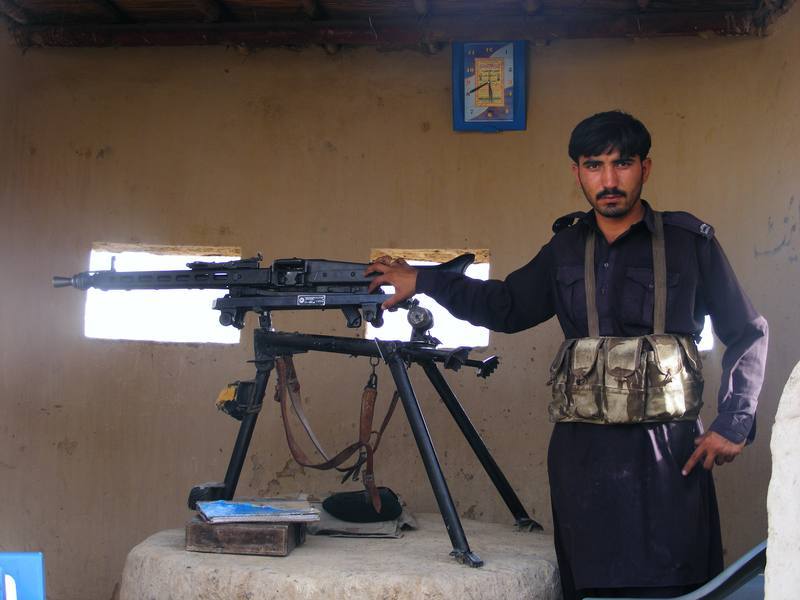 W niezbyt przyjemnej Quetcie byliśmy rano. Kamil pojechał dalej w stronę Indii, ja zostałem żeby się rozejrzeć i zacząć jakoś ogarniać Pakistan. Nie wiedziałem ile czasu tam spędzę. Musiałem zaplanować sobie trasę podróży po nowym kraju.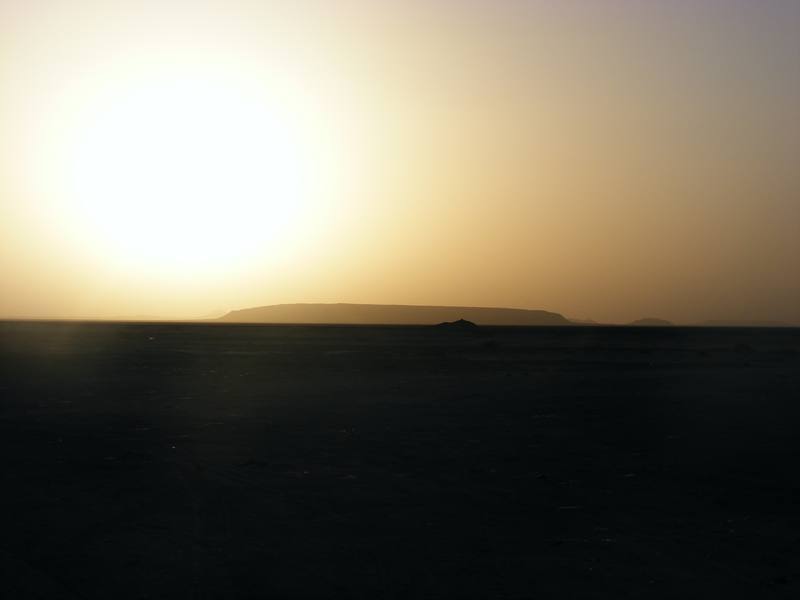 Więcej zapisków z autostopowej podróży dookoła świata pod adresem: http://www.singlenomad.pl