Kutaisi, godzina 21.00, "chwilę" później 22.00... Ściemnia się szybciej, niż myślałam. Kwitniemy na stacji benzynowej. Wysyłam ostatnie błagalne spojrzenia próbujące zatrzymać jakiś z nadjeżdżających samochodów – bezowocnie.
Z drugiej strony na brak towarzystwa trudno narzekać – czuję się trochę jak na targu, tylko tym razem to ja (a właściwie my – dwie "sierotki" z Polski) stajemy się celem żądnych kolejnych gości Gruzinów.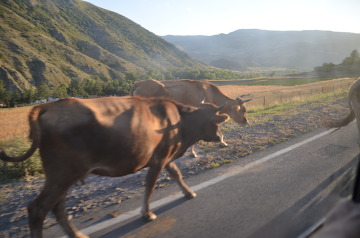 fot. Katarzyna Cieśla
Niektórych może dziwić niechęć do wieczornej uczty, pijaństwa czy gościny, ale tego dnia miałyśmy już tylko jedno marzenie – osiągnąć naszą przystań w Zugdidi. Twardo i konsekwentnie odmawiamy: zarówno noclegu u pana z arbuzowego auta jak i supry u natrętnych "typków" z okolicy (nasza asertywność w ciągu ostatnich dwóch miesięcy podróży osiągnęła niemalże mistrzowski poziom, choć wciąż niezbyt działała na Gruzinów).
Mimo, że to Gruzja – kraj gościnny i jak żaden inny, znany mi dotąd – bezpieczny, to jednak zaczynam czuć się nieswojo... Pragnienie ucieczki tak silnie dominuje nasze myśli, że gdy w końcu zatrzymuje się tir z Turkiem za kierownicą, już po chwili siedzimy w środku.
Szybko okazuje się, że nasz kierowca nie włada żadnym (poza rodzimym tureckim) językiem obcym. Czerwone światło zapala nam się również w momencie, gdy kiwa on głową na wszelkie nasze próby dokładnego dookreślenie miejsca docelowego podróży (nieważne, że kierunki się rozmijają). Pyta też, czy nie chcemy jechać do Ameryki? (chyba myślał, że "american dream" jest wciąż nieodpartą pokusą dla Europejek), a na koniec wykonuje telefon i odbywa podejrzaną rozmowę, po której stwierdza, że koniecznie musi się zatrzymać, by coś zjeść lub kupić. Zjeżdża na pierwszą zajezdnię i wychodzi uradowany, zostawiając nas w aucie.
Tym razem nie zastanawiamy się zbyt długo. Wyciągamy plecaki, wyskakujemy i uciekamy w kierunku jedynego świetlistego punkt na horyzoncie. Na pierwszy głębszy oddech pozwalamy sobie dopiero u celu, który okazał się owocowym sklepikiem (arbuzowo-melonowy raj czynny 24h na dobę).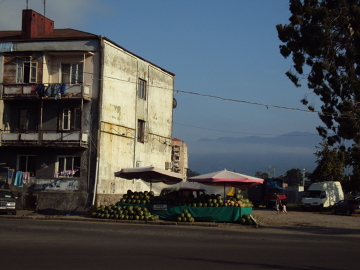 fot. Katarzyna Cieśla
Tu chwila histerycznego śmiechu dla rozładowania napięcia. Zagadujemy sprzedawcę, który zdaje się w ogóle nie dziwić takimi przybyszami wyłaniającymi się nagle z czeluści nocy. Zaprasza nas na ławeczkę obok, po czym następuje seria standardowych pytań: "adkuda wy", "kuda wy jedziocie"? itp.
Chwilę później zjawia się kolejny sprzedawca, a stolik (skrzynka po owocach) zapełnia się brzoskwiniami, melonami, śliwkami… – czyżby kolejna supra? Przychodzi sąsiad z winogronem i winem, i następny z serem i dodatkową porcją wina… Już wiemy, że jesteśmy bezpieczne i – w najgorszym razie – mamy zapewniony nocleg pośród arbuzów.
Rozluźnienie, wino i zmęczenie sprawiają, że nasza czujność spada, gdy tymczasem panowie obmyślali już plan naszej dalszej podróży. Pokrótce prezentował się on tak, że zatrzymają dla nas patrol policyjny, a panowie policjanci dalej złapią nam stopa do samego Zugdidi. Ich pomysł wydawał się mało realny, ale ciekawość jego realizacji i pozycja gościa nie pozwalały na polemikę. Poddajemy się kolejnej fali gruzińskiej gościnności.
Pierwsza część planu – zatrzymanie patrolu policyjnego poszła błyskawicznie. Druga część wydawała się już bardziej problematyczna, o czym powiadomiły nas marsowe miny na twarzach komisariuszy. Po długiej i burzliwej debacie, grzecznie zapytali jak mogą nam pomóc, ale najwidoczniej nie planowali przystać na propozycję naszych gospodarzy. Badawczym wzrokiem obrzucili nasz stoliczek, popatrzyli na nasze rozbawione winem twarze i odjechali…
Zapanowało małe zamieszanie – najwidoczniej powstawał właśnie plan alternatywny. Ktoś może nas przecież odwieźć, tylko kto jeśli wszyscy byli już troszkę "wcięci"? Pytanie bezsensowne, gdyż w Gruzji wszystko "niet problema" i nikt nigdy nie jest pijany… Mała awanturka i przepychanki – próba powstrzymania szalonego sąsiada, który postanowił nas jednak odwieźć do Zugdidi, zdawała się graniczyć z cudem.
Powrócił patrol… Zrobiło się jakoś nieprzyjemnie i nadgorliwy sąsiad został uciszony, co wydawało się dla nas równoznaczne z koniecznością noclegu w arbuzach. Partol odjechał, pozytywny nastrój nieco opadł.
Było już grubo po północy i zaczęłyśmy myśleć jak rozlokować swoje śpiworki, gdy wtem z zawrotną prędkością i na sygnale, przejechał nam przed oczami dobrze już znany radiowóz policyjny. Scena jak z filmu. – Jakiś pościg – pomyślałam i ze zdziwieniem zauważyłam zadowolone miny na twarzach naszych gospodarzy. Potem wszystko zadziało się już bardzo szybko: machanie rękoma, wrzucanie nam plecaków na plecy i pożegnania.
Z niedowierzaniem opuszczałyśmy owocową przystań, idąc na spotkanie pana policjanta dumnie stojącego obok busika zatrzymanego specjalnie dla nas… koniec pościgu. Obudziłam się w Zugdidi, niepewna czy coś z tego mi się przypadkiem nie przyśniło. Dobrze, że nie byłam sama i mogłam odnaleźć potwierdzenie swych przeżyć, bo jakoś na robienie zdjęć nie było czasu…