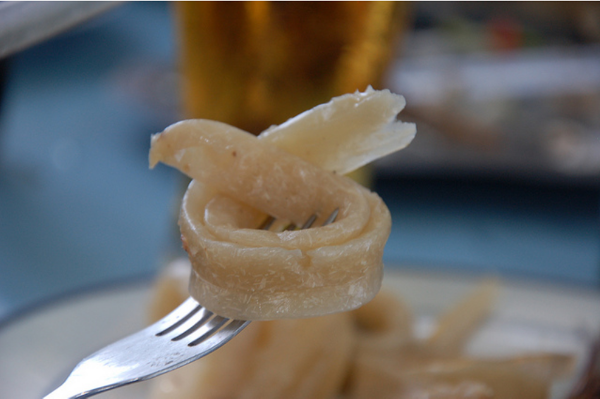 Mieszkańcy miasta Douala nazywają to "miondo". Robi się to z manioku i spożywa z rybą lub mięsem. Fot. Katarzyna Koput


Żywność zmienia się wraz z regionem, ponieważ zależy w dużej mierze od klimatu i możliwości w nawadnianiu upraw danego warzywa lub owocu. Ogólna dieta Kameruńczyków bazuje na produktach skrobiowych ( ryż, makaron, kasza czy ziemniaki ), które są spożywane wraz z pikantnymi i gorącymi sosami. Kameruńczycy w miejscowościach nadmorskich serwują turystom przepyszne ryby smażone jak i też pieczone.

Podstawowymi produktami spożywczymi jedzonymi na północy są kukurydza, proso i orzeszki ziemne .
Na południu ludzie jedzą więcej warzyw korzennych, takich jak yam i maniok, a także platany (podobne do bananów).

W północnych i południowych regionach żywność jest bogata w skrobię. Produkty są tam gotowane, a następnie bite tłuczkiem wykonanym z drewna do momentu kiedy wytworzy się lepką masę zwaną fufu (lub foofoo). Jest ona następnie formowane w kulki i zanurzana smaczne sosy. Sosy wykonane są z takich składników jak liści manioku, okra i pomidorów.

Jedzenie najbardziej typowe w południowej części Kamerunu to ndolé, które jest narodową potrawą Kamerunu. Danie to składa się z gulaszu z orzechami, ndoleh (gorzkie liście uprawiane w Afryce Zachodniej) i z mięsa wołowego.

Świeże owoce można znaleźć o każdej porze w całym Kamerunie. Owoce mango cieszą się tam niesłabnącą popularnością, ponieważ są niezwykle soczyste i smaczne. Pozostałe owoce uprawiane lokalnie, są sprzedawane na targowiskach wiejskich. Przeważnie można znaleźć pośród nich zawsze pomarańcze, papaja, banany, ananasy, orzechy kokosowe, grejpfruty, i limonki.