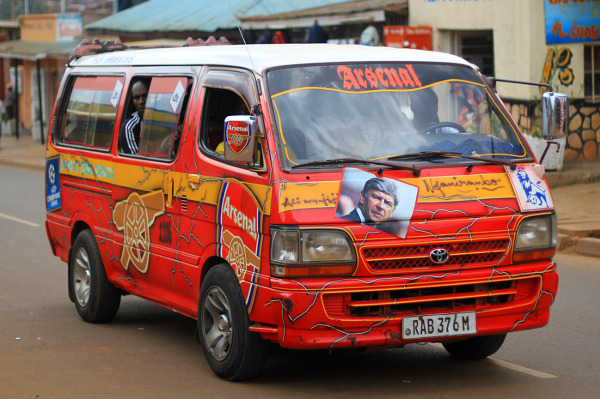 Mini-bus na ulicach Douala. Fot. Katarzyna Koput


Po Kamerunie można się poruszać nie tylko pieszo, ale również mikrobusami czy taksówkami międzymiastowymi, których jest wystarczająco dużo by zaspokoić potrzeby transportowe tubylców jak i przyjezdnych, jednak jakość tych usług wciąż pozostawia wiele do życzenia.

Jaunde z Ngaoundere posiada połączenie kolejowe, a z Douala również i bezpośrednie połączenie lotnicze z najważniejszymi miastami Afryki jak również i świata.

Podczas wędrówek pieszych po masywie Adamawa w regionie Bamenda czy w czasie wspinaczki na wulkan Mount Cameroon z miejscowości Buea trzeba liczyć się z częstymi u uciążliwymi kontrolami drogowymi policji, służb celnych czy nawet wojska podczas których to podróżny może być poproszony o okazanie dokumentów lub też poddany rewizji.

W Kamerunie jak już wcześniej wspomniałam korupcja jest na porządku dziennym, także nie należy się zdziwić jeśli podczas takiej kontroli dojdzie do próby wymuszenia łapówki. Jednak nie dajmy się zwariować. Wszystko należy przyjmować na trzeźwy umysł i nie podchodzić do tego emocjonalnie.

Jeśli zdecydujemy podróżować po Kamerunie samochodem to musimy się legitymować międzynarodowym prawem jazdy.