Groty Longmen

Przyjechać do Luoyang i nie zobaczyć Grot Longmen – tego nie da się zrobić. Arcydzieło buddyjskich rzeźbień. Chciałoby się powiedzieć – Sutra pauperum, święta księga dla ubogich, Sutra w kamieniu.

Jedno z najniezwyklejszych miejsc w Chinach kusi tajemniczością i rozmachem. 100 tysięcy rzeźb, 1400 grot i nisz (lub, jak podaje Instytut ds. Badań nad Grotami Longmen – 2345), 2,5 tysiąca stel i inskrypcji, rozciągnięte na długości jednego kilometra, po obu brzegach rzeki Yi (Yi He) – wschodnim Xiangshan i zachodnim Longmen Shan. TO robi wrażenie. W roku 2000 wpisane na listę światowego dziedzictwa UNESCO jako "przykład arcydzieła ludzkiego geniuszu twórczego", przedstawiającego mistrzostwo formy i wyrafinowanie kultury chińskiej okresu dynastii Tang.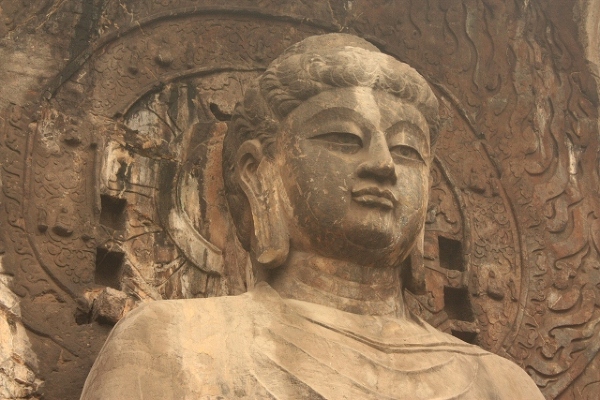 17-metrowy Budda z Longmen, fot. M. Wierzbicki-Dobowicz


Groty znajdują się około 13 km na południe od centrum Luoyang. Dojechać tam można autobusami 53, 60 i 81 (1,5 RMB), czas trwania jazdy to około 40-60 minut, w zależności od korków. Szybciej można dojechać taksówką – jej koszt wyniesie w granicach 30-35 RMB. Miejsce otwarte jest w godzinach 6-20. Groty po zmroku są pięknie podświetlone. Bilet kosztuje 120 RMB (60 ZŁ).

Prace nad buddyjskimi grotami trwały od 493/494 roku po Chrystusie do roku 1127. Ich początek wiąże się z cesarzem Xiaowen z Północnej Dynastii Wei, który przeniósł stolicę z Pincheng (obecnie Datong, prowincja Shanxi) do Luoyang. Na czasy Północnej Dynastii Wei przypada jednak około jedna trzecia wykutych w wapieniu zabytków, część prac została także wykonana w czasach dynastii Sui. Zdecydowana większość wykonana została w czasach, kiedy to chiński buddyzm wypłynął na szerokie wody, czyli w trakcie panowania dynastii Tang – szczególne zasługi w tej kwestii posiada cesarz Gaozong i cesarzowa Wu Zetian. Prace trwały aż do czasów Północnej Dynastii Song.