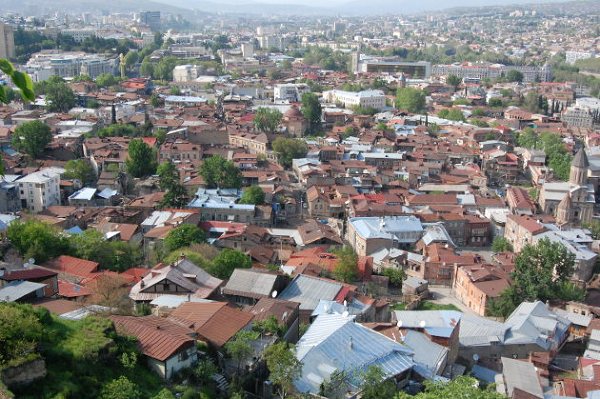 Panorama Tbilisi widziana z twierdzy Narikala. Fot. Ewa Pluta


Stolica Gruzji jest miastem, któremu warto poświęcić więcej uwagi. Głównie ze względu na to, że na pierwszy rzut oka nie powala. Dopiero kilka dni naprawdę intensywnych spacerów mogą sprawić, że odkryjemy niezwykłość tej metropolii, która nie jest już europejska, ale całkowicie nie można jej zaklasyfikować jako typowe azjatyckie miasto.

Co warto zobaczyć w Gruzji?

Aleja Szoty Rustawelego – na pewno nieraz zawitamy na tej ulicy – jest główną arterią miasta, modną, reprezentacyjną ulicą, przy której w licznych kawiarniach i restauracjach toczy się życie towarzyskie miasta, na której widać zachodnie aspiracje stolicy Gruzji – ekskluzywne sklepy drogich marek i gdzie turysta może załatwić najważniejsze sprawy – przy alei znajdują się bankomaty, kafejki internetowe, sklepy z pamiątkami, w okolicy centrum jest też kilka hosteli z pokojami w przystępnych cenach.

Stare Miasto i twierdza Narikala – tbiliskie Stare Miasto to labirynt wąskich uliczek, krętych, brukowanych i klimatycznych układem przypominające azjatyckie miasta. Warto zajrzeć za fasadę mocno podniszczonych domów, żeby zobaczyć dziedzińce porośnięte winoroślą, pranie suszące się na drewnianych balkonach… Najlepszym pomysłem na zwiedzanie starówki jest całkowity brak planu i niespiesznie przebijanie się przez labirynt uliczek. Twierdza Narikala jest widoczna z każdego miejsca w Tbilisi – stoi na wzgórzu górującym nad doliną rzeki Mtkwari (Kury), w której położona jest gruzińska stolica. Twierdza jest częstym miejscem spotkań miejscowych. Można się na nią dostać pieszo lub za pomocą kolejki liniowej ze stacją początkową w Parku Europejskim.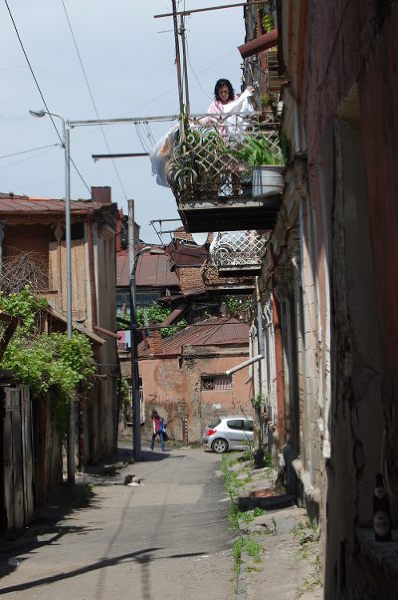 Uliczki Starego Miasta w Tbilisi. Fot. Ewa Pluta


Starożytne termy – mieszczą się w dzielnicy Abanotubani, najstarszej części miasta, która liczy sobie 1500 lat. Łaźnie, położone niedaleko rzeki Mtkwari i Placu Wachtanga Gorgasali już z daleka łatwo rozpoznać, a to przez charakterystyczne ceglaste kopuły wieńczące budynki. Z 60 term zasilanych gorącymi źródłami wód leczniczych pozostało 6. Prawdopodobnie dziś już nie pełnią takiej funkcji jak w przeszłości – miejsca, gdzie nie tylko dbało się o higienę, ale również pielęgnowało życie towarzyskie. Mimo to warto je odwiedzić i spróbować kąpieli lub masażu. Łaźnie są czynne od 8 do 23.

Klasztor św. Dawida – Mamadavitis Monasteri, klasztor położony na stokach wzgórza, z którego roztacza się piękna panorama stolicy.

Tbilisoba – nie, nie jest to konkretne miejsce, a wyjątkowe i unikalne wydarzenie, wielkie dwudniowe święto Tbilisi odbywające się jesienią, pod koniec października. W programie degustacje win, smakołyków kuchni gruzińskiej, koncerty muzyki gruzińskiej, spotkania z artystami, pokazy sportowe itd.